Top 10: Best rechargeable battery lawnmowers 2020
Battery-powered lawnmowers are the most user-friendly mowing options around. They're quiet, easy to use, simple to take care of and don't involve dragging cables everywhere. All you have to do is make sure the battery's charged and then simply start cutting.
Top 10: Best petrol lawnmowers | Top 10: Best corded lawnmowers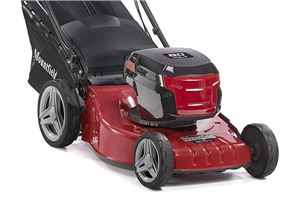 1
Mountfield S46 PD Li 80V 46cm Self-propelled Mower
If you want a durable, powerful lawnmower then this self-propelled Mountfield S46 should prove ideal. It has a strong steel deck, a 46cm cutting width and a large 60-litre grass bag. It also has a powerful motor and battery, granting an hour's mowing following a 75-minute charge.
Its maximum cutting height is 80mm too, helping it deal with taller grass with ease. It is heavy though, clocking in at 30kg. A two-year warranty is standard.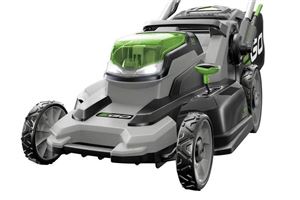 2
Ego Power+ LM2001 56V 49cm Push Mower
Want a big, powerful cordless mower with plenty of neat features? This Ego Power+ offering could be just the ticket. It's not cheap but it features a large 49cm deck, a 60-litre grass bag, a mulching plug and a good battery that grants 45 minutes of mowing time. Recharging takes just 30 minutes, too.
A five-year mower warranty is standard, while the battery is covered for three years; many warranties have similar differentiations, so keep an eye out.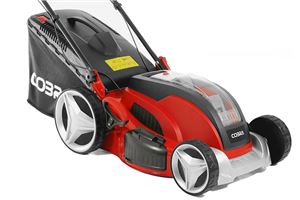 3
Cobra MX46S40V 40V 46cm Self-propelled Mower
There's a lot to like about this self-propelled Cobra mower; it packs a substantial 46cm-wide deck, a pair of powerful batteries and a 60-litre grass bag. It also comes with a mulching plug, so fine grass clippings can be discharged back into the lawn to act as a source of nutrients.
Cobra claims a 30-minute battery life but each takes 90 minutes to recharge, so you may well end up needing another charger and battery set. A two-year warranty is included.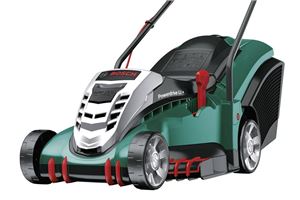 4
Bosch Rotak 43 LI Ergoflex 36V 43cm Push Mower
The 43 LI Ergoflex is one of Bosch's range-topping rechargeable mowers. It features a 43cm cutting width and a large 50-litre grass box, making it suitable for larger gardens, and it's easy to use.
Its battery provides around 50 minutes of cutting time and charging from flat to 80 per cent takes 70 minutes; spares batteries cost around £130. A two-year warranty is standard on the mower but, if you register online, it gets extended to three years.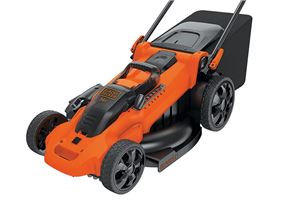 5
Black & Decker CLMA4820L2-GB 36V 48cm Push Mower
This Black & Decker mower features a wide 48cm cut and a maximum cutting height of 100mm, along with side discharge and mulching modes. It could, as a result, be a great option if you have a larger garden with rough areas – although it might require two passes to hack down longer grass.
It comes with a charger and two 36V battery packs, each of which lasts for around 30 minutes, as well as a two-year warranty.
Buy it now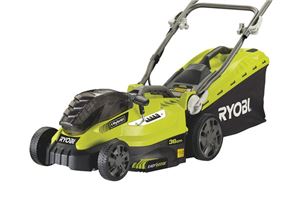 6
Ryobi 18V One+ Hybrid Fusion Dual 18V 36cm Push Mower
If you don't want to rely entirely on battery power then this Ryobi could be ideal, as it can also be powered from the mains. It is otherwise powered by two 18V batteries, which take 80 minutes to charge, and features a 36cm cutting width and a 45-litre grass bag – making it suitable mid-sized lawns.
It also comes with two batteries, a charger and a mulching plug. Register online and you'll benefit further from a three-year warranty.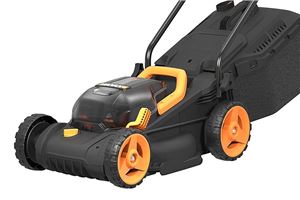 7
Worx WG779E.2 Dual 20V 34cm Push Mower
This compact Worx mower uses the same batteries as the company's other tools, which could prove useful for some. Fortunately, regardless, it includes a pair of batteries and a fast charger. It has a 34cm cutting width and a 30-litre grass box, making it suitable for small gardens.
The batteries only last for around 20 minutes, though – depending on grass thickness – so you may need to invest in more. A three-year warranty is standard.
Buy it now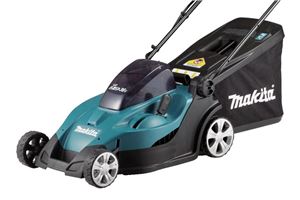 8
Makita DLM431Z Twin 18V 43cm Push Mower
You may well have some Makita tools and batteries in your garage already, which would make this mower a great choice – because it also uses the same batteries. It's available just as a mower or, as listed here, a complete set-up with four batteries and a charger.
It has a 43cm cutting width and a 50-litre grassbox, and its batteries last for 30 minutes, so it's best suited to small and mid-sized lawns. When registered, it has a three-year warranty.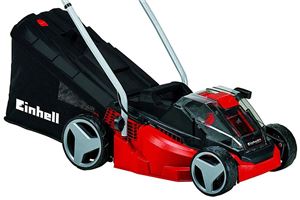 9
Einhell GE-cm 33 Li Kit 36V 33cm Push Mower
If you have a smaller garden then you'll want a compact, lightweight mower such as this Einhell. It has a 33cm cutting width, granting it a small footprint that makes it easy to manoeuvre, and it clocks in at comparatively light 11.85kg – whereas the larger heavy-duty mowers weigh around 30kg.
Batteries and chargers are included; it should run for around 30 minutes on one charge and recharging takes 2.5 hours. A two-year warranty is standard.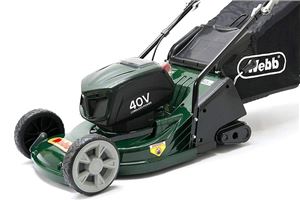 10
Webb Supreme 43cm 40V Roller Push Mower
Those seeking an immaculate striped finish to their lawn will want a roller mower such as this Webb. It's one of the more affordable options but it still has much to offer; it has a 43cm cutting width, a mulching plug and a 55-litre grass bag.
Its included battery will power it for 35 minutes and recharging takes two hours. A two-year warranty is also standard. If you've got a bigger budget, you could also consider Mountfield's S46R and S42R.