Top 10: Best petrol lawnmowers 2019
If you've a larger lawn, or of you don't want to deal with batteries or cables, then you'll need to opt for a petrol mower. They might be a little harder to maintain, and noisier, but it's far quicker and easier to cut a large lawn with a petrol mower than it is a cabled or battery-powered one. Here are ten of the best petrol mowers available.
Top 10: Best corded lawnmowers | Top 10: Cheapest robot lawnmowers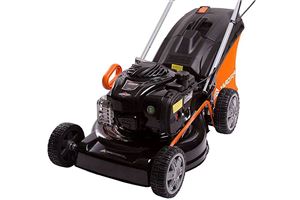 6
Yard Force 140cc 46cm Self-propelled Mower
This affordable Yard Force mower benefits from a wide range of features but doesn't compromise on aspects such as the warranty. It has a 46cm steel deck, a 140cc Briggs & Stratton engine, cutting height adjustment that ranges from 25-75mm and a 55-litre grass bag.
It also comes with a mulching plug, which feeds grass cuttings back into the lawn – boosting its health and meaning you don't have to empty the bag. A two-year warranty is included.
Buy it now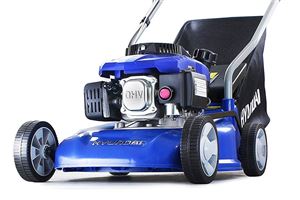 7
Hyundai 88cc 40cm Push Mower
A big self-propelled mower can be a handful in smaller gardens and difficult to manoeuvre around borders and paths. Consequently, if you're dealing with a smaller garden, a small hand-propelled mower such as this Hyundai offering could be perfect.
It weighs a comparatively light 19kg and has a 40cm deck, making it easy to handle – even in tighter spaces. It also has a height adjustment that ranges from 25-75mm, a 40-litre grass bag and a three-year warranty.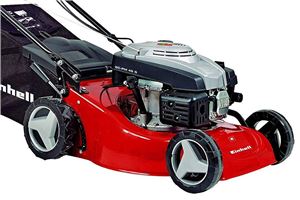 8
Einhell GC-PM 46 S 139cc 46cm Self-propelled Mower
This lawnmower from German manufacturer Einhell is a good choice if you're seeking a self-propelled mower but don't want to spend a fortune. It has a 46cm cutting width, a 50-litre grass bag, a cutting height that ranges from 30-80mm and a steel deck.
Like other basic mowers, there's no throttle; you simply pull the cord, engage drive and off you go. A two-year warranty is also standard, granting peace of mind. It is heavier than some rivals, that said.
Buy it now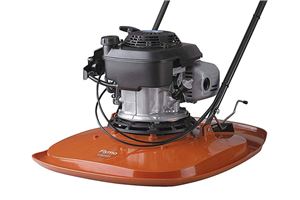 9
Flymo XL500 160cc 50.5cm Hover Mower
Tackling steep slopes and rough terrain can be tricky for conventional mowers. Fortunately, if you need to hack down grass in inaccessible spots, then this Flymo XL500 hover mower could be just the ticket. This heavy-duty offering moves around easily on a cushion of air and can safely cut grass on slopes as steep as 45 degrees.
Thanks to a powerful engine, it'll also thrash through thick grass with ease. It only comes with a one-year warranty, though.
Buy it now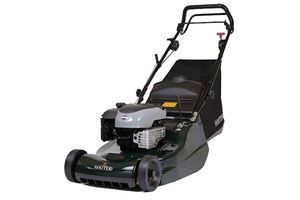 10
Hayter Harrier 48 190cc 48cm Self-propelled Roller Mower
If you want an immaculate striped finish to your lawn then you'll want a roller mower, like this Hayter Harrier. It's not cheap but it is a tough, well-engineered mower that should deliver a fine cut and last for years.
Highlights include a five-year warranty, a vast 70-litre grass box and an electric starting system. It is heavy, and best suited to level gardens, but its variable self-propulsion system otherwise makes it easy to use.
Buy it now