What is it?
The Carrera Crossfire 2 is a hybrid bike, available for men and women, which claims to be just as capable on-road as it is down a dirt path - making it ideal for those looking for a capable road bike that'll shorten their commute and can handle a bit of weekend off-roading. The second-generation, mountain bike styled hybrid features 24 gears, adjustable front suspension and mechanical disc brakes. 
It's £260 (at the time of writing), making it one of the cheapest bikes in the Halfords range and, despite some niggles, it's very decent value for money. So, let's get into what we did and didn't like...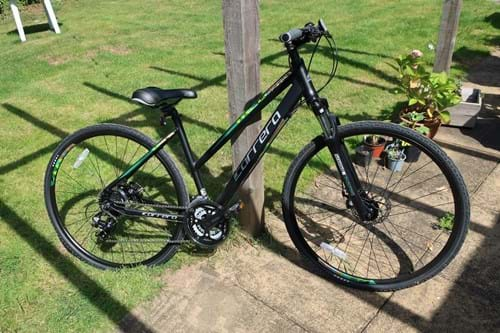 What's it like?
In terms of aesthetic appeal, the Crossfire 2 isn't exactly a fantastic looking bike but it also doesn't look too cheap. It's about average when compared to what else you can get for the same outlay. Despite it looking like it can handle being thrashed about off-road, it's actually far more at home on smooth surfaces. The riding position is relaxed, making it much more suited to a Sunday ride than a road race, and the handlebars are flat for added comfort.
The Carrera Crossfire 2 is comfortable to ride on varying surfaces thanks to the Suntour NVX front suspension forks, offering 75mm of travel to easily handle off-road terrains like hills, stones and tree roots. There's also a pre-load adjuster, which lets you adjust the stiffness of the forks, but it can still sometimes feel a bit too bouncy when coming off kerbs and the like.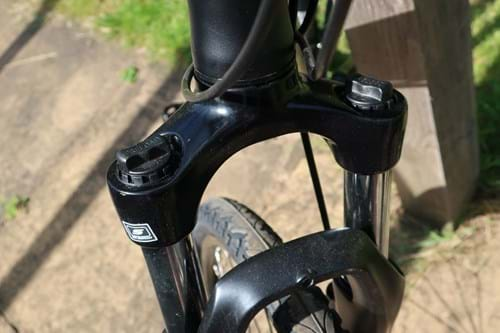 Climbing inclines and building up speed on flat ground feels easy while gear changes are usually smooth thanks to the 8-speed Shimano Tourney TX800 componentry with 24 gears (three speeds on the left shifter, eight on the right). Yet, every now and again the gears don't change after we shift. It's something that might be fixed by some minor adjustment, but that's the price you pay for buying a budget bike. Our feet have also slipped off the pedals when this has happened, which can be a painful experience if you catch your leg on a sharp part of the pedal. 
The Tektro Aries mechanical disc brakes, which are a new edition on this second-gen model, are also low maintenance and provide controlled stopping in wet weather conditions. Although, while the brakes are reliable, they do squeak frequently.
The 700c Kenda tyres offer extra grip on a wide range of surfaces, sitting on 32 spoke double-wall rims. However, we'd prefer chunkier tyres and wouldn't be at all surprised if we got a puncture from riding on a cobblestone road near our house. Mudguards that fit this bike can be added with a Halford's mudguard set for an extra £17, but it's a cheap enough addition that we don't really understand why they aren't included in the setup anyway.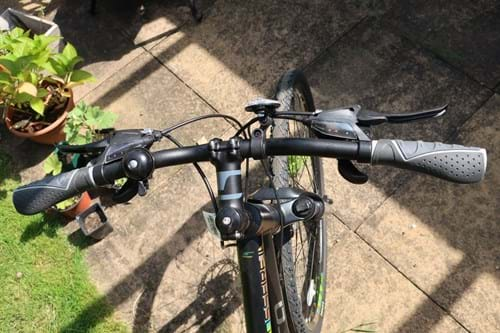 If you haven't built a bike before, then it can be difficult understanding the components well enough to safely put it together. One of the big bonuses of buying a bicycle from Halfords is the free bike build it offers, which is why it's so popular with new riders. Our model is black and green, but colour schemes include white with orange accents for men and white with blue accents, blue with yellow accents, and grey for women.
Men's frames are available in small (17-inch), medium (19-inch) and large (21-inch), while women's frames are available in small (16-inch), medium (18-inch) and large (20-inch) with the 15kg frame featuring a lifetime guarantee from Halfords. For our height (5'7"), the smallest frame is perfect.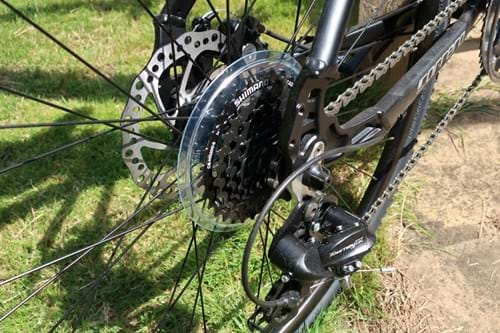 Should I buy it?
If you want a cheap and cheerful bike to get back into cycling or to make your commute to work more environmentally-friendly and cheaper - the Carrera Crossfire 2 is an option that should definitely be on your list. For on-road cycling, the Crossfire 2 is ideal for those who don't want for the extra features or premium materials that pricier bikes offer.
While the Crossfire 2 can handle off-roading, it doesn't handle bumps as well as a bike with fancier suspension and better tyres would - so if you're looking for a weekend companion for traversing forests and hilly areas, we'd advise looking into a bike with that in mind rather than this hybrid Carrera. If you want the handlebars lowered or raised, this will also cost you extras as you can't do it yourself. 
The Crossfire 2 is the second incarnation of this model with the newest £400 Crossfire 3 also available at Halfords.