What is it?
On the face of it, the Garmin Edge 25 is a basic, affordable and small bike computer that provides simple stats such as time, distance and speed without the fuss or expense of a more advanced model.
Dig deeper, and you'll find more advanced features, including live tracking, giving you the ability to share your location during a ride (great for letting your partner keep tabs on you), as well as turn-by-turn guidance for routes downloaded from your computer. It has ANT+ capability, too, allowing you to connect heart rate or cadence sensors.
Retailing at £140 on Garmin's website, which is the same price as the more feature-packed Mio Cycle 120 cycle computer, it's quite expensive. That said, it can often be found for much less - like £75 at Halfords.
What's it like?
Measuring around 4cm by 4cm, the Garmin Edge 25 looks more like something you'd wear on your wrist rather than on your handlebars. It's easy to fit, thanks to Garmin's clever (and simple) quarter-turn bike mount system, which uses rubber bands to connect the computer to your bike.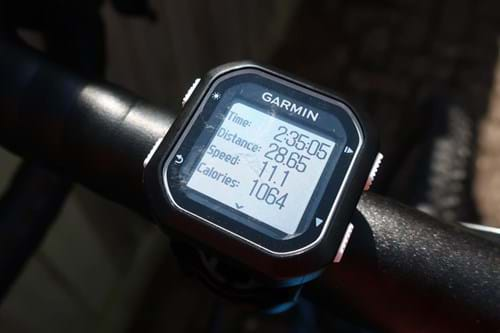 It's also satisfyingly robust. Garmin says it's waterproof enough to cope with the odd water splash, such as from rain or snow. Although it's not meant to be entirely immersed, our experience suggests it doesn't have any issue with being thrown in the odd puddle.
The Edge 25 works with Garmin's fitness community, Garmin Connect, allowing you to compete against other cyclists, share activities and download routes. It can also be connected to third-party apps like Strava via Garmin Connect, automatically uploading your rides if required.
Rather than using a touchscreen display like more expensive cycling computers, the Edge 25 relies on four simple buttons positioned on the edge of the device. These work well - reacting quickly, and easy enough to operate even when wearing gloves. There are three screens to scroll through; the first has three fields and the second has a default of two data fields but you can increase this to three on Garmin Connect.
Unlike your phone, the Garmin Edge will work for up to eight hours before needing charging. That won't be long enough for the most serious of long-distance riders, but we found the battery life to be more than adequate for weekend rides. It also features Smart Notifications when paired with a smartphone, so you'll get alerts you when you get messages, calls etc on your phone.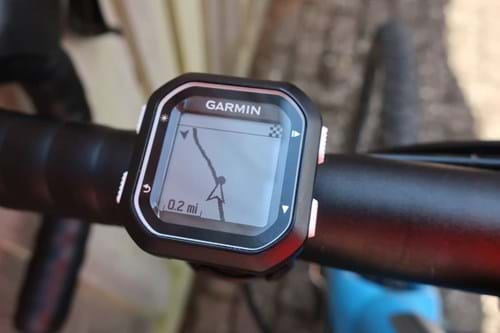 Although the Edge doesn't have built-in maps, you can download routes via Garmin Connect. The maps are basic breadcrumb navigation and use GPS and GLONASS to pinpoint your location. It works fairly well without being too distracting, although more advanced systems are easier to follow. In fact, that's what the Garmin Edge 25 does so well. It looks discreet mounted on your handlebars and provides all the information the casual bike rider might want - and nothing more.
Should I buy one?
It's easy to dismiss this as little more than a basic bike computer that won't do much more than your smartphone. But that's missing the point.
We like its live tracking feature, while the ability to connect it to ANT+ sensors and use it with an indoor trainer is handy. It's also much more reliable than a phone, with its eight-hour battery life and water resistance. Notifications from your phone are useful, too - it'll display Facebook or text messages to save you having to get your phone out.
Whether you're new to the world of GPS devices or just want something that does the job with little fuss, the Garmin Edge 25 does an excellent job for the price.