What is it?
A folding e-bike. Think of it is as a two-wheeled equivalent to the hybrid car. You pedal, powering the rear wheel, while an electric motor powers the front wheel. This saves you energy, and allows you to travel further and faster for longer.
This particular e-bike is the Gocycle GS. Gocycle was formed when its founder and managing director, Richard Thorpe, left his design job at McLaren Cars to create a lightweight, electric urban bike. The GS is the firm's current entry-level model, positioned below the fast-folding GX and top-of-the-range G3.
It's a fold-up bike, available in a variety of colours, with prices starting from £2499.
What's it like?
First impressions are of how clean and simple its design is. All the mechanicals are tucked away - you've got no chance of getting oil on your trousers if you ride one to work, or marking the walls if you keep it inside your tidy apartment. It's clearly been designed with the image-conscious urbanite in mind.
It's a heavy thing, weighing 16.5kg - but that's fairly typical for an e-bike. It folds up into a small package, making it ideal if you're short on space. Folding it and unfolding isn't a simple process, though - we struggled (and broke a part in the process…), and it certainly isn't something you'd want to do every day when you boarded a train. Gocycle's recently launched the GX - a bike it describes as the 'fast-folder' - which is more aimed at commuters.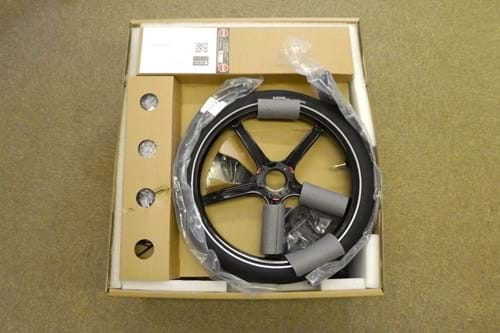 Once it's set up, it's surprising how comfortable it is. You might dismiss it based on its compact dimensions, but Gocycle points out that all the touch points are in exactly the same location as they would be on a standard bike.
It's also intended to fit a wide range of body shapes and sizes. The seat can be dropped up and down, while the handlebars take a similar approach to a car steering wheel - able to be adjusted easily for height and reach. It's a 'one size fits all' approach that works really well. Our two testers (yours truly - a 5'10" male and Georgia, a 5'7" female) both found the Gocycle GS to be comfortable.
Once you're riding it, the GS is an absolute joy. You can barely notice the electric motor, but it means you can whizz along at a satisfying pace with minimal effort. A low centre of gravity means it's surprisingly agile, able to dart around obstacles without an issue, while its rear suspension does a reasonable job of soaking up bumps. Obviously, it's not an all-terrain bike - it's best suited to city streets - but it's not too jarring over bumpy roads.
Another useful feature is its sequential three-speed gear hub, which allows you to change gears while stationary. This means you'll never be caught out when setting off.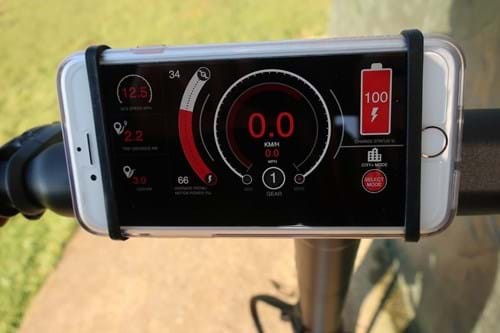 There's a nifty smartphone mount on the handlebars, which allows you to access Gocycle's official app which provides basic information such as your speed and distance travelled, as well as more complex details like your pedal power in watts and calories burned. You can also use this to adjust to select from three different ride modes: city, eco and on-demand.
City uses the electric motor to provide assistance that matches the amount you pedal. So, the harder you pedal, the higher motor assistance is provided. Eco works in a similar way, but requires more pedal effort before assistance is provided - meaning it'll travel further before needing charging. On-demand lets you decide when assistance is required, by pressing the boost button on the handlebar.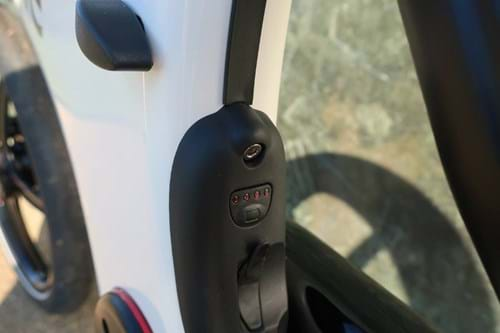 We quite like the on-demand feature, as it lets you decide when you need motor assistance. It could be handy when climbing hills, for example - or, for our favourite purpose, overtaking cyclists on conventional bikes.
Once you reach 20mph, assistance drops out. This is to comply with EU legislation which applies to all e-bikes, but it's not a big issue. You don't buy a bike like this to speed around everywhere.
Charging the GS is easy - just plug it into the wall for around seven hours for a full charge. From that, Gocycle claims you'll see around 40 miles of cycling - a figure that's fairly achievable, according to our tests.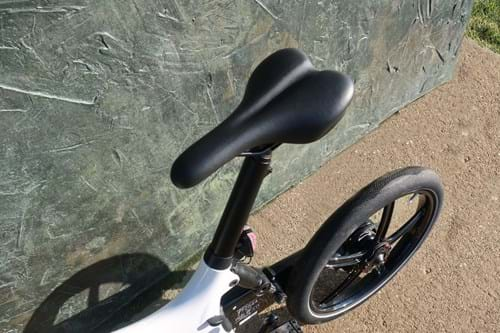 Should I buy one?
The Gocycle GS's biggest obstacle is its price. It's a whopping £2499, which is a lot of money for a bike intended for pootling around town.
It's in line with rivals, though. An electric Brompton will set you back £2595, and it doesn't look anywhere near as well-finished as the Gocycle.
It's also worth noting that recent changes to the Ride to Work scheme mean it's now eligible - meaning you could save cash by 'buying' it through your employer.
If you can justify the price, the Gocycle GS is a very good e-bike. We suspect the slightly pricier GX would make more sense for anyone looking to commute on public transport, while the G3 is the ultimate do-it-all e-bike.
If you do buy a Gocycle GS, you might want to have a flick through the brand's accessories catalogue too. You can get an integrated light kit for £85 which uses the Gocycle's internal battery to power front and rear LED lead lights (and continue working after the battery's showing no range left). At £300, the portable docking station is extravagant, but strikes us as a handy way of storing the GS when it's not required.