What is it?
Hedkayse describes its One helmet as the 'first truly multi-impact cycle helmet of its kind', using Hedkayse's own Enkayse material to ensure it's still structurally sound 'drop after drop'. It's designed to fold down, reducing its width by 50 per cent and taking up less space than a conventional helmet.
Designed and made in the UK, it costs £150 and fits head sizes from 49cm to 58.5cm. It comes in six different colours and compresses down to approximately 2.5 litres by volume, or 13 cm across.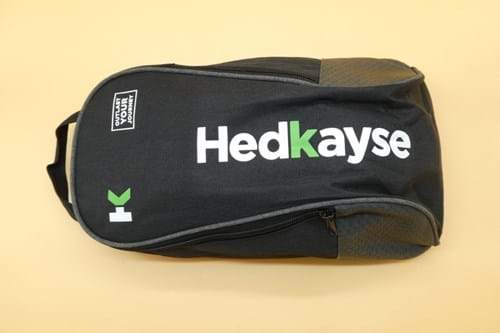 What's it like?
While it's not the most conventional looking of cycle helmets, the textured matte finish of the Hedkayse looks quite smart, helped by the minimalist graphics. Usefully, the decals are reflective, too - giving you an extra bit of visibility at night. The helmet has a tough, flexible outer shell with four inline vents for maximum airflow and an antibacterial medical grade inside liner. 
Hedkayse One has been shown in standardised test conditions to sustain multiple impacts without incurring structural damage. The company achieved this by developing Enkayse, a new polymer that can handle the same temperatures as Expanded Polystyrene (EPS) - which is commonly used in the construction of helmets - but is also stronger and less brittle. The One helmet is fully European Safety Standard (EN1078) approved, too.
The shape of the helmet itself is fairly decent but the main thing you notice when you first pick up the Hedkayse is the weight. As it's not the usual foam construction, it weighs 420g and is heavy to hold in comparison to other bike helmets from the likes of Giro, MET and Bontrager. The One also has a rather unusual chin strap.
Hedkayse calls this its Quick-release Adjustable Ratchet Chin-strap (QARC) system and it takes a little getting used to compared to a standard chin strap, but it does at least feel secure and the adjustment of the rear velcro strap is easy enough. The so-called X-Strap means the helmet can expand and contract to fit head sizes from 49-62cm.
Adjusting the rear straps on the helmet in order to get a comfortable fit takes a few attempts to dial in, but for most cyclists, this is something you'll only need to do once unless it's a particularly cold day and you're forced to wear a beanie hat. Usefully, Hedkayse does sell a beanie of its own...
Of course, the key selling point of the Hedkayse One is the fact it folds, which is useful for commuters who ride a short distance to get a train, for example. The foam construction is also handy for anyone taking it on a plane in a bike bag as it's less likely to get damaged than a traditional helmet. However, it would need to be lighter and more aerodynamic for proper road use.
The thing is, it doesn't really save a huge amount of space. In fact, collapsing the helmet means that there is a decent amount of wasted space. With a traditional helmet, you can often squash a jacket into the helmet and slide the whole lot into a bag. That said, the fact that it's foam means we're less worried about dropping it or squashing it in a bag filled with a laptop, gym kit and water bottle.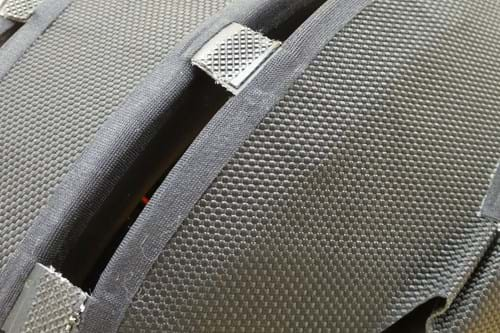 The helmet is comfortable and fits well, feeling stable and secure when you're leaning over to tie your shoes. Although, we do feel the weight of the helmet, especially when checking over our shoulder for traffic approaching from the rear.
The profile of the foam means the straps are quite far away from your face so eyewear can go on the outside for the pro look, but when you're in a hurry, the straps will tend to be on the outside. The chin strap works reasonably well once the lid is on your head, although we're not sure why you wouldn't just have a standard clip.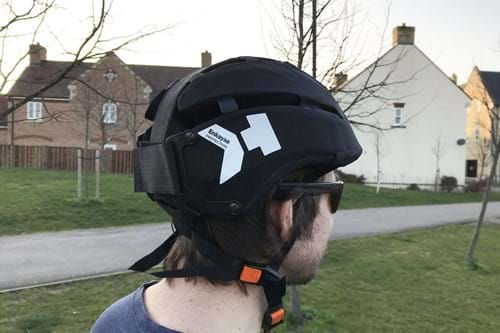 Should I buy one?
While we like the concept of the Hedkasye One, we're struggling to see the benefits over a standard helmet in everyday use. We're more likely to stick with leaving our old helmet locked to the bike at the station, meaning more room in a backpack and less weight on the run. That said, if we were using public hire bikes more regularly, then we would turn to this lid.
At £150, the Hedkayse is more expensive than many other quality helmets, which while not folding, are rated very highly. Obviously, a big selling point of the One is that it'll outlast traditional helmets considering it doesn't need to be replaced after being dropped - so it'll recoup its costs eventually. It just depends if you want to spend this kind of cash in the first place.
As this is the first generation of the Hedkayse helmet, we expect future generations to come down in weight and size. We'd also like to see it fold up smaller.