What is it?
A reusable zip tie with a steel core, essentially. If you want to secure your bike (or pretty much anything, for that matter), you can whip this out of your bag and it'll do the job of a bike lock without being as heavy and bulky to carry around.
The obvious use is for tying your bike to fences and the like but use your imagination and it's also good for securing your bike to car roof racks, attaching your bag to a chair or even fixing a dog lead to a drainpipe.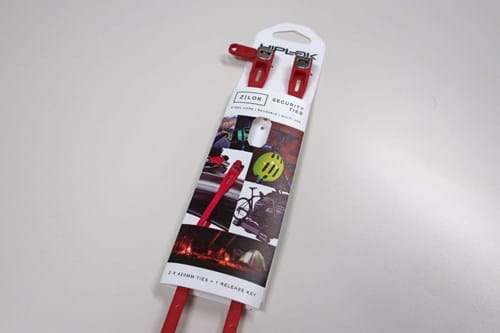 What's it like?
It's obviously not going to be as secure as a serious bike lock. If you're leaving your bike overnight or live in a particularly rough area, you might want to invest in something more hardcore. Or move your bike indoors. But more serious locks are a pain to carry around if all you want is something to secure your bike for 10 minutes while you pop into a cafe on a bike ride. Enter the Z-Lok.
It has a steel core which means it offers a modicum more security than a plastic zip tie - a thief couldn't just cut it with scissors. While someone equipped with a set of wire cutters wouldn't find stealing your bike too difficult, it ought to be enough to put off an opportunist.
And, as we mentioned above, the Z-Lok is handy for a wide range of scenarios outside the obvious. If you're investing in an expensive saddle, for example, the Z-Lok could be used to secure it to your bike. Or even the wheels.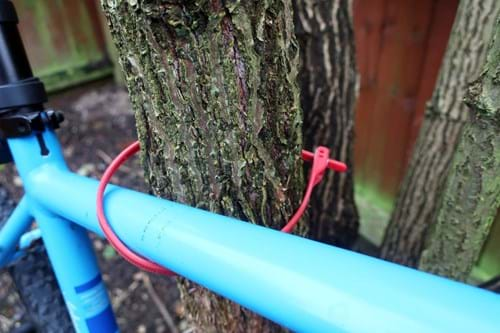 If you are using the Z-Lok for securing your bike, one criticism we'd have is that it's not very long and you don't get a choice of sizes. It's fine for securing your bike to a convenient fence post or suchlike, but in the countryside branches and things get in the way making it difficult to get your bike close to the thing you're securing it too.
The answer here is to use more than one Z-Lok. Like cable ties, they can be attached to each other to create a bigger lock. For that reason, we'd recommend spending the extra money on a pack of two rather than a single one.
Another criticism we have is the key used for locking and unlocking the Z-Lok. It's universal, so anyone can buy a Z Lok and get a key for your bike. It's probably not an issue for the time being, but it could become one if the Z Lok becomes more widespread. We can't imagine someone that wants to invest in bicycle security will want to steal your bike, but it's worth noting. 
The key is also very small and you only get one of them. Be careful where you put it, we could imagine losing it very easily...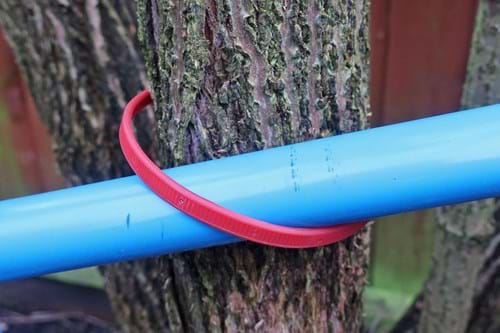 Should I buy it?
The Z Lok has its limits, after all, it'll never be as secure as a more expensive bike lock. But for occasional use, it's really very good. It's light and easy to transport - and very versatile, with a range of uses that are only limited by your imagination. It also represents excellent value for money.