What is it?
Izy is Honda's entry-level petrol-powered mower, but it's far from an entry-level model. It's designed to bring professional levels of lawncare to the casual gardener and is built to the same standards as machines that full-time gardeners depend on every day for their jobs.
This variant is the HRG 416 SK and - as the name indirectly implies - it has a 41cm cutting deck. Larger variants have a 46cm (HRG 466) and 53cm (HRG 536) cutting deck and all are available as a push mower or self-propelled, with the exception of the 53cm model, which is self-propelled only. The spread of prices, dependent on model, range from around £350 to £1000.
Larger variants are better for bigger lawns, but the Izy HRG 416 SK is for small and medium lawns - large enough to make good progress, but compact enough for easy storage.
It arrives well packaged in a substantial box and if you've bought from a reputable dealer, it should be almost set up and ready to go with just the grass bag to put together (the work of moments) and the handlebar to fold up and secure in place.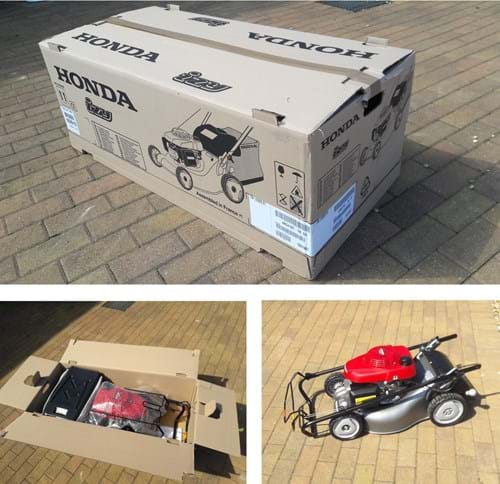 There's a range of adjustments and front and back can be adjusted independently of each other. If you've let the grass go a bit, then the height can be raised on the Izy between 74mm. Likewise, if you're looking for a close cut, it can be lowered down to 22mm.
The Honda 160cc OHC 4-stroke petrol engine starts smoothly and quickly, with surprisingly little effort required thanks to the self-propelled start; for safety reasons a blade brake stops the blades promptly when the cuts out promptly as soon as you release the bar on the handle. The auto choke ensures that the mower will start throughout the year - no matter what the conditions - automatically open the engine when it starts and close it when it cools for easier mowing and optimised engine performance. Like all Honda engines - whether cars, motorcycles or outboard motors - it has a reputation for quality and longevity, providing it's well looked after.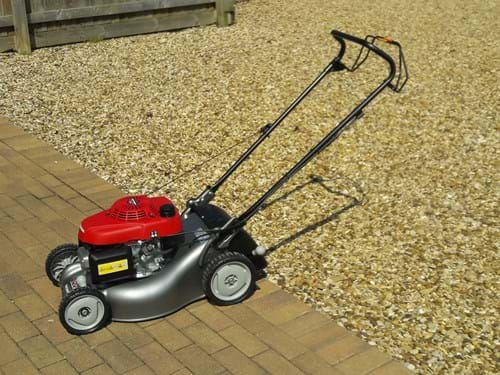 Pull the second bar on the handle and the self-propelled function kicks-in, pushing the mower along at 0.92m/s. That's fast enough to take the strain out of the mowing, without feeling that you're being pulled along with it. For smaller lawns this feature is probably a bit of an extravagance, in which case you may want to consider the push variant (HRG 416 SK), but for anything larger - and if you have a long garden - it really is a Godsend. It's also really useful if you have rough ground or your lawn is on a slope.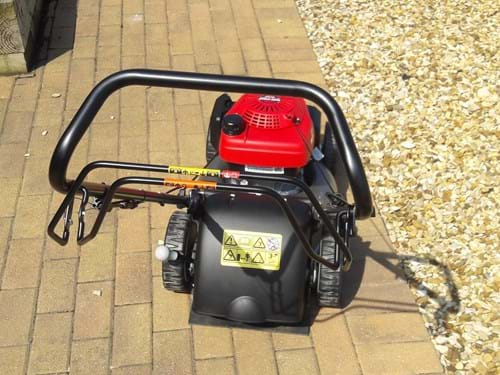 It cuts well, scything through thick grass as easily as it does thinner lawns. The large, wide wheels means it always feels stable and is incredibly maneuverable. It's quiet, too, thanks to a special blade design and wind tunnel tests - noticeably so for a mower of this nature.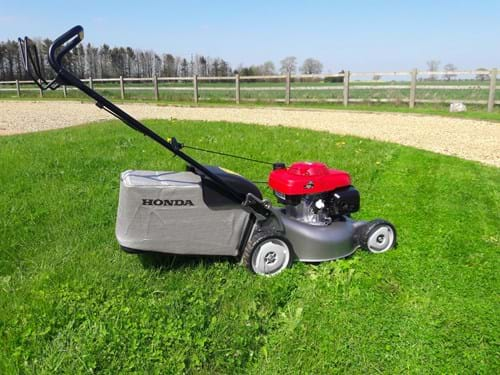 The grass box fills efficiently and entirely fills the 50-litre bag - you'll notice a change in engine note when it's completely full. One small criticism is that the bag lacks a handle at the back, which makes it slightly awkward to shake empty. If your grass has grown to a moderate height, you'll find that this size of box is big enough and you can cover some distance before it requires emptying. You can run the mower without the grass box on the back, but the aerodynamic effect of the blades blows the cut grass around, making a mess of the grass - and yourself. The Izy also lacks a roller - which will rule it out for those looking for crisp lines in their lawns - but a rubber strip at the back pulls the grass down as you cut and has much the same effect.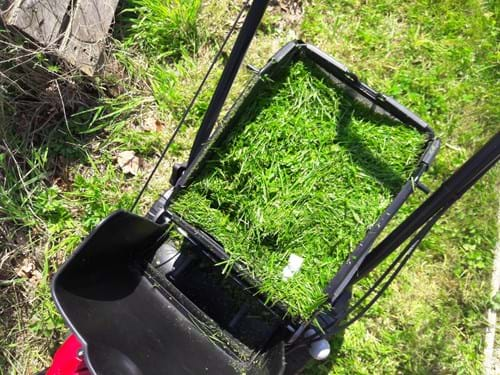 Should I buy one?
The price will be off-putting to some and that's understandable. It's pricey for a small mower, but there again it's a high quality product backed by a three-year warranty. Well looked after and regularly serviced, it's not inconceivable that an Izy will last in excess of 15 years - at which point it starts to look like a wise investment, rather than an expensive outlay for a mower.