What is it?
The world's smallest bike rack, according to Hornit anyway. Aimed at cyclists who have precious little space, the Clug is an ingenious two-part plastic clip that grips onto your bike tyre and simply attaches to a wall so your bike can be mounted upwards with the rear tyre on the floor to occupy less room.
It's also £15. So, it's cheap, simple to use and serves a genuinely useful purpose. What's the catch (aside from the name)? Well, here's how we got on with it...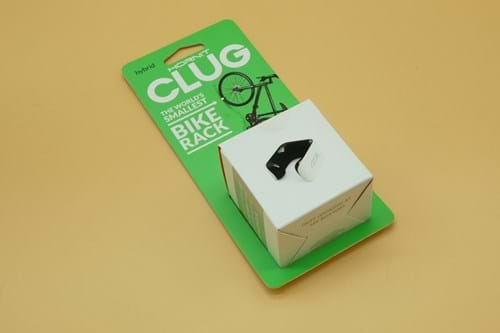 What's it like?
The Hornit Clug comes in a little box, with the actual clip easily fitting into the palm of our hand. In the box, we got the Clug, a couple of screws and plastic screw anchors for installation, and some instructions. On the packaging, there's a little section that shows the max tyre width of the Hornit Clug, so you can ensure your tyre will fit before you even take it out of the box.
There's also a little diagram on the box that shows where the holes need to be marked for the screws to be drilled into the wall. Clearly, a lot of thought has gone into the design to make it as minimalist and easy to install as possible, so A+ for that.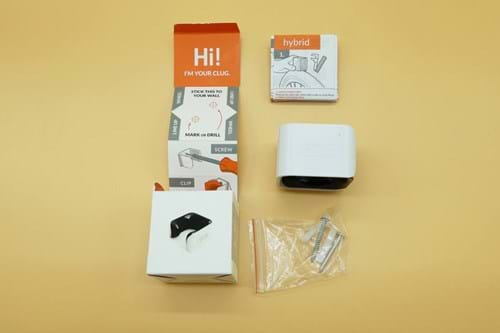 We simply cut the diagram section off (you can see it in the photo above). We poked holes where directed, then marked the wall with a pencil using this diagram. After that, it was simply a case of drilling the two small holes into our garage wall, sticking the anchors in and then screwing the white plastic section of Hornit Clug in. The black bit of plastic then clips onto the white plastic to form the Clug.
You don't need to be a DIY expert to fix the Clug. It shouldn't take most people more than 20 minutes to get it attached to the wall. If you're used to a bit of handiwork, it'll probably take you minimal time and effort.
The Clug comes in three sizes: Roadie (23mm-32mm tyres), Hybrid (ours, 33mm-42mm tyres) and Mountain (44mm-57mm tyres). This means that you can get a Clug for almost any bike type as long as there's a corresponding tyre size. So, regardless of whether space is a premium because you live in a flat, most of the garage space is used by a car (our situation) or you want to store multiple bikes - the Clug is the ideal solution.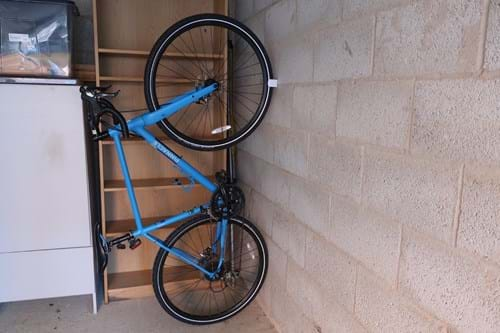 But it's not perfect. The Clug isn't exactly expensive, but if you own more than one bike with varying tyre sizes - you'll need more than one Hornit Clug. For example, we own a hybrid bike (hence the Hybrid tyre size) and a mountain bike - but we couldn't store them upright using the same Clug. Although, we'd probably just buy two Clugs to store them both upright anyway...
A bigger issue is that of tyre pressure being the only thing keeping the bike safely stored upright. Our bike tyres, like many, slowly lose pressure over time. Tyre pressure should be regularly checked, but if you get a slow puncture, store your bike for a while over winter or just don't regularly check the air pressure - then you risk your bike falling out of the Clug, which could be an expensive mishap. In that sense, we wish there was some sort of strap for extra safety - but such a strap would make the Clug more complicated.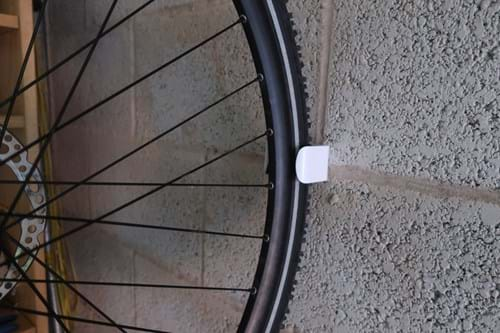 If the thought worries you too, it should be easy enough to attach a Velcro strap that can go around the wheel for some extra security. Speaking of design features, we'd also recommend putting some tape or some kind of protection on the wall so you don't get mud or rubber streaks on your walls from the back tyre - especially if you're fitting it inside the house rather than in a garage.
Should I buy one?
Yes. In our eyes, the Hornit Clug is a brilliant bit of kit for the price. It does exactly what it says on the tin and won't leave you out of pocket too much if you don't really like it. It's very discreet, functional and easy to install - with the bonus of exceptionally smart packaging. It isn't flawless, but if you want to store multiple bikes without putting up a bike shelf or hanging them further up the wall - the Hornit Clug is the solution you're looking for.