What is it?
Micro is best known for its scooters, both those for children and adults, but it also sells helmets, luggage and this - the Micro Wagon. It's a collapsible trolley that you can use to move anything around and carries a maximum of 100kg, so is ideal for camping, festivals and the like.
The wagon has 18cm, solid rubber wheels which are designed to cope with rough surfaces. It comes in black, both the frame and fabric - there aren't any more exciting colours available sadly, nor are there any accessories like a canopy or cupholders.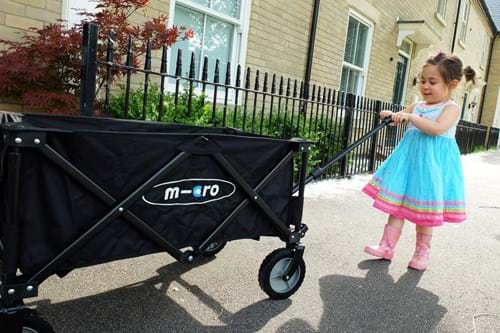 Is it any good?
At around 10kg, the Micro Wagon isn't what you called light, but when folded it's reasonably easy to carry thanks to the waterproof cover which velcros around the base and has a built-in handle. Of course the idea of the Wagon is that you pull it around and folding it out is a doddle. A quick push in the central support and it concertinas out. You then lay in the rigid base and you're set to go.
It certainly feels a sturdy and well built thing, although the action of the retractable handle isn't that smooth and tends to scrape the metal. We were also a little disappointed that the back wheels on our Wagon weren't quite straight - or in line with each other - and as they're welded, they can't be adjusted. It means the wheels don't run as smoothly as they should on pavements. However, the rest of the construction seems durable and well designed. 
The Micro Wagon is such a simple design, but one that works really well. Given its size when folded, we wouldn't say you could keep this in the boot of your car all the time (the picture below shows it in a Volkswagen Golf), but it's an ideal thing to have in the garage. It can carry 100kg - so you've no excuse to not let the kids leap in - and even when fully laden, the base feels sturdy and the tough fabric doesn't stretch.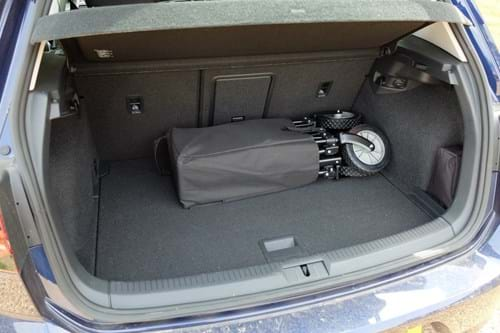 Manoeuvring the wagon around is simple - as the pictures with our little helper show. The rear wheels are fixed but the fronts swivel 360 so it's really easy to move around even in tight spots. When you've parked it up, the handle clips in against the frame, which also makes it easier to push. Even when fully loaded up, the Micro Wagon runs smoothly, once on the go, with no wobbles or rattling wheels. A few things to note though, if you're tall you'll find the handle a little low and it would benefit from a hoop type handle rather than a t-bar.
If you can't park your car near your house, the Micro Wagon can come in really helpful, especially if you have a boot full of shopping and a tired toddler to deal with. It's here where we've used the Micro Wagon the most, saving us having to do trips back and forth to the car - and much whinging from a grumpy three-year-old.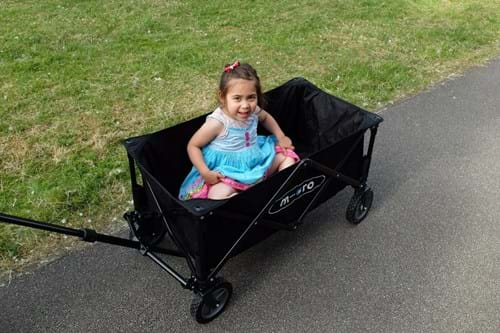 Should I buy one?
Of all the various things we've tested, the Micro Wagon is the one thing that has created the most interest in the HJ Kit offices, with everyone wanting to borrow it. At £75 it's decent value if you're regularly outdoors - whether camping, at outdoor cinemas, going on picnics, or at festivals - it's such a handy thing. Already this year we've got people asking to borrow it for air shows, the Goodwood Festival of Speed and sports days.
If you have children you'll find the Micro Wagon a brilliant helper. On a day out you can throw all their stuff in it, get them to pull it and when they get tired, stick them in it too. True, the Radio Flyer EZ Fold Wagon is brighter (and red) and comes with extras like a canopy, seatbelts and bottle holders, but it's more expensive than the Micro Wagon and isn't as small when folded.