What is it?
A reflective, waterproof jacket that you won't make you look like a lollipop person. Designed for cyclists, joggers, dog walkers and anyone else who wants to be seen at night-time - the Reflect360 is finished in highly reflective material which makes it easy for drivers to spot you on the road in the dark.
It features a micro-fleece lining to keep you warm during the winter months and comes with a stow-away hood to keep you dry. 
What's it like?
There's no denying that the Reflect360 makes you extremely visible in the dark - which is ideal for those who go running at night or, for example, cycle home in the dark in winter months. It uses millions of tiny, highly-reflective glass beads to ensure you stand out when a car's headlights are approaching. Wear it at night and car drivers aren't going to miss you walking along the side of the road.
The rest of the time, it looks like a typical grey waterproof jacket. This is good if you want to blend in during the day, but it does mean you're unlikely to stand out on an overcast day.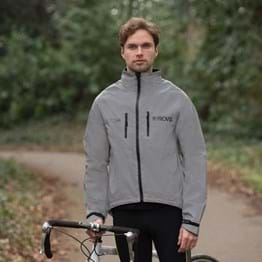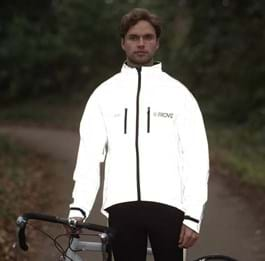 There are plenty of pockets which are easily accessed and can be zip closed to keep your belongings safe, and the clever hook-and-loop cuffs can be adjusted to suit the size and shapes of different wearers. It's comfortable with its fleece liner providing lots of warmth. It's a little too warm, though... we found that within a few minutes running or cycling we were having to undo the zip for more air, even on cold days.
We also question the durability of the Reflect360. Our test jacket is already showing some cosmetic wear and tear after fairly light use, the zip also feels a little bit flimsy. However, it is machine washable.
Should I buy one?
If you want to be seen in the dark, the Reflect360 Reflective Outdoors Jacket does an excellent job of reflecting car headlights. It also manages to look a little more casual than many orange or yellow hi-visibility coats.
Its biggest obstacle is the price. £95 for an outdoors jacket is a lot, especially for one that isn't overly versatile and possibly has question marks over its longevity makes it difficult to justify. But can you put a price on safety?