What is it?
The Ring RTC1000 is an air compressor. It's quick, quiet and powerful – capable of inflating a flat tyre on a 13-inch wheel to 35Psi in just two minutes from the 12v socket in your car. It comes with spare dust caps and a set of latex gloves, plus a spare fuse.
What's it like?
The unit is small enough to keep in your boot and comes with its own case to keep the dirt out of your car. The 12v connector can be neatly wound away on a spindle, saving the normal tangle you get yourself into. The 3.5m lead isn't perhaps as long as some on the market but can do the job of reaching the tyre furthest away from the in-car power supply.
Much improved is the tyre valve connector which, unlike many others, is now sturdier. This new, bigger brass unit makes it much easier to connect to a tyre valve that's all covered in road gunk because it's big enough for you to grip properly. It's also much easier to attach to tyres with awkwardly placed valves. As always, there's a deflator valve if you need to let some of the air out.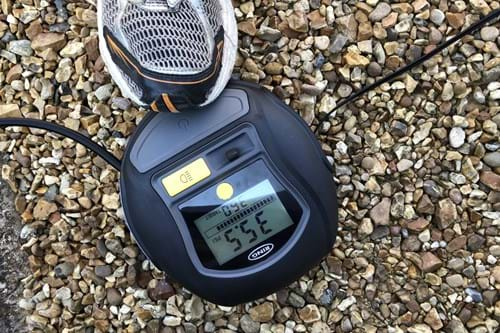 The RTC1000 boasts a big, backlit screen that's easy to read at any time of day. Simply dial in your chosen pressure level and hit the power button. The compressor will inflate the tyre and then shut itself off. It's also a lot quieter than many other tyre compressors on the market so you don't need earplugs.
There's a useful light on the unit to help you see what you're doing if you're inflating a tyre at night (although it doesn't have a setting to flash in order to warn motorists of a potential hazard) and it's not just cars it works on; the unit comes with extra attachments so you can use it on bike tyres, footballs, air beds and the like. It's also chunky and sturdy enough to withstand being dropped (although perhaps not run over).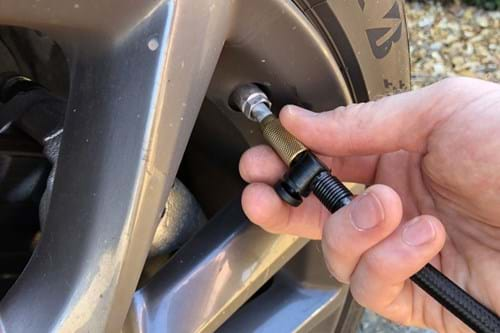 Should I buy one?
Unlike previous generations of air compressors, this circular item lays flat on the ground. It's more stable and quieter than many of its rivals – it's also quicker. The new chunky start button means it can easily be started with your foot and adjusting the pressure level is easy, thanks to a plastic circular dial. The display includes a bar chart that fills up, giving you an idea of how much longer you'll have to wait. We also liked the storage tray for dust caps. 
This is definitely a top-of-the-range item, but if you're the sort of person who regularly uses an air compressor then the RTC1000 is well worth a look. Although, if you're looking for something cheaper, the RTC200 is another of Ring's inflators in the new range - but it sits at less of a premium price.
We were impressed at how quick it could inflate a flat, and how quietly it operated. After inflating four tyres, it was hot but kept on going without coughing and spluttering. However, our main concern with the unit is the lead that connects it to the 12V supply in your car. It's not a great fit and, indeed, some users have reported that the power supply just simply doesn't fit in their 12v socket.