What is it?
In these digital times, you don't want to be measuring the wear of your brake discs and small brake drums manually, do you? No you don't. So it's Sealey's Digital Brake Disc & Drum Caliper to the rescue.
So what does your £180 get you? Well, it gets you a sturdy carry case with a foam lining, both of which should ensure this precision tool remains intact and in working order when stored deep in the bowels of your garage, shed or cupboard. The tool itself is constructed from hardened and tempered stainless steel gauge which suggests that the Sealey 150mm/6" Digital Brake Disc & Drum Caliper we review here will be making measurements long after you've popped your clogs. 
You also get two batteries – one preinstalled and a spare that's supplied loose in the box – the dud in our package suggests Sealey's Digital Brake Disc & Drum Calipers aren't exactly flying off the shelves. Suffice to say, significantly cheaper alternatives are readily available online.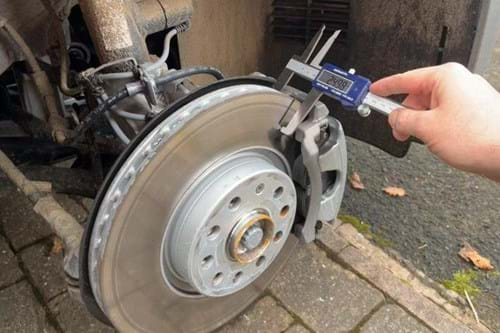 What's it like? 
There's a strong argument that the private car owner doesn't really need a digital measuring tool – it's such a rare job, measuring your discs manually is no real hardship although car fans will geek out at the digital variant's precision measuring. Whether you're a car geek or a professional mechanic, the Sealey tool takes a great deal of the footer out of measuring your brake discs, on a lot of cars it means you can measure them without having to mess about taking a wheel off.
Before you even think about that though, zero the reading by closing the caliper's jaws and pressing the 'Zero' button. On the right wheel – one with large gaps and thin spokes – it's easy to feed the jaws through the spokes of the wheel taking care to find an area of the disc that isn't protected by the back plate, it's then a simple case of sliding the tool's jaws closed and noting down the reading. A simple job thanks to a large LCD display with 11mm figures.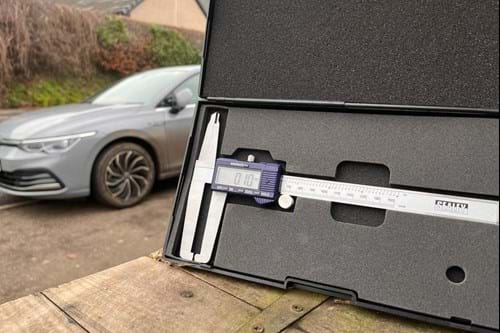 We did it the old fashioned way, though, Our Volkswagen Golf's multi-spoke alloys meant taking the wheel off was easier and with the brilliant access that provided, taking a measurement was a job of a matter of seconds. You know it's accurate, too, because all Digital Brake Disc & Drum Calipers come with a certificate of calibration supplied by Sealey.
The Sealey Caliper can switch between metric and imperial readings and it has a hold function so you won't lose a reading even if you knock its jaws. Or you can just hold them in position using the lock screw.
On test day we didn't have ready access to a drum brake – a dying breed on all but city cars and smaller electric cars – but the job is performed in much the same way, opening the jaws so that they measure the insides of the drums. That said, they'll only measure up to 15mm.
Should I buy one?
Maybe the question should be – do you want to buy one? If you're a nerd that gets a buzz out of using a sophisticated pieces of equipment then you'll definitely enjoy the sense of reward from measuring your disc digitally, although it would be hard to ignore one of Sealey's cheaper alternatives.
For a mechanic though, this tool makes perfect sense and could save you a significant amount of time over the many years of your career. Looked at like this, the £179.94 you'll need to pay for Sealey's Digital Brake Disc & Drum Caliper is much easier to swallow.