What is it?
If you're running low tyre pressures on your car, you might as well be throwing money away as you can expect increased fuel consumption. Not only that, but they can also mean your car will not handle as well as it should, while you can expect braking performance to be compromised as well. 
That's where portable compact air compressors like the Sealey MAC03 come in handy. At just under £70, it's certainly not a budget option like the Ring RAC 610 Analogue, but it has a number of nice little features. 
The Sealey MAC03 features a twin cylinder design that Sealey reckons improves air delivery compared to a single cylinder unit. Either way, the MAC03 has a delivery of 45lit/min and has a pressure gauge that reads up to 6 Bar/80PSI. The Ring RAC 610 Analogue goes up to 7 Bar/100PSI by comparison. This means it's suitable for inflating tyres on cars, vans and 4x4s, but just can't deliver the pressure for some bike tyres, so you'll have to look elsewhere if you want an all-in-one solution. 
The kit includes a ball needle and adaptors for inflatables though, while the MAC03 connects to your car's 12v accessory socket to take its power. It's also bundled with an adapter so you can connect to your car's battery if you need to. 
The Sealey MAC03 uses an analogue display, while controls are pretty simple - there's no auto-stop feature here that allows you to to dial in the desired pressure into the inflator and let it do its thing. 
What else? There's a built-in work light, while there's also a three metre power cord that can be attached to the 65cm high pressure hose.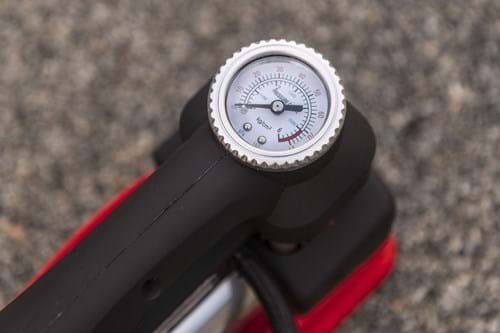 What's it like?
The Sealey MAC03 does a good job. We inflated the 225/45/R17 tyres on our Hyundai i30 to the required 2.2 Bar/34PSI in just under 3 minutes, which we thought was a very good time.  
It's easy to connect to the car tyre's valve, with the MAC03 using a screw coupling that's more effective than the older lever-style couplings found on some rivals. 
We'd prefer a digital display if we're honest, but the analogue display is easy to read (in daylight at least), while the relative gentle pace that the tyre inflates to compared to those found on fuel forecourts gives you plenty of time to keep an eye on it to make sure you don't exceed the desired pressure.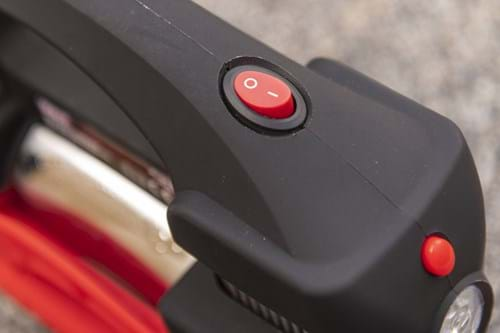 Should I buy one?
At around £70, the Sealey MAC03 is nudging in to the more expensive portable air compressors. It's a very solid performer overall, though we'd like to have seen a few more features - there's no auto-stop feature for example, or digital display, while it's applications are relatively limited.
If you just want something you and pop in the boot and use occasionally rather than heading to the filling station, the Sealey MAC03 is more than up to the job. If you're going to be using it more regularly (especially if you're covering a lot of miles), then you might want to take a look at something like the Ring RC830. It's cheaper than the Sealey MAC03, but comes with an LCD display and you can set the target level so it auto-stops when the pressure is reached.