What is it?
The Sealey PW2012R is a 25-litre 12-volt rechargeable pressure washer that is ideal for cleaning things when you're away from home yet need a little more cleaning power than a simple sponge and bucket full of water would provide.
It might be something that you're considering if you live in an upstairs flat, for example, and want to clean your car. Or maybe you're a car enthusiast looking to keep your motor looking spick and span at shows, or a mountain biker looking for a way of hosing down your bike after a muddy ride. It's priced at £168.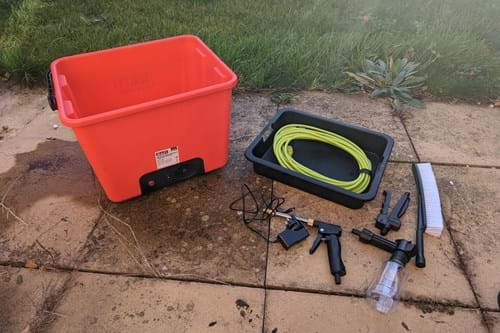 What's it like?
It's all rather simple. It's basically a lightweight bucket capable of holding up to 25 litres of water. You get a storage tray with it, containing various accessories (including the hose, a lance with a variable nozzle, a detergent bottle and a long fixed brush).
Fill the bucket with water, add some detergent if you wish (we used a bottle of wash and wax from Halfords – although Sealey recommends using its own detergent), and then you're pretty much set to go. With a full charge, it can run for a total of 2.5 hours. If, like us, you're not organised enough to charge it, just plug it into your car's 12V output and use that for power.
The output isn't as powerful as a 'proper' pressure washer, but that's to be expected. If anything, you don't want it to be too powerful – especially if you're cleaning something with lots of delicate parts like a mountain bike.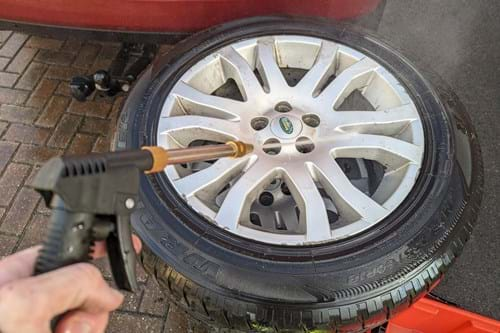 Think of it more as a portable hose than a pressure washer and your expectations are likely to be a bit more realistic. If you want, you can use the detergent bottle that comes with it rather than adding soap to the main bucket – professional car detailer style.
While it won't shift baked-on tar or bird poo that's been left to linger, we found it more than capable of cleaning the brake dust off our alloy wheels.
Talking of wheels, it comes with four of them. That makes it easy to move around, even when it's full of water. Unfortunately, it also means it moves around more when it's in the boot of a car.
Should I buy one?
The Sealey PW2012R portable pressure washer's £167.94 retail price made us wince when we saw it – after all, it's not a great deal much more than a bucket with a few useful tools and an electric motor attached to a hosepipe. Fortunately, no one pays close to list price and you can pick one up for around £120 if you look in the right places like Amazon.co.uk.
It's not as good at shifting muck as a proper pressure washer, but it certainly makes life easier than having to scrub your car or bike using nothing more than buckets of water. It's best seen as a gadget that's going to look impressive at the bike park, though – it's certainly not essential but it's pretty impressive.