What is it?
Think roof box and you probably think Thule. The Swedish manufacturer may have branched out into lots of different areas - you can even get a Thule drone backpack these days along with phone cases and luggage - but its bread and butter remain the roof box.
The Motion XT Sport is part of the Motion XT range which also includes bigger boxes - M, XL, XXL - the latter of which has a total of 610 litres of space but does cost £675.
More affordable is the Sport version we're testing. It's priced at £375 for the box and gives you an extra 300 litres of carrying space. On top of that, you will, of course, need roof bars. We're using the Thule WingBar 959 which costs £89 plus the Thule Rapid System 775 universal railing foot which is a further £110. All in all that's £574.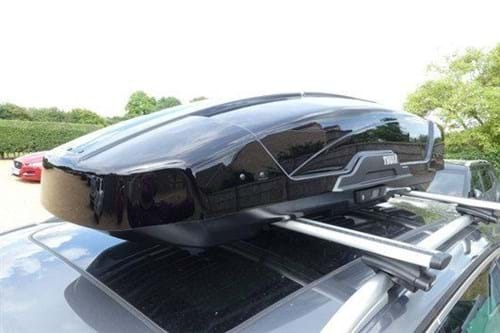 This is one of the suggested set-ups for the Volkswagen Tiguan we've been testing the Motion XT Sport on, but obviously, this differs depending on what car you own and what roof rails (if any) are fitted. Fortunately, there's a very easy to use the tool on the Thule website which shows you what bars will fit your vehicle.
The Motion XT is designed to be a more stylish roof box. So rather than the traditional bulbous shape, it has a sleeker profile which Thule says has been 'optimised for aerodynamics'. It comes in black, as tested here, or alternatively, there's a similarly glossy silver.
Standard features include the SlideLock locking system and DualSide opening, plus if you want to carry skis (it takes up to five skis or four snowboards) you can buy an extra ski carrier adapter for £46.
What's it like?
Get the Motion XT out of the (very big) box and the first thing you notice is how nice the finish is. Take the protective plastic off and you're greeted with a lovely black glossy shine - there are no scratchy plastics here. First impressions are very good indeed.
To mount it onto our Volkswagen Tiguan we first had to fit the roof bars and railing mounts. Once you've worked out where you want them and made sure they're straight, it's pretty straightforward. Although fitting the locks on the Thule Rapid System 775 is a little fiddly, but at least all four use the same key. Similarly, sliding the rubber sections into the WingBar requires patience.
The WingBar system has been designed to be aerodynamic, hence the aeroplane wing profile, with Thule claiming it is 55 per cent more efficient than the AeroBars. 
Getting the roof box up and onto the bars is a two-person job, but once in position, it's a doddle to fit. The Motion XT has slots for the FastClick mounts and once in place, it's just a case of tightening them so they clamp around the roof bars. It takes all of about five minutes and doesn't need any special tools. Plus you won't overtighten them as the handles click when you reach the correct torque.
If you plan on taking your roof box off regularly - as we've done - then the fact it's so easy to remove and then re-mount is a big selling point. And once fixed in place, the roof box feels very secure, even after taking it off and putting it back on several times.
So what about the roof box itself? The Motion XT Sport is relatively narrow as you can see from the pictures. We mounted it in the middle of our roof but it's ideal if you want to carry bikes alongside it as you can mount it to one side.
Thanks to the clever DualSide hinge design, the Motion XT Sport can be opened from either side which is really handy if you find yourself parked tight up against a wall but need to get something from the roof box.
The solid design of said hinges is another reflection on what a quality product this is. Despite lots of opening and closing, often with not much finesse, the Motion XT lid always shut perfectly, latching every time. The single handle opening makes it easy to flip the lid up - useful if you've got a bag or case in the other hand.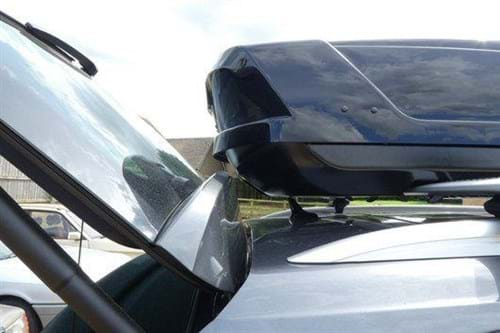 It's secure too. You can't remove the key from the lock unless the lid is closed properly, which means there's no way of accidentally locking your keys in the box or driving off with the lid not closed properly. We drove through rain, wind and even hail with our Motion XT Sport and it remained secure on our car. Crucially it kept everything bone dry too.
While it may not be the widest roof box on the market, you can still get plenty in the Motion XT. Going away for a week with a toddler, we were able to fit in a McLaren folding pushchair along with several holdalls, various teddies and even a bucket and spade...
The forward position of the Motion XT means you can still open the tailgate (with inches to spare in our case) and despite sitting over the rear aerial, there's no DAB interference. There will of course always be some wind noise from having a roof box, but the design of the Thule means it is better than most.
As for the economy, we saw a slight reduction of about 1mpg when it was fitted, although you do have to take into account the weight of all the extra gear you're carrying. There's also the issue of storing your roof box when it's not on your car - and not scratching the gloss black top on the Motion XT. 
Should I buy one?
If you need occasional extra space - we found it incredibly handy when going on holiday - then a roof box is a simple solution and one that easily frees up space on your car. But you needn't have to settle for an ugly square box on top of your car.
As the Thule Motion XT proves. It suits the shape of our Tiguan well but crucially for us, it doesn't create too much wind sound. True, it's not silent - there will always be some noise - but on long motorway journeys we found it far quieter than roof boxes we've used in the past.
Thule roof boxes are not the cheapest around but you're paying for what is a high-quality product. And that's no more evident than in the Motion XT Sport. True, £375 is a lot for a box with 300 litres of space - you can get a Kamei with more capacity for less than £200 (if you search online) - but the Thule feels every inch the premium product - and one that's a strong investment.
From the railing fittings to the locks and even simple things such as the way the box itself opens up, you can see where the money has been spent when it comes to development. The Motion XT is very user-friendly and feels like a robust roof box that not only looks good but will easily cope with plenty of use over the years. No wonder it comes with a lifetime warranty.