What is it?
A way of cycling indoors. If the thought of going out on your bike in poor weather fills you with dread but you don't want to lose your fitness over winter, this could be the answer.
Turbo trainers are becoming increasingly common. This is Wahoo's offering - a cheaper alternative to the pricey Wahoo KICKR. You simply attach your bike, download the app to your phone or tablet, and you can cover as many miles as you wish without having to leave the house.
What's it like?
While the full-priced KICKR requires you to remove your back wheel, the Snap is a 'wheel-on' model. You replace your bike's quick release skewer with the substantial one provided with the turbo trainer and mount your bike on the roller. It's a fairly simple process that, once you've done it once or twice, can be done in minutes.
The size of your bike's wheel and tyre, as well as the pressure of the air in the tyre, introduce variables which can cause inaccuracies in the figures provided when you start cycling. This means you have to perform a spindown calibration every time you attach the bike. Again, this isn't really too much of an issue as it only takes a few minutes - and we found that we generally left the bike attached to the KICKR Snap over the winter months when the temptation to pedal outside wasn't there.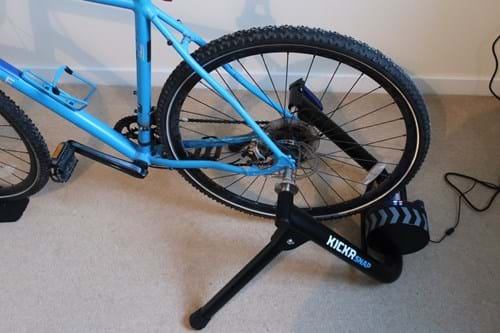 A heavy flywheel is intended to mimic outdoor cycling by keeping your rear wheel rolling once pedalling. A downside of this is that the KICKR is quite a heavy piece of equipment. That makes it feel substantial, though - it certainly doesn't feel like the budget kit.
It requires electricity to make it work which could be a nuisance if, like us, you were planning on using it in a garage or shed without power. But the benefits of the KICKR Snap outweigh that.
The device comes with Bluetooth and ANT+ connectivity, meaning it's easy to connect it to other devices such as your phone, tablet or even other devices such as heart rate monitors. Wahoo also has its own app which works well for giving you the kind of information you'd expect, such as how fast you're riding and how far you've gone.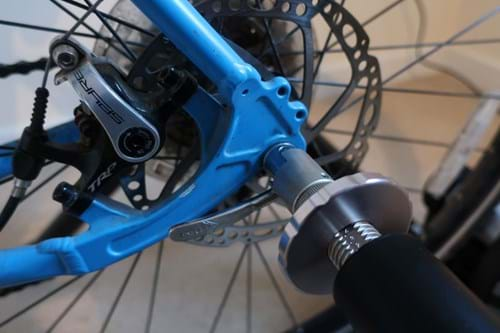 It'll work with external apps such as Strava and Zwift, too. We'd highly recommend the latter - it lets you ride in virtual reality on well-known routes around the world, and even cycle against other Zwift users.
Once you're riding, it feels as close to real-world riding as you're going to get from an indoor trainer. It's pretty quiet - although you'd be better using road tyres than the slightly knobbly rubber fitted to our test bike - and we'd be curious to see how much it affects tyre wear over time.
Should I buy one?
If you're happy to spend around £500 on cycling indoors, the KICKR Snap is a very good turbo trainer. Set up is easy and its heavy flywheel and sturdy feel provide a realistic riding experience.
Our favourite feature is its ability to work with third-party apps via Ant+ or Bluetooth. This adds another dimension to turbo training - to the point that, even in summer, you'll wonder why you'd even bother cycling outside on real roads.