Robotic Lawnmower of the Year shortlist
Do you despise when the time comes to mow your lawn? Well, here's the solution; a robotic lawnmower. Whether you have a big lawn that's an arduous job to cut or you simply can't be bothered with the faff of mowing the grass - robot lawnmowers are a cheaper, effective alternative to ride-on mowers. Here are our favourite five from the last 12 months.
See all our Kit Awards Shortlists for 2019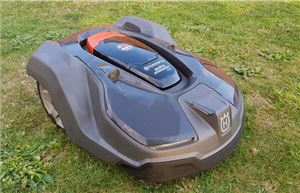 1
Husqvarna Automower
The Automower 450X is a robot lawnmower that automatically takes care of trimming the grass. And, once set up, you can just forget about it. It isn't cheap, but it is one that makes good financial sense for those with larger gardens. From the moment it was set up, it was faultless — and the results are impressive too. If you're thinking of getting a mower, this would be our pick. The Honda Miimo is also excellent though.
The 450X can also 'learn' your garden, find out where the obstacles are and adjust its routes accordingly via GPS. Security is another big plus, with the Automower being protected in three ways. Aside from having a tracker onboard, the mower is also pin protected — lift up the 450X and sensors will register that it's off the ground and sound an ear-piercing alarm. After that, you will need to input a four-digit PIN to unlock it. Finally, report it stolen to Husqvarna it will become blacklisted and won't ever be able to pair with a docking station in the future.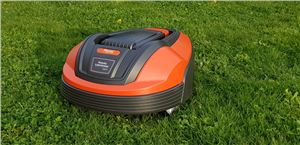 2
Flymo 1200R
The Flymo 1200R is an exceptionally good value robotic mower. Aside from the fact that the 1200R has the advantage of big brand garden tools name behind it, the mower is regularly heavily discounted on Amazon to around £500. The 1200R can cut lawns up to 400 metres square and - like various other options - it can handle slope gradients of up to 25%.
The robotic lawnmower is supplied with a charging station which automatically goes back to when it's running low on power, boundary wires, connectors and security features such as an alarm, lift sensor and PIN code. It's ideal for those that don't want the hassle of mowing the lawn and for older relatives who may no longer be able to mow the grass themselves.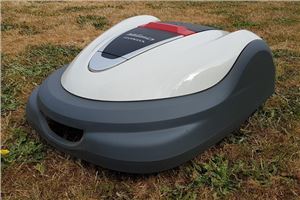 3
Honda Miimo
This one is a lot over £150, and when we say a lot, we mean it. While you won't find any bargains here, you will get a high quality product that does exactly what you expect to. Although, this HRM3000 model could actually make the most financial sense if your lawn is big enough to need a ride-on mower. Miimo squares up incredibly well on price here, as even Honda's base-model ride-on will set you back £3000+.
During the mowing season, it wouldn't be unusual to spend £60-£70 on fuel, plus £250-£300 on a service — whereas the Miimo can charge itself, again and again, all year long for around £15 and requires next to no maintenance. Alternatively, if you have someone who comes in to cut your lawn, this mower should pay for itself within about three years.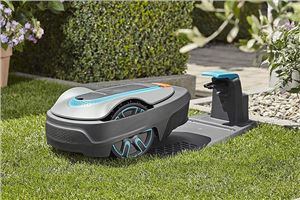 4
Gardena Sileno City 250
As the name suggests, the Gardena Sileno City 250 is made for smaller gardens up to 250 metres square, the type you'd likely find in urban areas. The battery provides a cutting time of 65 minutes before the mower heads back to its base station for an hour of charging before it's ready to go again. It's also water resistant against rain and blasts with a hosepipe, so cleaning it shouldn't be a delicate sponge clean-type job.
The interface is fairly easy to use, too, so just as long as your garden hasn't got an incline over 25%, the Gardena model should work just fine. Of course, some might argue there's no point in having a robotic mower for a small garden, especially as you'll still have to strim the strip of overgrown grass that the Sileno City 250 will leave behind at the edge of your lawn. But, that's your call.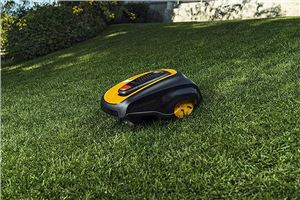 5
Mcculloch ROB R1000
Let ROB do the job with the McCulloch ROB R1000. The robotic lawn mower can maintain medium-sized gardens up to 1000 square metres and is ideal for those who want something easy to use. The ROB will mow the lawn within its boundary wire, according to the time you've set it to. Usefully, it also includes an audible alarm and PIN protection to help protect it against theft.
Like the Gardena, it can cope with inclines up to 25%, but won't be able to hack anything with more of a hill than a slope. It's a bit more expensive than rivals, but we think it's a good bet considering it uses various Husqvarna parts. As with most robomowers, it'll make it's way back to its dock when it needs charging. 
Buy it now