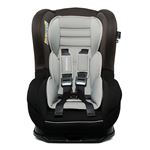 Mothercare Madrid
The details below are the fitting details and pricing options for this child car seat. We check for the best prices on child and baby car seats every day for all major retailers, including Halfords, Argos, Mothercare, John Lewis and Ebay, so that you can be sure you're getting the best deal.
Audi A4/S4 Saloon (2008 - 2016)
This fitting-list was carefully prepared using scientific data collected from both vehicle and car seat. Mothercare accepts no liability for the accuracy of the list, which is for guidance purposes only. You are advised to check that the seat you purchase is compatible with your car at the time of purchase.