What is it?
A way of taking your kitchen outdoors. Described as 'the essential camping companion', the Campingaz Party Grill 600 offers a wide range of cooking options, while also being easy to pack away and transport. In the box, you'll find the stove itself, three stow-away legs, a lid and a variety of grills including pan support, reversible cooking griddle and a conventional barbecue-style grill. There's also a useful bag to help you carry the Party Grill.
Setting it up is easy, although you'll also need a gas cylinder along with a suitable hose. Campingaz advises using its own cylinders (R907 or R904), but we hooked it up to a standard Butane Calor gas bottle.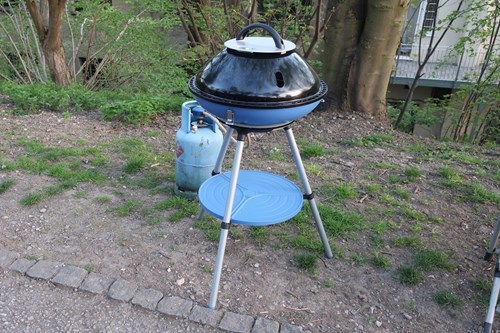 What's it like?
Incredibly versatile. Whether you're wanting to make the most of summer by cooking on the patio, looking to spend a few nights under canvas, or are heading to a festival - the Campingaz Party Grill 600 will meet all your cooking requirements.
We initially treated it as a barbecue, cooking a selection of ribs, burgers and sausages on its large, circular grill. It's very good at this - with its Piezo ignition providing easy match-free lighting and instant heat. The grill is huge, meaning there's plenty of room to move food around, allowing you to work out the varying temperature across the cooker.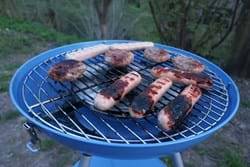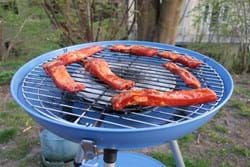 If anything, it's too easy. There's not much skill in this, and charcoal enthusiasts will insist that food lacks that barbecue taste. They' would be right, to an extent - this really is simple outdoor cooking, although it does get comfortably hot enough to turn sausages to charcoal and there are some proper flames as fat drips off into the handy drip tray below.
Impressed with our first encounter with the Campingaz Party Grill 600, we offered to cook breakfast the morning after our barbecue. Using its griddle with non-stick coating, we cooked a large pack of bacon, a few fried eggs and even a pan of baked beans. Its versatility is really impressive - it could not have gone smoother, save for one of the eggs sliding into the grease compartment below (our fault for trying to cook on an uneven surface).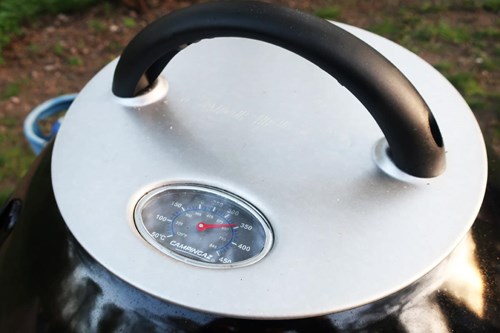 The lid has a handy built-in temperature display which means you could use it as an oven if you're feeling adventurous, and we've even heard of people using a pizza stone on the Party Grill to create their own pizzas when camping.
Should I buy one?
It's fair to say we're impressed with the Party Grill 600, so what are the downsides? Well, the catches used to hold everything together when it's packed away seem a little flimsy. And, despite the firm's attempts to make it easy to clean, it's still a fairly hefty device for lugging over to the campsite's washing-up area.
It's not the cheapest, either, but you get what you pay for - and there are smaller options in the form of the Party Grill 200 and 400 if you don't need the do-it-all capabilities of the 600. If you go the whole hog and opt for the 600, we think you'll be suitably impressed. It's really easy to set up, making it a viable tool for weekends away. It's also incredibly versatile, just as good at barbecuing meat as cooking a fry-up or even cooking meat and two veg.