What is it?
FOBO is a tyre pressure monitoring system that works via a smartphone and Bluetooth. Each tyre valve gets an individual sensor, linked to a battery-powered control unit in the car. You can monitor the pressures and temperatures in each wheel and set alerts for when they go above or below the preset values.
All cars type approved after November 1 2012 must have a tyre pressure monitor as standard – though this isn't retrospective. That means if your car is an older design you don't have to have a type pressure system, but it's still a useful thing to install if you take safety seriously. It is also a useful tool for fleet operators with several vehicles to monitor.
What's it like?
The FOBO comes in a neatly packaged box with all that is required to get set up and go. Installing the individual sensors requires you to read the instructions, but everything is clear and simple. All in all it takes around ten minutes to install the sensors, set up the control device and get the app up and running. There is one sensor for each wheel, plus a control module to put in the glove compartment.
It's really simple to use once it has been set up – you simply turn on the Bluetooth on your phone, get to within around 20 metres of your car and check the app. There are four squares on screen to represent each of the tyres, with pressures marked in PSI, kPa or BAR depending on your preference. There is also a readout for the temperature of each tyre, plus there is a battery status for each of the sensors.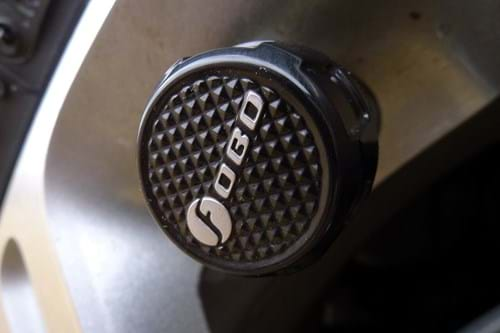 One of the four sensors
The sensors come with preinstalled batteries which should last several years, while the control module uses AA batteries, also provided. The sensors, which screw onto the air valves of the tyres, will be permanently linked to the user account used when setting up, so thieves can't make use of the FOBO on their own car. There are also optional locking devices to further deter thieves.
From the app users can configure their correct tyre pressures and set an upper and lower threshold. If the sensors picks up pressures higher or lower than this they will send a message to the user's phone via Bluetooth. The driver will pick this up when they are in range, then the app will inform the user which wheel needs attention.
This is obviously great for safety conscious car owners, or for parents who want to look out for their children. It's also useful for fleet managers, especially since you can set up multiple cars (up to 20) with one installation of the app, then check them all from one screen, though obviously these all need a module and sensors of their own.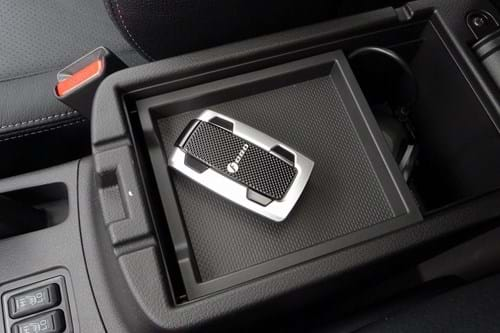 The control module lives in the car
There are limitations of course – Bluetooth needs to be turned on in order to link up with the control unit, so if there is a dangerously low pressure in a tyre and you don't have your phone you won't get the warning in your handset, though the control unit in the car will still beep when something is amiss.
Keeping tyre pressures correct prevents premature or uneven tyre wear, reduces braking distances, improves wet weather traction and improves fuel economy, so there are plenty of reasons to keep your tyres correctly inflated.
How much does it cost?
Unfortunately this is where the bad news starts. The full set-up including sensors and control unit comes to £149.99 at Maplin stores, which is rather a lot. Obviously for a safety or eco conscious driver that might be worth it, plus it is a convenient tool for a fleet operator in charge of numerous cars.
Having said that, manually checking tyre pressures once a week takes very little time and a good quality pressure gauge is a lot cheaper than the FOBO system. The FOBO does has the advantage of alerting a driver as soon as something goes wrong though – a manual tyre gauge can't do that.
If you think the £150 price is reasonable then there is nothing else to complain about. The free-to-use Android and Apple app is user-friendly and neatly designed, while the control unit and sensors are sturdy and easy to install. The FOBO tyre pressure kit can be purchased from Maplin.