What is it?
The Hayter Harrier 48 is a roller mower that is designed to leave your lawn looking well-trimmed with perfect stripes. This mower comes from one of the best names in the business, is UK-made and even the holder of a royal warrant.
What's it like?
What you'll first notice about the Hayter Harrier 48 is the weight. As well as the '48' in the name referring to the cutting width (48 cm/9in), it also - though not directly - refers to the weight, as depending on the version that you choose can weigh up to 48kg (the lightest version- with electric start - is 43kg).
That's heavy and this is something of a mixed blessing. On the one hand, the weight gives this mower a substantial feel that's missing from others - as well as aiding putting down those stripes - but on the other it can be heavy to move and difficult to manoeuvre around obstacles.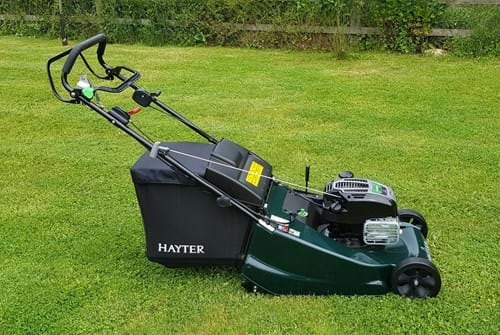 On the plus side, the build quality is outstanding with superbly-applied paint and high-grade materials throughout. There are also some brilliantly thought-through features like the easy wash system (simply connect a Hozelock-style connector on the deck to a hose to clean the underside of the mower) and seven-stage single-lever height adjustment allowing cutting heights between 13mm and 60mm. That range of adjustment reflects what the Harrier 48 is designed for: maintaining a manicured lawn, rather than tackling unruly longer grass - many other mowers have a higher upper adjustment.
Power comes from a 163cc 675iS Briggs & Stratton petrol engine - which is more than punchy enough for this type of mower - and getting it started requires just a light pull on the cord (electric start on the top model), thanks to ReadyStart technology, which recognises the temperature of the engine and primes the starting process accordingly. Other versions of the Harrier 48 have a Hayter 159cc OHV engine or a Briggs & Stratton 650EXi.
You'll need to press down on the green lever on the mower arm to get it started. This engages the mower's blade (and disengages it, but keeps the engine running when you're emptying the grass box). Once started, you can adjust both the engine speed and the speed at which it will propel itself and that's important, as the weight of the Harrier 48 means that being self-propelled is essential. Being able to go as slow as 1.5mph means you can take your time on trickier areas, whereas you can increase the speed to 3.3mph for covering larger areas of lawn briskly - this adds real - and unexpected flexibility to the Harrier 48.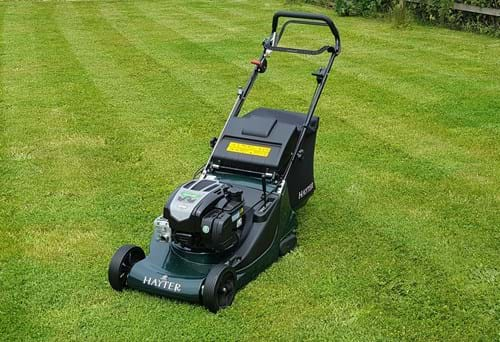 A further great feature is that the Harrier's cutting deck is wider than its wheelbase.  That means that you're able to get right up to the edges of the grass, so you can easily trim around borders, raised flower beds and retaining walls.
The quality of the lawn finish is especially noteworthy - it really is flawless. If you like your lawn immaculate, then this machine is well worth considering. And, as it'll clip down to 13mm, it's suitable for more specialist jobs like tennis court and cricket pitch mowing. The 70-litre grassbox is huge and does a good job of compressing the clippings, which makes for fewer emptyings, and is easy to lift between the handlebars. A 1.0-litre fuel tank is also well-suited to this size of mower, reducing the number of times it needs to be refuelled.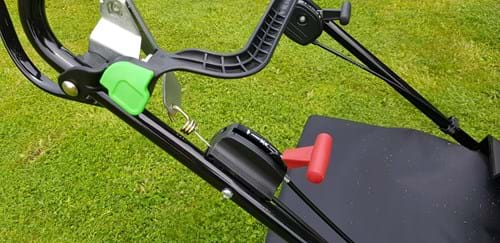 Should I buy one?
The question of whether to buy a Hayter Harrier 48 is one of those classic price-versus-value arguments. Prices start at around £900 for the entry-level model and you'll pay upwards of £1000 if you pick a model with a blade brake clutch or electric start. So, not cheap. But, it is a high-quality product and the build quality and features - such as that brake clutch - really shine through.
Plus, there's a long five-year warranty (lifetime warranty on the crankshaft against bending from accidentally hitting a solid object) and it's likely - with annual maintenance - to hold its value well and last for many, many years. There are certainly cheaper options available, but the Hayter offers a superb finish for buyers looking for an immaculate lawn. Its price tag and weight means it's not for everyone, but for a select group of buyers, this is an exceptional machine.