What is it?
The Cloud Controller is an automatic timer for hosepipes, sprinklers and watering systems from Hozelock - a name you might recognise if you have a hose in your garden. These systems are nothing new; they've been around for years, but the Hozelock Cloud Controller is different because it gives you the ability to control and vary your watering schedules from anywhere in the world (with WiFi) via an app. 
What's it like?
Set-up is simple - although it requires a bit of time - as you'll need to download an app, attach a device to your router and get the timer onto your outside tap. Getting all three working in sync can require a bit of running around.
The two key pieces of equipment in the box are the two grey boxes. The first stays in the house and connects to your router (just like many smart central heating systems do), while the second - the timed flow control device - screws onto your outside tap in the same way a standard Hozelock does.
The small square box plugs into the back of your router via an ethernet cable and needs to be plugged into the mains, too, so bear that in mind. This is the main controller - the brains of the Hozelock Cloud Controller if you will - and, although it doesn't need to be near the outside tap, it does need to be close enough for the signal to reach.
Next up is the box that fits onto the tap and controls the water flow. This needs to be 'paired' with the control unit before being screwed onto the tap itself. It's battery-powered (uses two AA batteries) and featured buttons - one to connect with the main controller and one to manually switch it on for 10, 30 or 60 minutes without using the app. The set-up between all these parts is done via the app and takes no more than five minutes. Once all hooked-up, it's a case of screwing the grey box that controls the water to flow to the outside tap and you're away.
The app is mostly simple to use and works well. You can adjust watering schedules - making them longer of shorter or stopping them altogether - get weather reports from home if you're away and turn it completely off. What you won't notice if you're away from home is the lag. Between switching the watering schedule on via the app and it actually kicking-in can take up to 10 minutes. Though once you've realised this, you soon get used to it.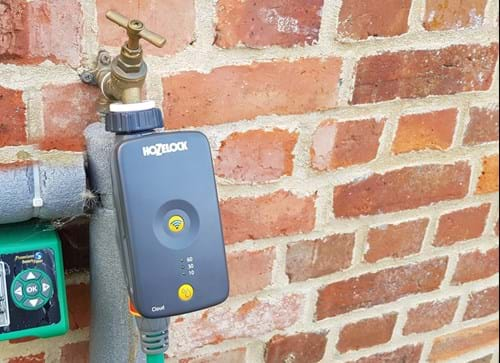 Should I buy one?
This is a really useful product in those summer months when the days are long and warm and you may need to water your garden a couple of times a day (assuming that there isn't a hosepipe ban in place). The app is really easy to use and, as it keeps an eye on the weather and allows you to adjust schedules, you can ensure that your lawn continues looking lush when you're away from home.
That said, Verified Amazon reviews are mixed. Some are big fans of the watering flexibility that it provides, while others have complained about pairing, compatibility and app issues. This reflects our own experience of the Hozelock Cloud Controller. On paper, it's a great idea and, arguably, worth the £100+ price tag.
However, after a few weeks use, we found (like some of those on Amazon) that the controller would no longer pair with the flow unit on the tap outside and, despite repeated factory resets and removing and re-installing the app, we have been unable to get it to work again. This is really disappointing considering we were rather impressed with the product when it was working. As a result, this review - which would otherwise have been a four or four-and-a-half star review - is reduced to two out of five stars.