What is it?
This 3000W garden tool from Hyundai is an electric leaf blower, vacuum and mulcher. It has a detachable 45-litre mulching bag to contain the leaves and grass that it vacuums up, reducing garden debris to one-tenth of its original volume - meaning it takes up less space in your wheelie bin. The two front wheels allow easy manoeuvrability and control, while the nine-position telescopic chute can be extended from 70cm to 100cm to suit any height.
At £45, the Hyundai 3-in-1 is also great value. But how did we get on with it?
What's it like?
The leaf blower comes fully assembled, so getting to grips with the machine isn't difficult at all. Although, there is a manual in the box which we had a quick look over regardless. There's a large switch - which is easy to reach while using the leaf blower - allowing us to swap between blowing and vacuuming. 
The device also features variable speed, so we can use low speed in delicate areas such as flower borders and high speed to quickly cover large areas. The Hyundai 3-in-1 produces a max. airspeed of 186mph (299km/h) and offers anti-vibration tech to protect your hands when using it for a long duration of time.
Weighing only 3.3kg, the leaf blower is lightweight and easy to manoeuvre using the wheels and the single over-shoulder support harness. There's a telescopic chute that can be extended from 70cm to 100cm to ensure you won't be uncomfortably bending over to push the leaf blower around, however, we found it a touch difficult to actually adjust the chute height.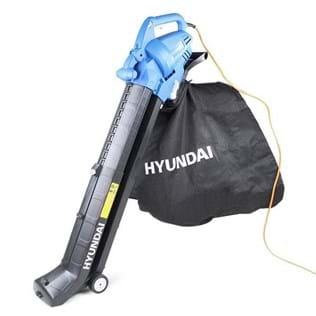 As for another thing we found a bit irritating, the canvas mulching bag fell off a few times. Whether this is because the leaves got a bit too heavy (we tested the machine in December when the ground was wet so the leaves were heavier and harder to vacuum) or because we didn't tie it on tight enough - we aren't sure. We also seem to be in the minority with this issue when we had a gander at the mostly positive Amazon reviews.
The manual says that the machine will work on wet or dry leaves and, while we can attest to this, we'd venture a guess that it works much better on dry leaves - as we'd expect of most leaf blowers. The chute got blocked by the wet leaves but we don't expect this to be a problem in warmer months. Aside from the issue with the mulching bag, when it did stay attached, it collected plenty of leaves and easily unzips at the bottom to drop all the mulched debris into a bin or on a compost heap. 
As you'd expect with any Hyundai equipment, the vacuum/leaf blower is built of high-quality components and comes with a three-year warranty in case anything goes wrong. As it's electric, the machine has a long 12m power cable too.
Should I buy one?
All in all, yes. Despite some small gripes, we'd wholeheartedly recommend the Hyundai 3-in-1 vacuum, leaf blower and mulcher - even with its ridiculously long name. It's a nice change to open a box and not be greeted with a heavy manual and a bunch of pieces and screws to put a machine together before you can use it. It does exactly what it says it does and, at this price, it's astounding value as well.