A dog harness and seat belt are essential if you travel with your dog in the passenger area of your car. Firstly, Rule 57 of the Highway Code states, "When in a vehicle make sure dogs or other animals are suitably restrained so they cannot distract you while you are driving or injure you, or themselves, if you stop quickly."
Drivers could also receive a £100 on-the-spot fine if they are seen to be distracted. And it could be stepped up to driving without due care and attention, which carries a maximum fine of £2500 and three to nine penalty points. Most insurers won't cover a motorist who's found driving with an unrestrained pet either, meaning you could be left with a hefty bill in the event of a collision.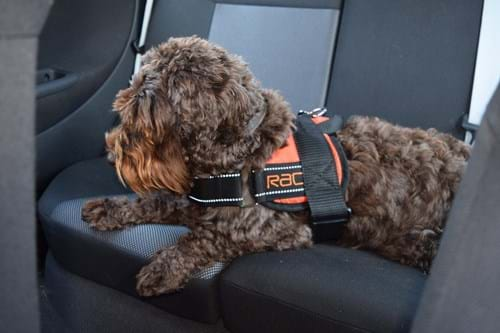 What is it?
The RAC Advanced Harness is an easy to fit, padded harness that can be adjusted around the tum and the chest of the dog. Sold separately, the RAC In-Car Harness Seat Belt Connector Strap attaches to the harness and clicks into the seat belt to restrain the dog while you drive. It also keeps your dog safe if you have reason to stop quickly.
We tested the RAC Harness and seatbelt in an old Vauxhall Corsa and a Peugeot Boxer horse lorry with a very tired Cockerpoo named Roly (we'd all been out to the beach).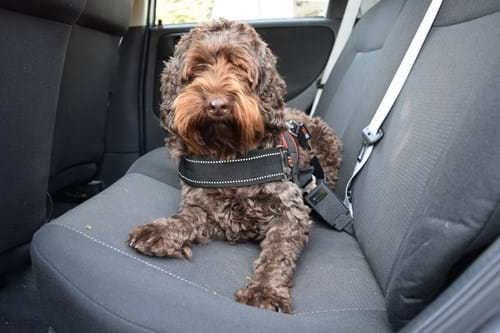 What's it like?
The harness is easy to fit with just one wide padded strap and buckle around the middle and an adjustable wide velcro strap across the chest.
There's a grab strap at the back of the harness together with a D ring to attach the connector, this can also be used to attach a lead so the harness can be used for walking your dog as well. There's bright orange high viz on the harness for safety when walking to and from the car as well.
The seat belt connector is straight forward; one end connects to the harness and the other clicks into the seat belt of your car. The length of the seat belt is adjustable, which is useful for long journeys.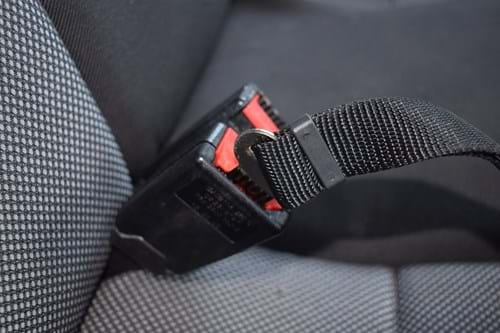 Roly is an anxious traveller so he fidgets in the car, and he is calmer with a harness on. But we'd worry for anxious dogs that might chew through anything that restrains them because the connector doesn't look very durable.
The medium size harness fits well despite Roly being quite a large Cockpoo, and it would fit a bigger dog. It won't go much smaller though.
Should I buy one?
The RAC harness is a quality product. It's lightweight, easy to put on and Roly was happy to wear it even after we got home.
There are quite a number of harness and seat belt options on the market, but this one gets our vote. Partly because of the flexible seat belt length, but we also like the simplicity of being able to move the seat belt connector to different cars.