What is it?
The Ring RTC2000 Cordless Handheld Tyre Inflator is a small rechargeable tyre inflator that's designed for topping up car tyres and inflating bicycle tyres, footballs (and the like) and even inflatables. It's light in weight (at roughly 500g) and comes with a two piece adaptor kit for sports equipment and Presta bike valves. There's an LED light and it also acts as a powerbank function if need be.
In the box you get the inflator as well as a carrying bag and a bottle cage attachment so you can carry it on your bike. The unit is charged via a standard USB cable that's supplied.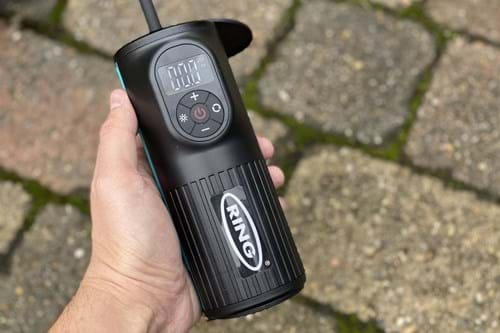 What's it like?
Given most people are used to tyre inflators being the size of a kids lunchbox with wires and cables, this small handlheld design might come as a surprise. It's about the size of a standard 50cl bottle of water and not much different in weight either. To charge it up took about three hours when it first arrived and since then we've been charging it up between uses.
You may have your doubts that anything this small has the power to inflate car tyres from flat and you'd be right. It's not designed to completely inflate a tyre - for that you need a more serious bit of kit like the Ring RTC1000, but for checking tyre pressures (and topping up) it's ideal. We tested it on our Volvo V60 and to top up each tyre (about 2 to 3PSI) took around a minute and half for each which is pretty good.
There's a digital display plus you can pre-set the pressure and just leave it to get in with the job. There are also four memory settings which is handy if your car has different pressure back and front, or simply if you're using it for different cars and bicycles.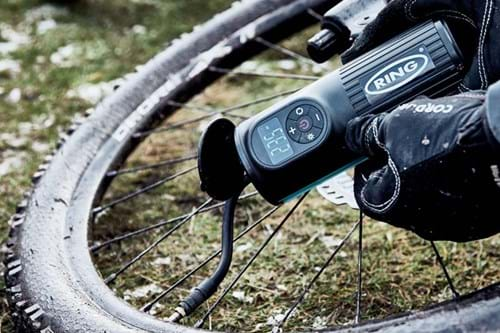 And talking of bikes, this is where we found the RTC2000 most handy. With the kids not having ridden their bikes for a few weeks, the tyres were looking a bit sorry for themselves. But even with the odd flat tyres, the Ring inflator was easy to attach and quick to inflate. 
It comes with a Presta attachment which we had a little more trouble with - it inflates but requires a bit of fiddling and the pressures shown were questionable. However, the fact you can take it with you on long rides is reassuring and it even comes with a bottle cage (or should that be inflator cage). To be honest, we stuck with having our bottle there and carried the inflator in our backpack instead.
Finally we tried it on a few flat footballs and a basketball, using the attachment which cleverly slots in the base. Again it was simple to use and fast to inflate - a handy thing to have for when the kids decide they want to play football there and then. Over the time we've used it, we found it has kept its charge well, even when sat in the boot of the car for a few months.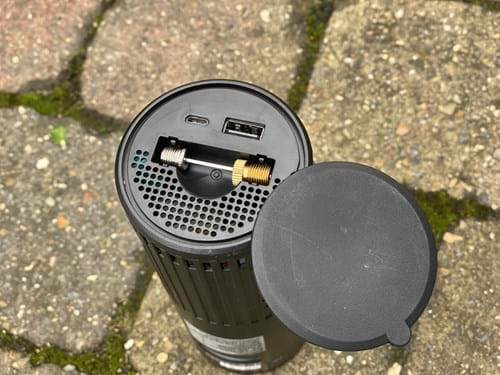 Should I buy one?
For around £40 the Ring cordless handheld inflator is good value - especially as it's so versatile. Its small size means you can tuck it away in the car boot and have it there for emergencies but we found it great for topping up bike tyres, especially when they've not been ridden for a few weeks. The fact it works on footballs and inflatables is another added bonus, no more disappointed kids at the park or beach come the summer. If you're a parent this will be a real godsend.
The fact it's so easy to use and doesn't need plugging into a 12V socket makes it ideal for checking your tyre pressures regularly - indeed now there's no excuse for a monthly check and you don't need to visit your local petrol station to do it. 
The fact all the attachments are cleverly stored on the unit means you won't lose anything and you can even charge it on the move thanks to the USB cable (just remember to take that with you). We also found the bright LED light helpful when inflating bike tyres in a dark corner of the garage. We've tried lots of tyre inflators but for everyday use, the Ring RTC2000 comes highly recommended by us.