What is it?
Sealey's Portable Charcoal BBQ is a compact cooker that costs roughly £30 to buy new. The barrel shaped steel BBQ is lightweight and has a built-in handle that makes it easy to store and carry. It's also easy to use, opening up to provide a completely flat cooking surface with one or two grills.
When you've finished cooking (and the BBQ has cooled down) you can lift the supplied cooking trays out and tip out the ash and spent coals. Once emptied, the Sealey BBQ can be closed securely with its fastening lid and stored neatly in a car or camper. Just make sure the BBQ has completely cooled before putting it in your vehicle, otherwise your next cooking experience will be in the car park…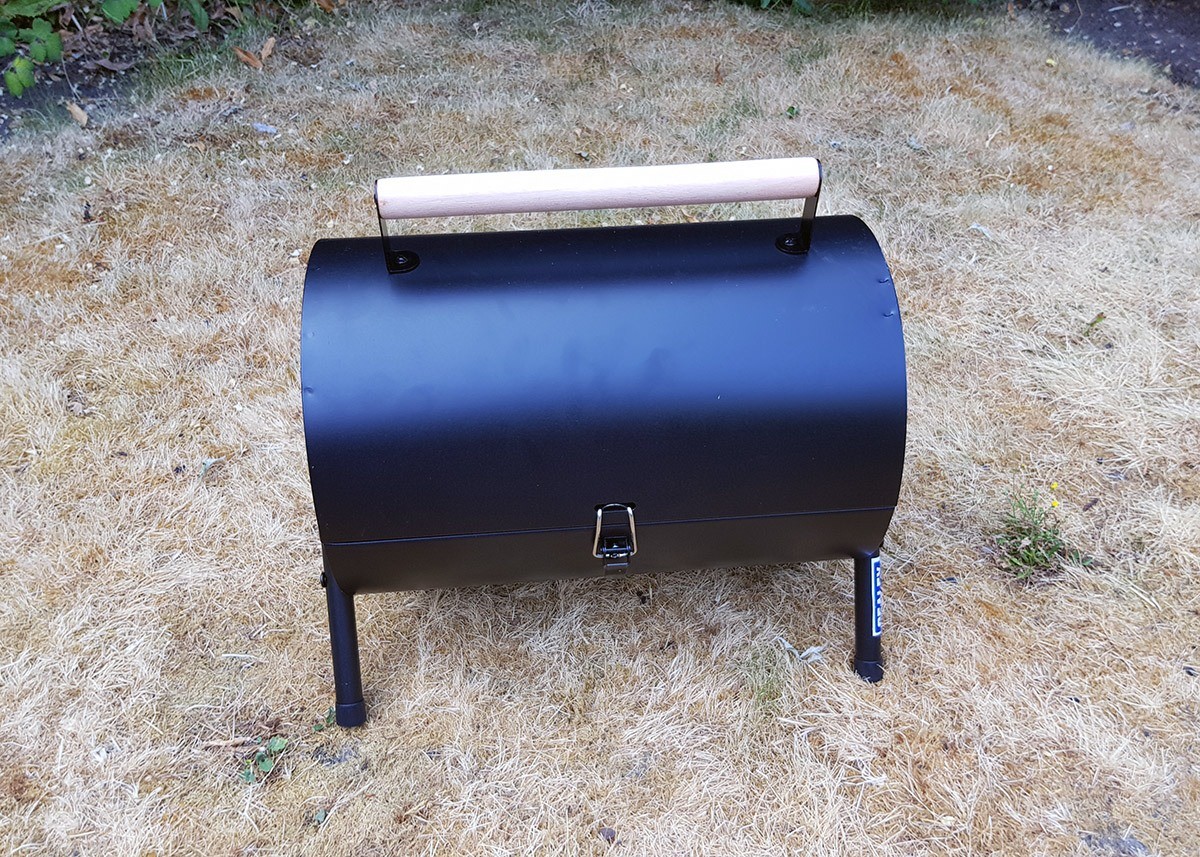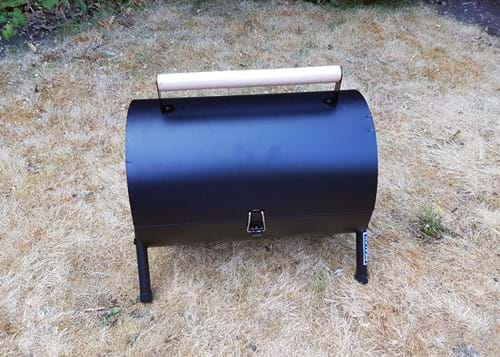 What's it like?
You have to assemble it first, but even for DIY rookies this shouldn't be a problem. The instructions are simple and the supplied screwdriver makes it easy to attach the legs and handle. The cooking trays are supplied and we had our BBQ up and ready for its first coals within 10 minutes of taking it out of the box.
Despite being built from steel, the BBQ isn't very heavy and feels quite sturdy. The exterior does scratch very easily - ours received two deep scratches while in the boot of our car. The latch can also be a little fiddly to open and close. 
Due to its compact size, the BBQ doesn't need many coals to fill. And the ventilation holes in the side of the barrel helps fan the air into the charcoals so you don't have to wait long before the grill is ready for food. If you don't need the second grill, you can latch it in the upwards position to shield some of the charcoal smoke.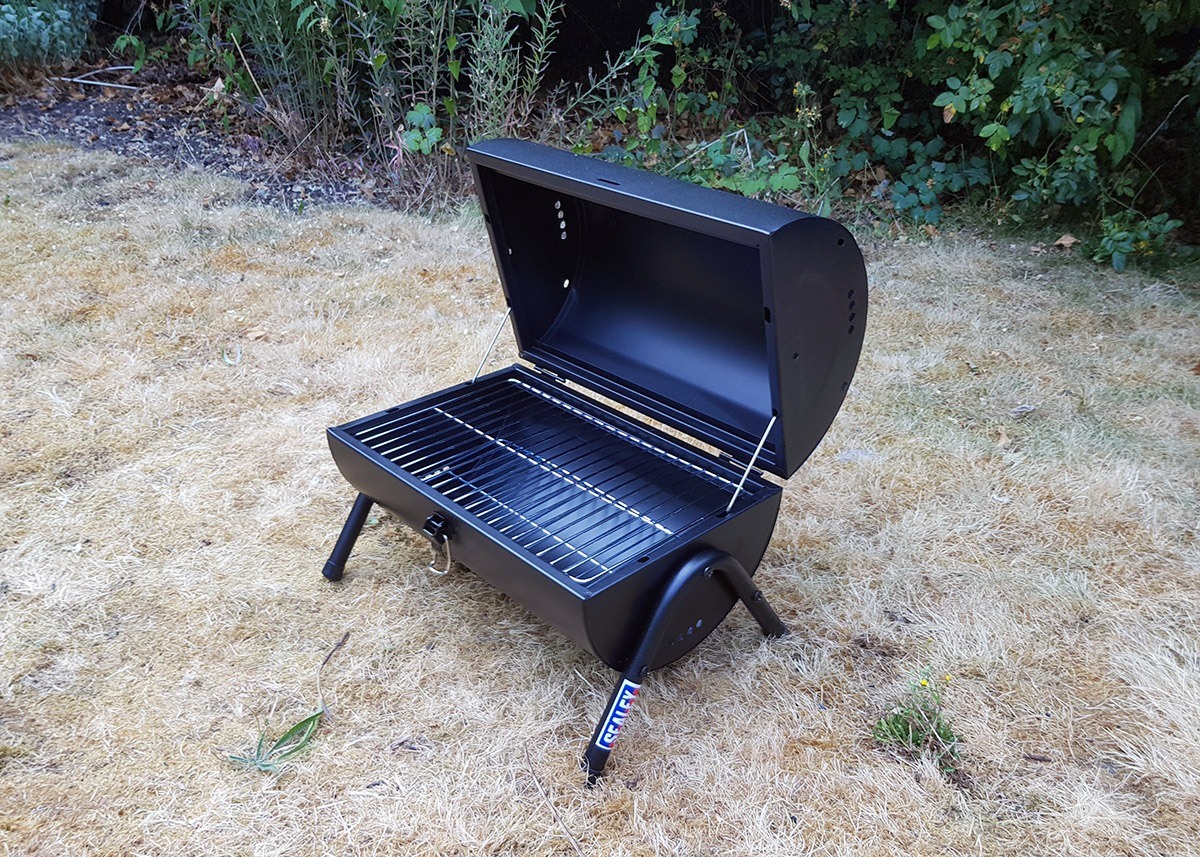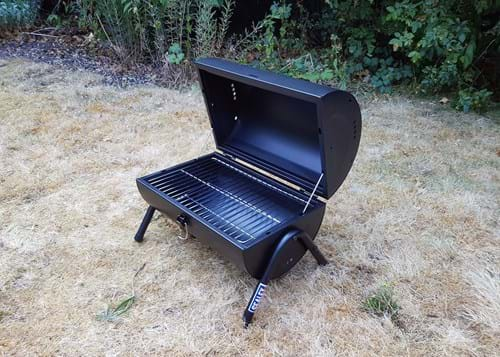 The Sealey BBQ is easy to use when it comes to cooking, but the narrow area for the coals can make it tricky to judge temperatures as the food sits almost on top of the charcoals. However, with regular turning of the food it's easy to get around this and ensure everything is cooked thoroughly. You can also close the lid for a couple of minutes to give things like steaks a smoky flavour.
Promotional pictures of the Sealey Portable Charcoal BBQ (especially those on the box it's supplied in) give the impression that you can place this compact cooker on a table; however, like all small BBQs this will result in the table melting or being damaged. In fact, the Sealey BBQ incinerates everything it sits on. We tested ours on a patch of grass and, after the BBQ had cooled, we found that it had left a big burnt patch. As a result, you'll need to use it on a concrete slab or hard flooring that's impervious to heat. 
Should I buy one?
If you own a camper van or want a compact BBQ that will fit in the boot of your car then the Sealey Portable Charcoal unit will make a lot of sense. It's light enough to carry around a camp site or beach and its double grill provides a great cooking surface. During our test, we provided food for four adults with ease. 
Due to its compact size, the Sealey BBQ is easy to empty and clean too, with its cooking racks fitting into most dishwashers. The only real criticism is its ability to burn anything that sits beneath it, which means it's not suitable for use on tables, grass or decking.