What is it?
Smart Polish Pro Waterless Wash and Wax claims to clean and polish your car without the need for water. The instructions are to spray it on a microfibre cloth and work on the car one panel at a time. The product should lift away dirt and then a second cloth is used to buff the surface to a shine.
Does it work?
We decided to first test Waterless Wash and Wax on a motorcycle, since in a small area you'll find dead flies, grease and brake dust to clear away. If the product can cope with that, it can cope with the panels on a typical car. The directions are to spray the product onto a microfibre cloth rather than the panel itself.
The results are surprisingly good. The motorcycle wasn't by any means filthy, but it had plenty of dead flies caked on in various spots and some dirt on the wheels and undertray from brake dust and road grime. Next we tried the cleaner on an elderly BMW 3 Series.
All of the spots of dirt were lifted away by the spray and the microfibre cloth without much trouble. Even stubborn, baked on areas of dirt and dried up insects came clean with a bit of effort, though tar spots were too much for the spray to cope with.
After that, a second, dry cloth can be used to buff the wax residue to a very glossy finish – though two cloths for a whole car is tricky – you probably need four. A single 500ml bottle is supposedly capable of cleaning a car 3-4 times and that seems reasonable.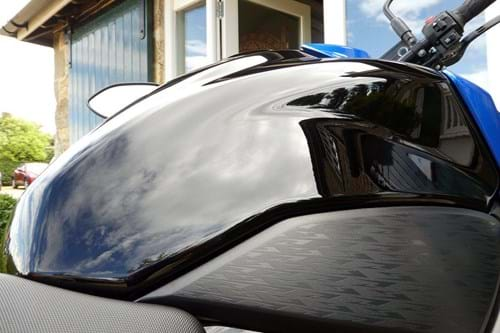 It certainly leaves a nice glossy shine
However, it's difficult to truly call it a waterless wash. If your car is caked in weeks of mud or road salt then the product won't do its job and you'll end up rubbing grit all over the paintwork, doing more harm than good. In those situations, there's no better alternative than a good pressure washer and some quality car shampoo.
Having said that, if you really love having a shiny, good-looking car then - after a proper clean and wax - this product will help maintain that shine for several weeks if used regularly. Plus the wax layer it leaves behind will help prevent more dirt building up.
So it does a good job – but only if you're keen on cleaning your car and you do it a lot. If you're looking for an easy solution to quickly and easily clean up a filthy vehicle then you're better off with a pressure washer or a trip to a local valet company.  There are cheaper alternatives too, including Triplewax Waterless Wash and Wax, which is around £5 for a litre. 
Price: around £15 for 500ml 
Key features: Cleans up a car without the need for water. 
Alternatives: Triplewax Waterless Wash and Wax - £5 for 1 litre.