Top 10: Crockery and cutlery for motorhomes and campervans
As any motorhome or campervan veteran will know, you can only go so many days living on takeaway before your body starts to complain. Get back to the joys of mobile home cooking with these dinnerware and cutlery sets.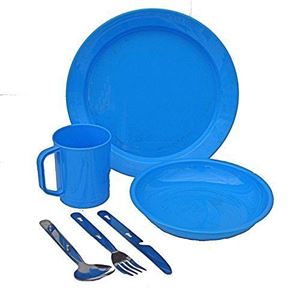 1
Yellowstone 1 Person Camping Picnic Dining Set
Sweet, simple and inexpensive is the clear aim with this set from Yellowstone. The six-piece collection includes a knife, fork and spoon in stainless steel with a plate, bowl and mug in tough plastic. It might not be luxurious but it is certainly effective, and at £8 per set including free delivery it's a good way to start kitting out your camper.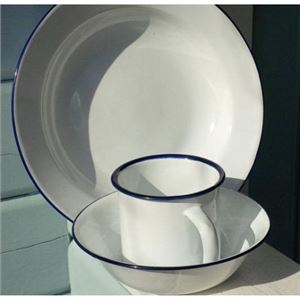 2
Steiner white enamel plate and mug set
If the old school vibe is your aim and you need some kit for your T1, this set by Steiner is a design classic. Made from steel with an enamel finish, the colour scheme is white with dark blue trim and promises not only long life but also a resistance to breakage which is hard to match. The only downside being that, while safe to use in a dishwasher, it is not suitable to use in a microwave.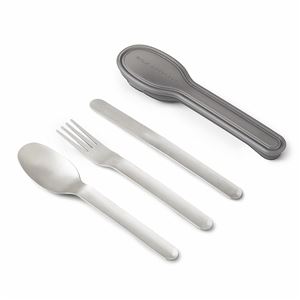 3
Black + Blum Nesting Cutlery Set
For the ultimate in space efficiency this nesting set by Black + Blum is just the ticket. The knife, fork and spoon have a brushed stainless steel finish for durability and a simple, attractive design. Better still, they stack on top of each other and fit snugly into the compact case, so you can store multiple sets in a very small space.
Buy it now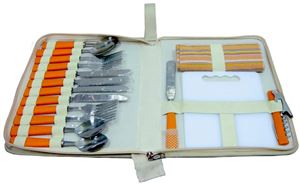 4
Brubaker Outdoor Camping Travel Picnic Cutlery Set
Cutlery that gets used occasionally can go west quite easily, so take a look at this set from Brubaker as an ideal replacement. You get four knives, forks and spoons all finished in stainless steel, plus a bottle opener, cheese knife, four napkins and a cutting board, plus a smart carry case for the lot for £15 plus delivery.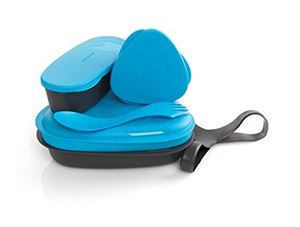 5
Light my Fire 6-Piece BPA-Free Lunch Kit
For those with a serious outdoors perspective, this mess kit from Light My Fire is incredibly compact and tough. The six-piece set provides one lid/plate, one plate/bowl, two Snapboxes - one triangular, one oval - a spork and a harness to hook it up to your backpack with all the elements storing in the large Snapbox. It's safe for microwave and dishwasher use too and is available in 11 different colours.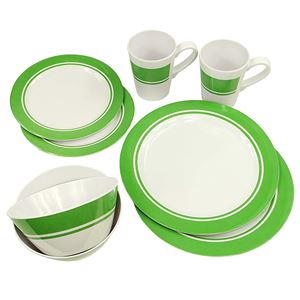 6
Fridani MDC 8 Piece Melamine Crockery
Another melamine set, this dinnerware collection from Fridani is an ideal starter pack. Comprising of two dinner plates, two side plates, two bowls and two mugs it is finished in a smart green and white colour scheme.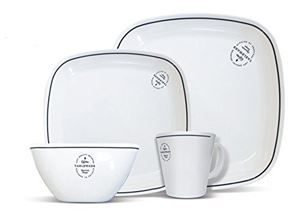 7
Husk Olpro 8 Piece Signature Melamine Set
Melamine dinnerware has the advantage of being tougher than porcelain but smarter-looking than conventional plastics, which is the thinking behind this set from Husk. Finished in a square, minimalist design it is intended to mimic the style of porcelain dinnerware but is far tougher and is dishwasher safe. This set includes four dinner plates, two side plates, two bowls and two mugs.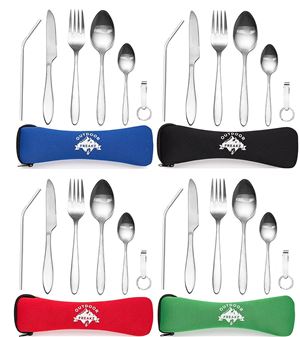 8
Freakz Outdoor Camping Cutlery
Purpose-built for hardcore outdoor work, these cutlery sets from Freakz will take the challenge of a motorhome holiday in their stride. Each set contains the basic trio of knife, fork and spoon but adds a tea spoon, bottle opener and straw, all finished in durable stainless steel. It also comes in a hardy neoprene bag so they stay tidy and dry. It's available in individual sets too.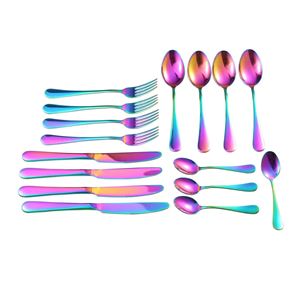 9
NiceEshop Stainless Steel Flatware set
You're on holiday, so why not prove it with a cutlery set that is clearly letting its hair down? This 16-piece set has an eye-catching chromaflair-like finish but it is highly practical too. It comes in a sturdy case for safe travelling, is stainless steel, dishwasher-safe and is resistant to heat and rust, so should stand the test of time too.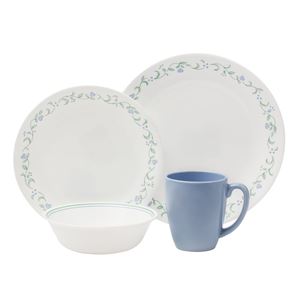 10
Corelle Livingware Country Cottage
This set from Corelle is actually designed for home use, but could make an ideal smart dining set for motorhome users. Made from laminated glass it is thin and light but also tough; Corelle promise their dinnerware is break and chip resistant with a three-year guarantee. This set of 16 pieces includes dinner plates, side plates, bowls and stoneware mugs.
Buy it now