Top 10: Useful car accessories for dog owners
When picking a car there are lots of practical considerations – but dog-friendliness might not cross your mind. Thankfully, if your car hasn't turned out to be the best companion for canines, there are lots of products on sale to help make your life easier - and Fido's, too. heycar has a list of the best cars for dog owners.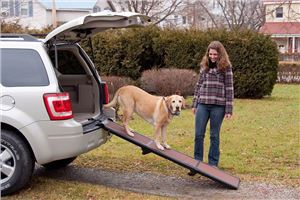 1
Pet Gear tri-fold ramp – around £60
A low boot floor is a boon for a dog owner – encouraging a pooch to leap into the back of a car with a low floor is easy. Unfortunately the same can't be said for tall vehicles like SUVs so, if you don't fancy picking up a wet, heavy dog and putting it in the boot, a ramp is a great solution. It's also useful for older, less sprightly dogs.
We've picked this Pet Gear ramp because it is long enough to suit most cars, including taller SUVs, plus it has a none-slip surface to stop dogs slipping. There are cheaper alternatives though, which might suit a lower car like an estate a little better.
Buy it now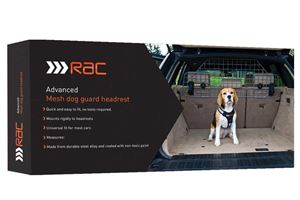 2
RAC advanced dog guard – around £50
Once you've got your dog in the boot you need to keep him there. Without a dog guard many dogs will leap into the cabin of the car, damaging upholstery with mud and claws and potentially causing an accident. A dog guard will stop this from happening without isolating a dog from the occupants in the cabin.
It's also a useful safety tool. In an accident the force of a dog flying forward from the boot is enough to do some serious damage to anyone in the front of the car. This RAC guard is said to be universal, but most car makers produce an official accessory that will fit your car perfectly and should be easy to install.
Buy it now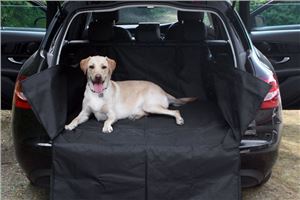 3
Sakura boot protector – around £15
So you've got a dog guard and a ramp – but that isn't going to keep your boot clean. Dog hair, mud and dog smell can be extremely difficult to scrub out, which is an even bigger problem in an era of company cars and lease deals, which require you to hand your car back in good condition.
A boot protector is an ideal purchase, then. This one protects the sides of the boot and the load lip, so leaping claws won't scratch and wet fur won't stain. Obviously you'll have to wash this quite often to keep the car fresh – but it's better than a dirty, mangy boot carpet.
Buy it now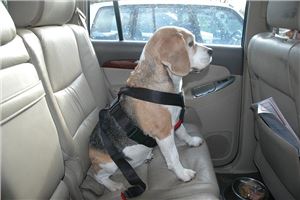 4
Clix Carsafe seatbelt and harness – around £25
It's all well and good having your dog in the boot – but what if you actually need your boot for shopping or luggage? Or if your dog is one of those mad ones that likes to stick his head out of the window? Well you can get a dog seatbelt - what a clever idea!
Clix is a well-known producer of car harnesses, with sizes to suit every dog from tiny to huge. These can then be hooked on to strap which plugs in to the seatbelt buckle. Dogs then have a little freedom to move around on the back seats, but they're restrained in an accident or if they get spooked.
Buy it now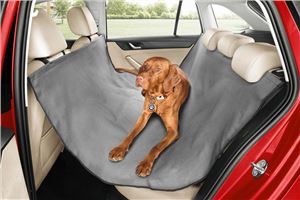 5
Rear seat protector – around £15
If you're dog is happier in the back seat than the boot then a rear seat protector is essential. Many owners will hack up an old bed sheet, but a better solution is one of these purpose-built covers. they hook around the head rests to stay in place and are typically made of a heavy duty material to protect from claws.
That should help keep your nice upholstery dog hair and paw print free. There are also slots to give access to the seat belts, which means you can use the protector in conjunction with a harness. Just remember that this particular design requires your car to have both front and rear headrests - there are alternatives though.