Top 10: Dog carriers and cages 2020
Dogs are a human's best friend so it's no wonder we want to take them everywhere we go. Make sure your dog is kept safe and comfortable on the move with these carriers and cages.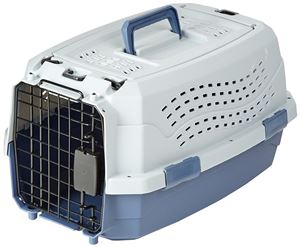 1
AmazonBasics 19-Inch (48cm) Two-Door Top-Load Pet Kennel
AmazonBasics products frequently tick all the important boxes whilst keeping the price appealing low, and this Pet Kennel does exactly that. Available in 19-inch and 23-inch sizes, it has a front and a top door, and the latter can be opened either side for convenience. Made from sturdy plastic for durability and easy cleaning, it also includes screws to ensure all doors are completely secure during transportation.
Buy it now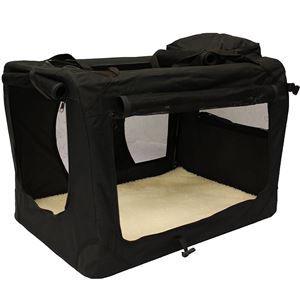 2
MOOL Lightweight Fabric Pet Carrier Crate
Made from a strong steel frame surrounded by a tough,  waterproof and washable cover, the Pet Carrier Crate includes a reversible mat with a comfy fleece covering on one side and waterproof polyester on the other. It also includes a removable bag for toys and treats, a pouch on top for storage and it folds down when not needed.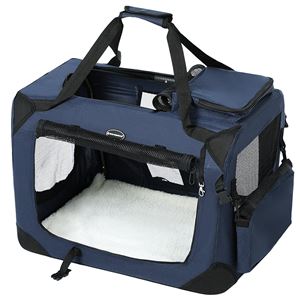 3
SONGMICS Lightweight Fabric Pet Carrier Crate
Rated 4.4 stars out of 5 by Amazon customers, this Pet Carrier Crate from SONGMICS is good value and well designed. Available in four different sizes to suit everything from a Dachshund to a Malamute, the SONGMICS carrier is finished in sturdy 600 denier Oxford cloth for durability and resistance to moisture and also includes a soft fleece liner, a removable pouch on top and a set of straps for securing it when on the move. It also folds down when not in use.
Buy it now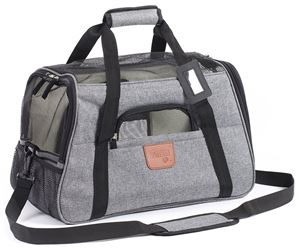 4
Hartann Pet Carrier
This lightweight design pet carrier from Hartann is designed for smaller dogs - it is billed as being suitable for cats and rabbits too - so much so that it even includes a shoulder strap so you can keep your pet close at all times. Well suited to travelling in a car, it includes a clip to attach to the vehicle seatbelt as well as an interior ring to attach your pet's lead for added security. Smartly finished in grey and black, there's also a comfortable fleece liner for maximum cosiness.
Buy it now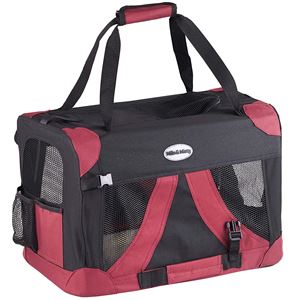 5
Milo & Misty Fabric Pet Carrier
Another model that comes in four sizes to suit a variety of dogs (and other pets), this Milo & Misty carrier has a sturdy steel frame with a waterproof nylon covering, including plenty of mesh widows to give light and air to your travelling companion. Included is a washable cushion, fleece-lined on one side and waterproof nylon on the other, tough V-stitching and seatbelt straps. It's also available in four sizes to suit any kind of hound.