What is it?
Mio might not be a brand that springs to mind when you're looking for a new sat nav. After all, with the market dominated by the likes of TomTom and Garmin, it's hard for other manufacturers to make much of a dent.
That said, Mio's not a new player in this game. The company was founded in 2002 and is part of the larger Mitac corporation, an electronics specialist established in 1982. Mitac also owns the Navman and Magellan brands, so it's got plenty of relevant experience in the navigation field.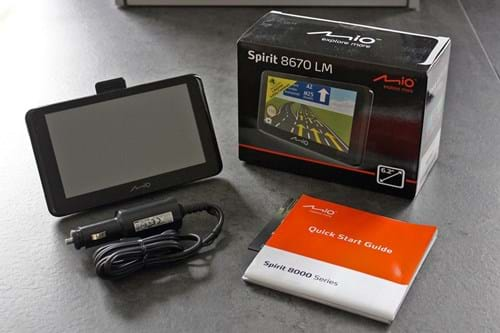 No doubt thanks in part to its parent company's expertise and backing, Mio is now a major player in the sat nav market – and offers a range of competitively priced navigation systems. It's not short on the technology front, mind, with its range-topping variant packing an integrated dash cam and a lane departure warning system.
On test here, however, is the more affordable and less complicated 'Spirit' 8670 LM. It features a big 6.2-inch touchscreen, maps of Europe with lifetime updates, Bluetooth connectivity for hands-free mobile calls, traffic updates, speed limit warnings and safety camera alerts. All of this is wrapped up in a neatly presented unit that will set you back around £159.99, undercutting myriad similar six-inch options from rival brands.
What's it like?
Truth be told, the packaging leaves a little to be desired. The unit, power cable, mount and manuals are just floating free in the box, with the unit itself wrapped in polystyrene to protect against damage. Consequently, storing it in its original packaging is a bit of a chore as rarely does everything neatly and smoothly go back into the box.
Fortunately, the sat nav unit itself doesn't disappoint. It feels suitably durable, with a decent heft to it, and is pleasingly straightforward – featuring just a power button, Micro SD slot for memory expansion and a USB port for charging.
Similarly, the mount is simple yet effective. It's a single-lever set-up, so you simply push it onto your vehicle's windscreen and flip a lever to secure it. It also has a locking tab assembly which slides into the back of the Mio unit, instead of a threaded fitting, meaning it's easy and quick to separate the sat nav from it.
This hassle-free nature continues when you switch the Mio on. It takes around 25 seconds to boot from cold, which feels a little slow, but once up and running you're presented with a clear range of options. When you've acclimatised to the menus and general interface, entering your destination – which can be done with just a postcode – is easy.
Once you've told it where you want to go, it then presents you with a series of route options – including 'easiest' and 'fastest'. It's not an uncommon feature but it's an appreciated one; it lets you check it's picking a vaguely sensible route, for one thing, and gives you more options without having to mess around with plotting your own waypoints.
As you might expect, the Mio's route guidance is similarly effortless to follow. Its voice instructions are easy to understand and hear, while the on-screen instructions are intuitive and clear. The display shows your current speed as well as the trip details, allowing you to quickly check your journey's status at a glance.
The audible speed limit warning isn't overly sensitive or intrusive, either, politely reminding you that you're exceeding the limit without being annoying. There is a range of other useful features, too, including a caravan and truck mode – and a host of route planning options.
It's not without its issues, however. It can be a little slow to respond to on-screen button presses, for starters. This slightly pedestrian nature is evident when it comes to route recalculation, too, with wrong turns occasionally resulting in a lengthy pause as it works out what to do next.
We also wished that the screen was more vivid. While it's not too hard to see in daylight conditions, and a range of map colour schemes are offered, the display lacks contrast and often appears dim and washed out.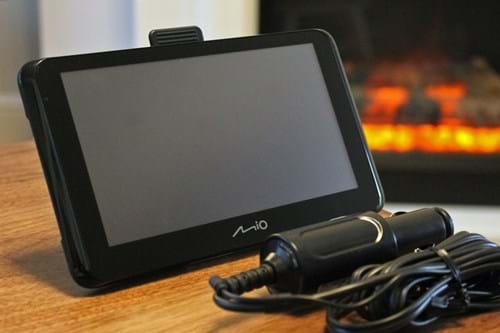 Should I buy one?
There's a lot to like about this sat nav. It is simple to fit, straightforward and its guidance easy to follow. If you intend to use it regularly, however, its sluggish interface and dull display may become major sticking points.
Consequently, unless you're sold on its screen size and price, we'd recommend going for a slicker Garmin or TomTom alternative – even if, to keep the price similar, you have to opt for one with a smaller screen.