What is it?
The Anker SoundSync adds Bluetooth connectivity to any car with an aux audio input and a 12V accessory socket or USB port. It can also be used at home to pair a Bluetooth device up to speakers and stereos. It costs less than £20, so is much cheaper than buying a new audio system for a car – plus it supports handsfree phone calls.
Does it work?
The SoundSync is extremely easy to use. Once it receives power via the USB connector it can be switched on, after which pairing is very straightforward. A long press on the power button enables pairing and then you can select the device from the phone's Bluetooth menu.
When it's paired it can be used to play audio through the aux socket of a car. The little round control module can be stuck in a convenient place, even if the surface is textured. The controller has play/pause and track skip functions, so you can easily control music being streamed from your phone.
Once a phone is paired it will auto connect when the SoundSync is powered on. That means, provided you leave Bluetooth switched on in your phone, all you need to do to start streaming when you get in the car is switch the SoundSync on and open your favourite music app.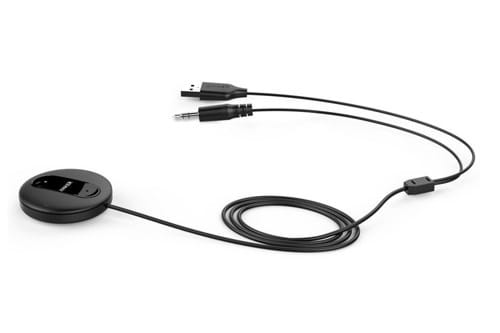 There is no 12V-USB adaptor included
The SoundSync also supports handsfree calling, with the call playing through the car speakers. There is a built-in microphone, but call quality isn't particularly impressive. Still, it's acceptable and means you can legally take calls without risking six penalty points.
Out of the box the device works with any car that has both a USB socket and an aux. That means some drivers will need to also buy an adaptor for their 12v accessory socket – though these are cheap. So as long as you have an aux it's a very cost-effective way of bringing Bluetooth streaming into an older car.
Sound quality is very impressive. Music sounds as crisp and defined as it would if connected to the aux directly by a high-quality cable, so the limiting factor isn't the SoundSync but the audio system in your car. You can also use the SoundSync at home with any stereo or speaker that supports an aux input.
It's a very smart gadget with a sensible price and it's well made – but there are other options that are just as impressive including the Aukey BR-C8, which costs a little more but comes with a 12V accessory socket in the box, complete with two spare USB sockets for charging other devices.
Price: Around £15            
Key features: Audio streaming, hands free calls.
Alternatives: Aukey BR-C8 - £17.99