What is it?
Not simply wireless headphones, says Bragi. They're miniature computers, designed to sit in your ears all day long and assist you with whatever it is you want to do. Looking to summon an Uber? Just ask the in-built Alexa, Siri or Google Assistant.
Off for a swim? The waterproof Bragi will automatically track your heart rate, activity duration, calories burnt and how many lengths you've swum. There's even an in-built translation service which helps you communicate in 40 different languages.
Of course, it'll do the music thing too. There's space for around 1000 MP3s (remember them?) in the 4GB inbuilt storage while connecting the Dash Pro to your phone allows you to stream Spotify or podcasts or pretty much whatever you like.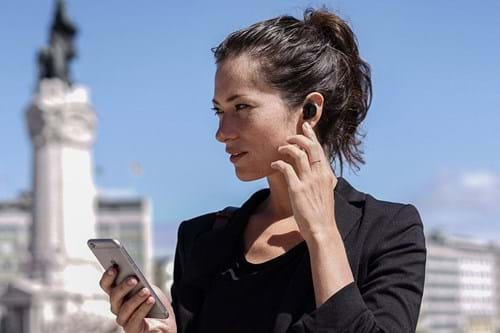 What's it like?
In the box, we found a pair of Dash Pro headphones, a series of different sized rubber sleeves of various sizes to help them fit in our ears, a case which doubles up as a charger and a micro USB cable. Aesthetically, the Dash Pros don't look like anything special. They could be any generic wireless headphones, unlikely to make a statement in the same way as Apple's AirPods. But maybe that's a good thing.
Setting up takes a little longer than we'd like. We had to work out which sleeves fit comfortably in our ears and then attach them to the headphones — a fiddly procedure in itself.
You charge the Dash Pros in the case they come in, with the case able to hold 30 hours of battery life. We had a few issues when we thought the headphones were charging but weren't, leaving us stuck when we wanted to use them. Wiggling the headphones around in the case to ensure they're properly connected sorted this. The Dash Pro will illuminate red, blue, orange or green (depending on their battery level) if they're charging.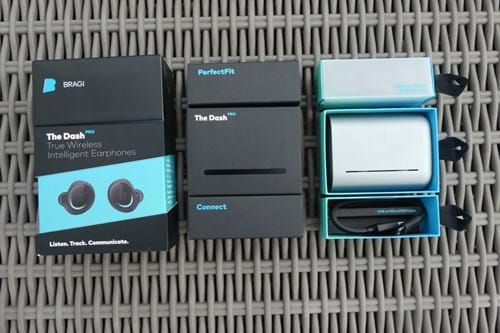 When charged, Bragi claims a five-hour runtime — which is as good as rivals, but not better. We found that to be pretty accurate and enough for, say, commuting. But if we plan to wear them all day, we're out of luck. Unfortunately, unlike most wireless headphones (even ones much cheaper than the Dash Pros), we can't work out how much battery life they have left using a small symbol on your phone's home screen.
We can, however, shake the wireless buds to find out how much charge they have left. The light colours mentioned earlier indicate their charge level.
Each Dash Pro has a different function. The one on the left looks after all the activity data such as your heart rate, while the one on the right is responsible for audio. Simple enough, right, but it does make the setup process fiddlier than it needs to be. First, you need to insert the Dash Pros into your ear and search for the right one using your phone's Bluetooth.
If, as we found, the Dash doesn't show up straight away, you can hold onto the right one for five seconds. If successful, this will connect the audio. Next, you need to connect the sensors for tracking fitness activities as well as controlling the headphones using gestures like shakes of the head.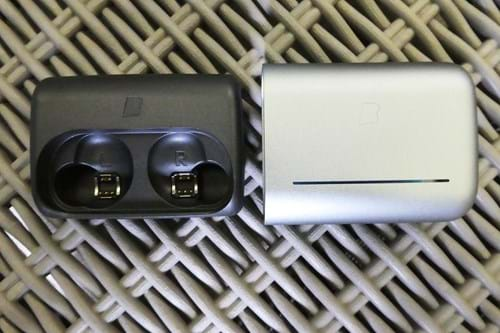 To do this, we had to download the Bragi app to our phone and then search for the left Dash Pro. Once connected, we're ready to go - unless we wish to load music or adjust the language, in which case we have to connect the headphones to a computer.
While the Bragi Dash Pro has some very cool features, it's worth spending some time with the user manual (or YouTube) to understand how to use them best. Various gestures on the right Dash can control the music, such as tapping to play or pause while two taps will skip to the next song. Three taps will skip to the previous song while swiping can adjust the volume.
There's also a clever virtual 4D menu that can be activated using the Bragi app on our phone and opened by looking down and up when wearing the headphones. This lets us control various things, such as skipping songs, by using head gestures. It's clever stuff but in reality, not massively accurate — and we soon started to feel self-conscious about using it public.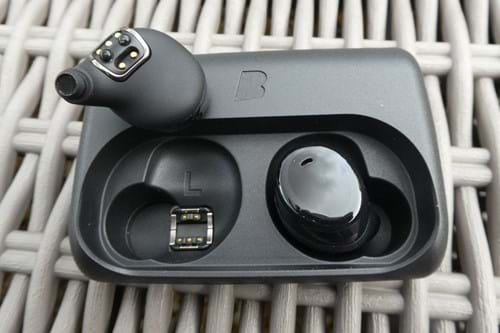 Using your finger to swipe the left dash turns audio transparency on or off. This works pretty well. Using the Dash Pros while running along busy roads, audio transparency lets through a degree of noise from the outside world, helping you hear when vehicles were approaching. It's not flawless, the noise of our trainers hitting the pavement did ruin the sound of the music somewhat.
Should you receive a call while using the headphones, you can answer by simply nodding your head (shaking rejects it). We tried this and found that the person on the other end of the phone struggled to hear us. While audio snobs will be able to pick faults with the sound quality, we think it's excellent for wireless activity-focussed headphones such as these. The Bluetooth connection is also pretty good, in our experience — only dropping out on a handful of occasions.
They're also comfortable to wear and don't fall out, something that really can't be taken for granted with wireless headphones. During strenuous activities such as running or cycling, you shouldn't have any issues keeping them in your ear. And they're also waterproof - meaning we could even go swimming with them.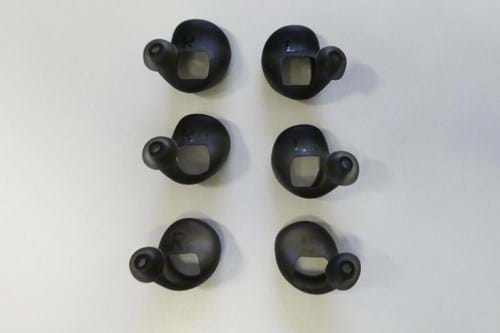 Should I buy one?
1p off £300 sounds like a lot of money for a pair of wireless headphones, which is why Bragi's emphasising all the extra features offered by the Dash Pro. And they are clever. Our biggest concern about the Dash Pro is how complicated they are to use, however. Not only is the setup more complicated than it really should be, but you'll also have to be a keen gadget geek to really get to grips with all the functions.
If you don't figure out how to work all the intelligent features, the Dash Pro suddenly becomes a very expensive pair of wireless headphones or worse — they'll end up sitting in a drawer not being used. If you're confident you can work it out, though, they are a great device if you have the cash to spare.