What is it?
The Bridgestone Potenza Sport is the latest ultra-high-performance summer tyre from Japanese tyre brand Bridgestone, the second largest tyre manufacturer in the world. The summer tyre is available for wheels from 17-inch up to 22-inch (there are 96 sizes in fact), making it ideal for cars and SUVs.
The Potenza Sport replaces the Potenza S001 in the Bridgestone range and is designed to offer high cornering and straight line stability, dry braking grip as well as strong performance on wet roads. A quick search online sees prices range from £90 to £247 a tyre depending on size.
To further enhance its credentials, Bridgestone tyres are now original equipment for Lamborghini, Maserati and BMW. The Potenza Sport tyre uses innovative 3D sipes (the groves in the tyre tread) to increase stiffness which helps under braking along with a mix of nylon and aramid fibres in its construction to maximise stability at speed. The carcass is designed to increase stability performance and steering response while optimising rolling resistance.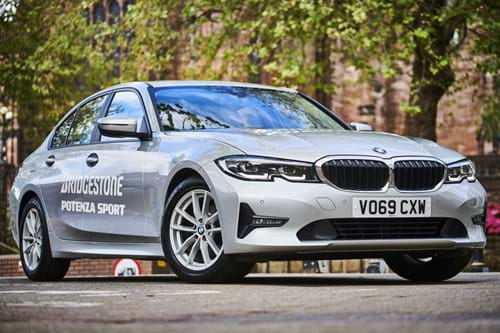 What are they like?
We tested the Potenza Sport tyres over a week fitted to a new BMW 3 Series saloon. Admittedly it was only a 318d so not quite what you'd call a high-performance car, but it still gave us the chance to test the tyres on a rear-wheel-drive car. 
Thanks to the changeable UK weather, we were also able to see how the tyres performed in both dry and wet conditions. Indeed, Bridgestone makes some bold claims for the Potenza Sport, saying it sets 'a new standard in premium, high-end sports performance, providing best-in-class performance in the dry supported by a premium wet package.'
In the dry, the Bridgestone Potenza Sport tyres certainly live up to their billing. They respond precisely to steering inputs and even when pushed very hard on a hot day, they continue to perform impressively well when you ask for a quick change of direction. The front end grip is excellent too, which gives you plenty of confidence through corners.
Given the BMW we're using is rear-wheel drive, this is the real test for the Potenza Sport tyres. And they pass with flying colours. Even with a heavy right foot out of a low corner, there's no hint of the rear of the car becoming unsettled with great traction and grip.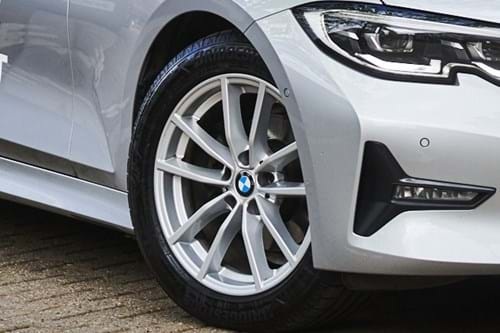 Of course, one area where summer tyres don't always perform as well is in terms of wet weather performance. But the Potenza Sports really impressed us here, especially in the sort of wet conditions you get from a heavy downpour after several days of warm and dry weather. Despite slippery tarmac, the Bridgestone tyres continued to demonstrate excellent grip at both the front and rear. This is perhaps the biggest plus for these tyres.
It was the same story when braking from higher speeds, such as leaving a dual carriageway onto a short slip road. Indeed, the Potenza Sports have been tested by TÜV SÜD, one of Europe's most respected independent automotive testing institutes, where they achieved the best performance in both dry braking (shortest braking distance on a dry surface), cornering and straight line stability compared to rival tyres. Noise levels are around 72dB, which is on par with competitor tyres.
Should I buy them?
Tyres are rarely an exciting thing for most car owners but given that they are the key thing that keeps your car in contact with the road, having the best tyres for your car is important not just for performance but for safety. That shorter stopping distance can make all the difference. It's why doing your research is so important.
So, while the Bridgestone Potenza Sport tyres might not be the cheapest around with prices ranging from £70 for a 225/45 R17 tyre up to £245 for 305/30 R20, the grip performance they give you in the dry and wet - and the reassurance that brings - is worth the money. It's why we've given them such a high rating for value for money. For a performance summer tyre, there's nothing better on the market.