What is it?
The oddly-named Melomania 1 are wireless in-ear monitors from Cambridge Audio, a British audio company that's been aiming to 'save the world from s**t sound' for the last 50 years - according to its website at least.
They're very impressive with 45 hours of use, IPX5 water-resistance and voice control (to an extent). But at £120, how do they stack up against the biggest name in the game, Apple AirPods (£160)? Let's get into it...
What are they like?
The Melomania, which is a word that quite literally means 'enthusiasm for music' rather than a medical condition the name brings to mind, come smartly packaged in a slim box - which includes the earphones, charging case, one pair of medium-fit memory foam tips, three pairs of silicone tips (in different sizes), one fairly short micro-USB cable and a user manual.
Unlike many rivals - including AirPods - the Melomania 1 aren't exactly ear-shaped. They're also slightly heavier on one end because that's where the mechanics are housed, meaning they feel a bit precariously placed in our ears if we don't wiggle them in far enough. When it comes to the fit, it's quite hit and miss. While I get on fine with them, other folks we've had to try them out don't like the earplug-like feel.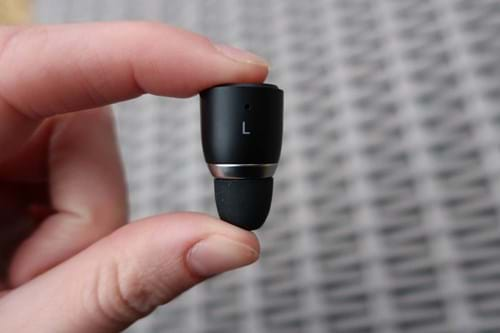 If you're considering them as headphones to use while exercising, they stay put fairly well, especially with the memory foam tips. But they aren't perfect, our money would probably go on the AirPods when it comes to running while using wireless earphones. On the plus side, the Melomania 1 are sweatproof.
It would be fair to call the Melomania 1 functional rather than stylish. After all, there's a limit to what you can do with a product this small in terms of design. They're not very noticeable either, especially if you have mid-length/long hair that covers your ears. This has led to a few instances of our colleagues speaking to us without us realising, as well as them thinking we're ignoring them, but that can't be helped. In terms of colour options, we prefer the black pair we're testing over the stone coloured Melomania 1 - which have a medical-look about them. 
Each earphone features a button at the non-listening end, which allows you to pause/play, alter the volume, skip tracks, accept/reject calls etc. The earphones also have an L and R to dictate left and right, which is important when it comes to these controls - for example, two clicks on the right earphone let you skip a track, you'd have to double-click the left earphone to go to a previous track. It works well, although we wish the controls weren't so designated by which side earphone we used because, say, we're out running with only the right earphone in to listen to our surroundings, we'd only be able to skip to the next song or turn volume up.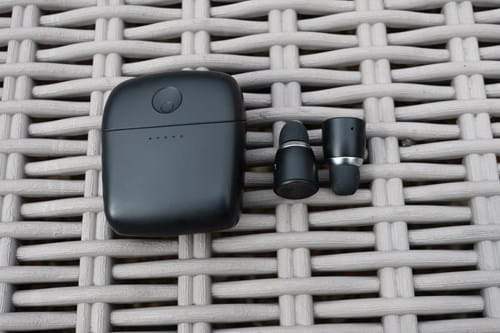 Around this button, there's a circular light that indicates whether the Melomania are charging, fully charged, pairing via Bluetooth etc. Cambridge Audio also includes a helpful little bank-card sized cheat sheet to help you get to grips with the controls. 
The case, much like the earphones, is tiny (59mm x 50mm x 22mm) - meaning it fits effortlessly into jean pockets, bags etc. The earphones stay put with a satisfying click from the magnetic fastening, so even if the magnetic lid of the case pops open - the Melomania 1 won't fall out. The case, on a full charge, will boost the battery life of the earphones up to 36 hours and you can see how charged the case is based on the five white LEDs on the front.
If you don't like the black or stone colour of the plastic case, you can buy a silicone on in orange, red, pink, green, navy or grey - this will also offer extra protection (especially for the exposed charging port) and it comes with a clip to attach the case to you or a bag.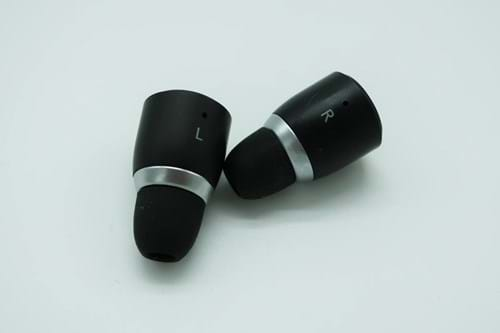 It's slightly irritating, yet not surprising, that Cambridge Audio has opted for micro USB rather than USB-C charging - considering USB-C connectors offer a lot more dynamism to their functionality. For example, USB-C charging is more powerful, it's reversible so you'll no longer have to flip the connector around looking for the right way to plug it in and it can support adapters that allow you to connect an HDMI, VGA, larger USB Type-A connectors, and smaller USB Type-C connector via a single port. 
We get that micro USB is the most ubiquitous charger, with most people likely to have one kicking around somewhere in a spare drawer - but it's a small detail that would make a big difference in terms of showing that Cambridge Audio is a forward-thinking brand. The Apple Airpods case is charged using a USB-C cable, which we like - but many big-name audio manufacturers still use micro USB too. However, we charge it so rarely that it's not a huge bother.
Battery life is nine hours (continuous playback at 70% volume), according to Cambridge Audio - although we got closer to seven and a half hours. A possible playback time of 45 hours without having to further charge (9 hours from the earphones + 36 hours from the case) is well above average and we think this long battery life will be a big reason why those who want wireless in-ear headphones will opt for the Melomania 1 over the many other options in this increasingly popular market.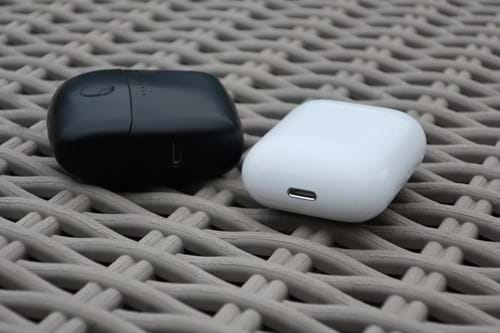 The Melomania 1 charge quickly, too, reaching about 20% power in 15 minutes and are fully charged in 90. Inside each earbud is a 5.8mm graphene-reinforced driver (which makes it more durable), a triple-core processor (including advanced Qualcomm tech with AAC and aptX for improved sound quality) and a noise-cancelling mic for clearer calls or chatting to Siri/Google Assistant. The quality of the mic isn't fantastic, being a little on the quiet side, but it does a good enough job if you need to use it. Personally, we'd use the in-ear headphones for listening only.
So, let's get into the sound. The Melomania 1 do a great job of blocking out external noise, arguably better than the AirPods, but there's no transparency mode so you'll have to take one or both earbuds out to join any conversations. There's a frequency response of 20Hz - 20kHz - which should appease audiophiles - and aptX Bluetooth 5.0 is used to give you a 30-metre wireless range.
As for the soundstage, it's wonderfully wide, clear and coherent - so we can hear exactly where instruments sit in a song. In fact, it's so realistic that we've taken the Melomania 1 out of our ears a few times to ensure we weren't just playing our music out loud at work.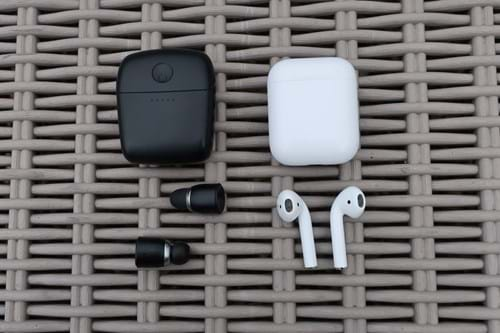 The sound is incredibly immersive and feels detailed and harmonious, with vocals pushed ever so slightly forward. Mids and highs are boosted, while sub-bass isn't booming. The bass is nicely integrated to enhance the overall balance of the sound. Although, with the foam ear tips in, the sound is less impressive because the earphones lose some of the clarity.
Should I buy them?
The impressively punchy sound, massive battery life and attainable price tag make it difficult not to recommend the Melomania 1. They aren't perfect - with a design that lacks sophistication and an ageing micro USB charger - but those are small gripes. A slightly bigger issue is that of the hit or miss in-ear comfort. It will be very subjective, unlike AirPods which are unquestionably more ergonomic.
On the plus side, the long battery life (which is a bit below advertised) means you get the fantastic sound quality they offer for hours at a time - even going entire weeks without needing to connect them to mains power.
If you're the owner of an iPhone with the money to spend on some wireless in-ear headphones, we'd probably recommend AirPods for a fuss-free experience. Yes, they're more expensive - but the build quality, design and ear-feel make them the better contender in our opinion. However, that isn't to diminish the Melomania 1 which we think are one of the best, if not the best, wireless earphones on the market for this price (after AirPods). Plus, Cambridge Audio's offering feature a better noise-cancelling quality and longer playtime than Apple's.