What is it?
The Garmin Drive 51 LMT-S is a simple, straightforward yet still feature-filled sat nav system that comes with lifetime mapping updates. It can be paired to a smartphone to enable extra features including TripAdvisor ratings for points of interest, plus it provides live traffic and live parking information.
What's it like?
As sat nav systems go, it's hard to complain about the Drive 51. It promptly finds sensible routes, has a comprehensive search function and typically does a great job of getting you down the road, with clear, well-timed visual and voice instructions – although it does mispronounce place names a lot...
Additional, handy features include warnings about upcoming speed cameras, along with hazards such as sharp turns, railway crossings and areas where animals are known to cross the road. There's also a whole database of points of interest to search including hotels and restaurants, linked to TripAdvisor and FourSquare.
To make the most of those extra features, you need to pair up a smartphone. Doing so adds live traffic updates and parking information too – but doesn't enable handsfree calling, nor can you plan routes within your smartphone and send them to the Garmin, like you can with a TomTom system.
And that, to us, is a shortcoming of the Garmin Drive 51. If you have to pair it up to a smartphone to make the most of it, then why not save more than £100 and just use a smartphone navigation app like Google Maps or Waze? Both work wonderfully well and cost nothing.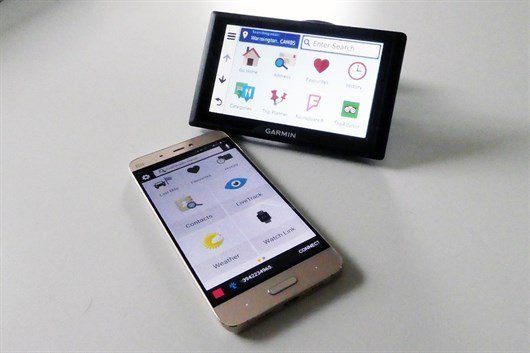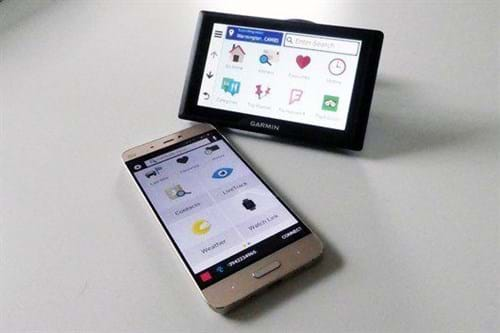 Live traffic requires a smartphone link
That said, it does have appeal for drivers who prefer a traditional sat nav. If you don't want to pair up your phone, don't have a phone at all, or if you live somewhere remote with patchy mobile data reception, it's a fine nav system. The screen is clear, the directions area easy to follow and the interface is responsive.
There is a UK and Ireland version or, if you're travelling abroad, European mapping. Programming routes with via points is straightforward, so if you're planning a holiday tour it's a handy bit of kit - plus it makes sense for van drivers who need to plan a route for their whole day.  
But for everyone else, the best solution to navigation is either to just use your phone and Waze, or go for a more feature-packed standalone nav. Systems with built-in dash cameras and handsfree calling are available for not much more and are worth the extra – including Garmin's own DriveAssist 51 LMT-S.
Price: around £120 for UK and Ireland mapping, or £140 for European mapping.
Key features: TripAdvisor points of interest. Smartphone link with live traffic.
Alternatives: TomTom Via 52 (£140)