What are they?
The idea behind Hër, the German manufacturer of the on-ear Bluetooth headphones (HF8) we're testing, is simple: to create stylish, comfortable headphones that deliver top-quality audio. The design, as well as all the women in the promotional photos, suggests they're marketed specifically to women; hör (German imperative of to hear) + her = Hër. However, anyone could buy Hër headphones - you don't have to be a woman.
So, if like us you're wondering why women need their own headphones, the simple answer is they don't. I've been getting along swimmingly with a pair of black over-ear Sony for a few years. Yet, Hër headphones are surprisingly light, comfortable, stylish and (most importantly) they sound great.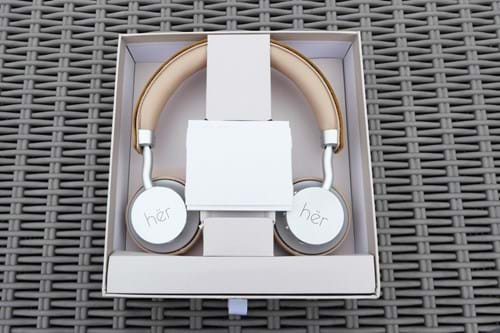 What are they like?
The headphones look top quality straight out of the box. They're lighter than we expected, but - along with the soft padding of the ear cups - that's actually what makes them so comfortable to wear over long durations - like train commutes and long stretches in the office.
Hër calls its headphones a "statement piece", and it's not wrong - you'll either love or hate the bold colour scheme of the HF8. While they aren't exactly our cup of tea, we've had a lot of compliments from other women - many who've shown interest in getting some for themselves.
Some will scoff at the idea of women-specific headphones, but it seems there is a niche market in which Hër have found themselves nicely placed. They also seem a bit small than other headphones we've tried, which make them look a little bit tiny on those with larger heads.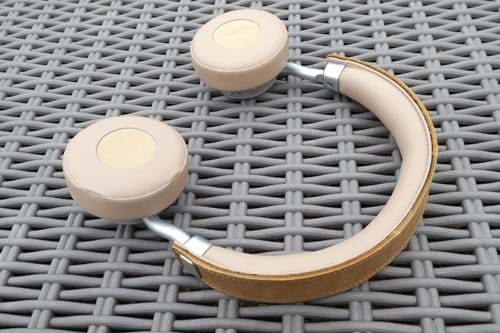 The headphones feature nude-coloured, soft leatherette ear cups, a suede headband and matte metal extenders - along with the Hër logo in various places. The entire design is very nice, and it's practical - with small details like cylindrical headband extenders, and 'left' and 'right' metallic labels being useful, as well as showing Hër's knack for unique design flourishes.
Although, they don't fold down to be more compact. The ear cups swivel sideways to make them slightly less wide, and more comfortable to rest around your neck, but the lack of inward folding might make these a no-go for some that want a more portable pair of headphones.
The sound is where we expected the headphones to fall short. After all, the phrase 'style over substance' came to mind when we first saw the headphones. But the HF8 offer a balanced listening experience, with a fair bit more bass than you might expect and a good treble range.
The sound is clear and there's none of the tinniness you sometimes get with headphones that cost less than £100, but you don't hear every detail you will with higher quality headphones. At this price though, the sound quality is very decent.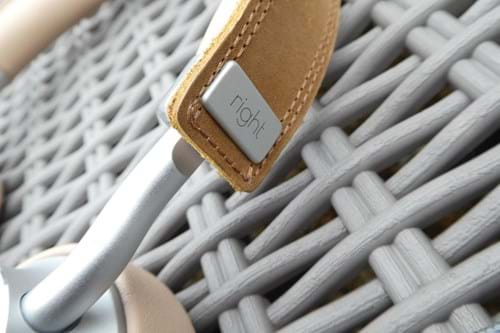 The headphones can be plugged into a phone, PC etc using the provided 3.5mm headphone jack, or they can be used wirelessly via Bluetooth. It's slightly disappointing that the jack is a thin plastic cable rather than the braided type that would look more fitting alongside these headphones, but the cable does the job well enough.
They don't make our ears too hot, mostly because they sit on the ears rather than over the ears - but we wouldn't recommend wearing them during exercise as they have a tendency to slip off. Buttons on the right earcup housing control volume, changing songs, and play and pause as well as answering or rejecting incoming calls if you're paired with your smartphone via Bluetooth.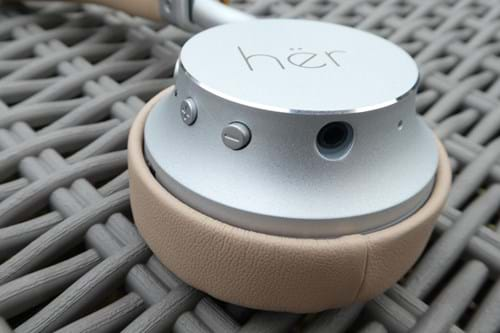 A built-in microphone means you can make or answer calls, using the buttons, rather than taking the headphones off if someone rings while you're listening to music. Wireless range is a useful 10m, or thereabouts - which means we can get up from our desk and go make tea at the other end of the office while still listening to the Spotify playlist rather than talking to our colleagues.
If ethical consumerism is a bonus for you, you'll be glad to know that Hër also donates three per cent of its profits to the German Committee for UN Women as part of their initiative towards gender equality.
Should I buy them?
There's no noise cancellation, but that's normal for a pair of headphones that sit at around £80 at Selfridges' website - annoyingly, this is the only place they're available to buy in the UK currently. If you're looking for a stylish alternative to the usual black and brown headphones you'll find in most audio manufacturers' ranges, especially the garish pairs you'll find in this price bracket, the Hër are definitely worth considering.
A decent alternative would be the Marshall Major II on-ear headphones which retail at £80. They're cheaper than Hër's £100 retail price and the Marshall pair are also about £55 on Amazon at the moment. They aren't wireless and don't offer noise cancellation, but they fully collapse and offer a higher sound quality.