What are they?
A good gaming headset is essential for any gamer, whether you're an infrequent Forza player or a hardcore Red Dead Redemption 2 fan. The HyperX Cloud II is an affordable, high-quality headset that works with all the major gaming platforms, as well as offering very decent sound quality for a range of other mediums — like listening to music, podcasts and TV (if you're so inclined to use them for that).
The Cloud II offers big 53mm drivers and a detachable microphone, with the comfortable ear cushions meaning the headset feels comfortable even after wearing them for hours. Although you don't get wireless connectivity or active noise cancellation, the sound quality is excellent for the price.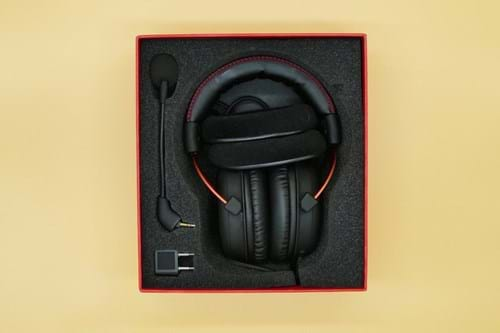 What are they like?
Opening the box, the first thing we notice is how nicely the Cloud II is packaged considering the £80 price tag (£75 for the gunmetal instead of red). Inside the box, you get a carry case, airline adapter, a USB soundcard and spare fabric ear cushions. The carry case is a flimsy mesh bag, but the extras are a surprising bonus for this price.
The HyperX Cloud II headset features various premium materials, like the aluminium frame, leatherette ear cups and a long, braided cable. One of our favourite things about the Kingston headset is the simple design, which sharply contrasts with a lot of the garish gaming headsets you'll see online if you do a simple Amazon search.
There are no camo designs, horrible bright lights or square earcups — just red HX logos on the sides of the ear cups, contrast stitching on the headband and red metal sections on our headset. Nice and simple. They aren't fashionable like a normal set of headphones, but they aren't tasteless enough to stop you wearing them out of the house if you so desire.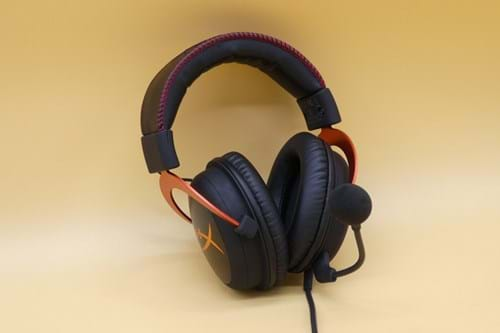 Plus, you get a mic that can only be described as reminiscent of Britney circa 2004. And it's detachable so you don't have to worry about it being in the way if you're using the headphones to simply listen to music, or just don't want to talk to your pals online. However, we've misplaced it a number of times — which is irritating, but more down to us just losing it behind cushions. We'd also advise keeping it a bit further few inches from your mouth because it's very sensitive and no one wants to hear you breathing loudly through your mic...
The headset adjusts enough to fit various head shapes, even our tiny noggin, and the ear cushions are comfortable over long stints of gaming (thanks Red Dead Redemption 2) due to the memory foam interior and leatherette finish.
However, the leatherette cups can make your ears a bit sweaty over long periods of time, in which case the velour option might suit you better. The padded headband is comfy too, which is a nice change from headsets that feel like they're digging into your scalp after 30 minutes.
The Cloud II are closed-back, obviously. If you're not familiar with that phrase, it just means that the plastic outer part of the ear cups is solidly enclosed, which means external noise (like your spouse asking if you want Dominos pizza) is blocked out. This helps make games more immersive, but the lack of airflow can make your ears hot and sweaty, and sound can sound 'bottled-up'.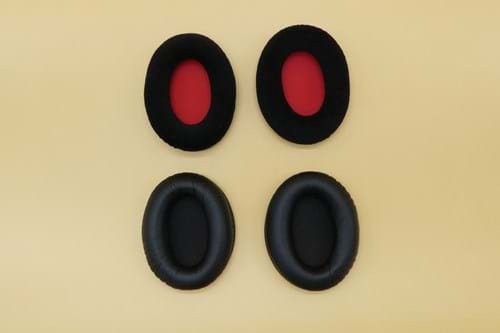 However, this is very subjective to each individual, we don't generally have an issue with closed-back headsets. There's no Active Noise Cancellation on the HyperX Cloud II, which isn't surprising at this price, but the headset does a good job of blocking out noise anyway. 
The sound quality is very good with the 53mm drivers providing plenty of depth. High-pitch noises like horses neighing in Red Dead are very clear, but (and this is a tiny 'but' considering the affordable price) low-end sounds like explosions in Battlefield or Call of Duty could be punchier. The headset is most suited to video games, but we use them for all sorts — like watching Netflix and listening to podcasts as well.
The headphones also come with a USB sound card, which offers 7.1-channel virtual surround sound on PC and Mac. The sound card basically boosts the listening experience from a multi-channel source - like a game or film - by making sound clearer.
For example, if someone sneaks up on you from behind in Fortnite (or any other game), it will sound as if the noise of their footsteps is coming from behind you. This makes games and films more immersive.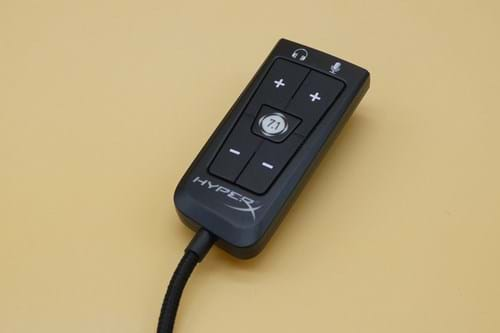 While surround sound is available on PC and Mac, only stereo sound is available on other devices. At this price, we wouldn't expect features like audio customisation, and we don't get it. We didn't particularly mind the lack of customisation, but it's one of the things that might make you opt for a set of Turtle Beach headphones instead.
Should I buy them?
Yes. We'd argue this is one of the best gaming headsets under £100, although it's getting on a bit now. Aside from being comfortable, breathable and fairly nice looking for a gaming headset, they also sound great. The detachable mic is a nice touch, although we sometimes misplace it, and they feel pretty durable. We've had them for a year now and they show no signs of wear and tear.
Add in the extras you get, like an extra set of earcups, the carry case and the sound card, and it's a no-brainer in our mind. Games sound excellent, regardless of what you like to play, and we even enjoy using them to listen to music. For under £100, we don't think you can get a better gaming headset.