What is it?
The Philips DVT4010 VoiceTracer is a digital dictaphone audio recorder, designed for professionals who need to record conversations, meetings or presentation audio in a range of environments. Weighing 81g and measuring 12cm in length, the Philips DVT4010 can store over 2000 hours of audio, while its built-in battery allows the unit to run for up to 50 hours on a single charge.
The VoiceTracer has 8GB of internal memory, while the SD card slot will accept memory cards with up to 32GB - providing almost unlimited audio memory. The unit is also compatible with most telephone microphone earpieces.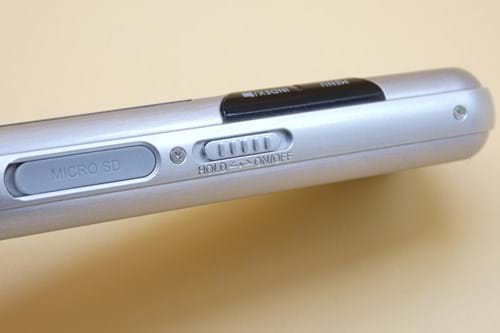 What's it like?
Small, robust and really easy to use. The Philips DVT4010 VoiceTracer is light enough to be carried around in a shirt pocket, while the tough metal case feels durable enough to survive light knocks and scratches. The microphones (usually the most vulnerable part of a dictaphone) are protected by two additional metal caps.
The built-in battery is recharged via a supplied micro USB lead that also makes it easy to connect the unit to a computer so you can boost the battery and transfer audio files for transcription. With 8GB of built-in memory, it's unlikely that anyone will run out of storage with this device capable of recording 88 days of audio.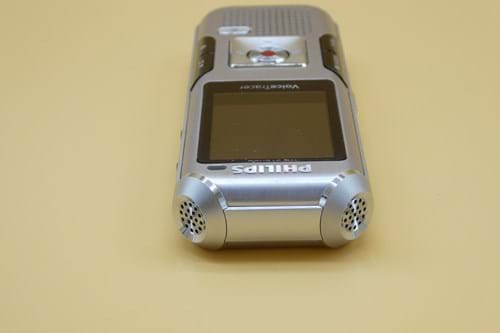 The two stereo microphones can record MP3 in 8, 64 and 96kps, while the highest quality setting (WAV) are recorded in 1411kps. A built-in wind filter makes it easy to use the DVT4010 VoiceTracer outside while a noise reduction filter cuts background sounds in rooms with lots of background chatter or echo. 
If you don't want to play around with the settings each time you switch the device on, the DVT4010 VoiceTrace has a smart AutoAdjust+ setting that will adjust the filters for you to ensure you get the best recording quality.
We tested the DVT4010 VoiceTracer in a range of indoor and outdoor environments and the recordings were always clear and consistent. The unit also has a voice activation setting, which means it will only operate when it detects a person's voice, which saves time when it comes to editing audio files and reducing the size of the MP3/WAV files.  
One of the few criticisms we have about the DVT4010 VoiceTracer is the size of the multimedia files, that can make life awkward when it comes to transferring them via email. On a few occasions, the files were simply too large for email inboxes to accept. The unit can split audio files, but we found this to be quite fiddly as the DVT4010 VoiceTracer has a tendency to lock up or crash when attempting to split large files. Obviously, you can avoid this hassle by simply plugging the voice record straight into your computer and transferring the files with a simple click and copy.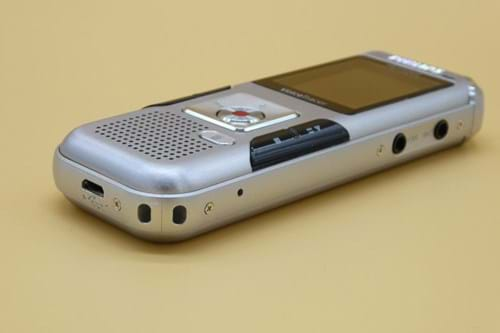 The DVT4010 VoiceTracer is fully compatible with Philips SpeechLive, which will automatically transcribe your voice recordings into text documents. This is particularly useful when it comes to creating minutes for meetings or presentations. Prices for Philips SpeechLive start at around £9 a month. 
Should I buy one?
It is difficult to deny that the audio recordings of the DVT4010 VoiceTracer are anything but first rate. We tested it in a range of environments and it excelled on each occasion. The microphones do a brilliant job of focussing on the primary audio source (the person speaking) and filtering out the background noise. Likewise, you can record conversations outside without the usual wind roar that you usually get with phone-based apps. 
If you only need a device for occasional recordings then a smartphone will make a lot more sense. However, for professionals who need to document interviews, presentations and meetings on a weekly basis, the DVT4010 VoiceTracer will be a worthwhile purchase. Even more so when you factor in the SpeechLive capability that will effectively transform voice recordings into eligible text documents.