What is it?
Delve into the land of off-brand electronics and, with a bit of luck, you can usually get perfectly serviceable equipment for sensible money. Quality can vary wildly at this end of the market, though, and it's easy to get stuck with something that doesn't work satisfactorily.
So, it was with some trepidation that we broke the shipping seal on this budget sat nav, simply called 'SAT NAV 7 Inches', from retailer Shenen. The unit comes with UK & European mapping and has seemingly been a strong seller on Amazon, no doubt thanks in part to its extensive features list and low price of £57.99.
For comparison, an equivalent 7.0-inch unit from a recognised brand can set you back in excess of £200. Those branded alternatives do their jobs extremely well, though, and are backed by extensive customer support networks. If this unit manages the basics properly and reliably, however, it could prove worth considering.
What's it like?
Initial impressions are good. Besides an upmarket-looking box that protects and secures the unit well, it also comes with two 12v charging adaptors – so you don't immediately have a problem if you misplace one. It also comes with a USB cable for file transfers, as well as a basic manual. The unit itself doesn't feel flimsy and a screen protector – as well as a separate shipping protector – is fitted.
On the top of the unit is a threaded fitting for the supplied adjustable mount. It isn't the most neatly finished or durable bit of engineering around but it adheres to glass easily and securely. Meanwhile, on the side of the unit, there is a headphone jack, a USB port and a Micro SD slot for storage expansion.
Due to its substantial screen size, the Shenen sat nav feels more like a small tablet. This feeling is immediately reinforced when you switch it on for the first time. Instead of being presented with a straight navigation interface, you're presented with a menu that lists lots of options – including a media player, games, unit conversion tools, an FM tuner and more.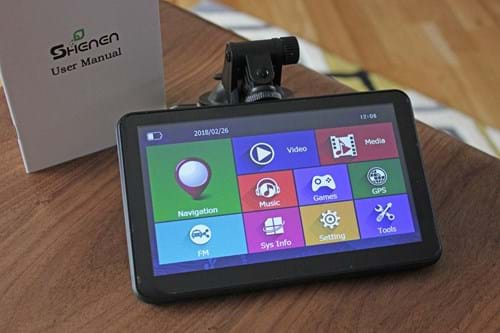 These extra features will likely be a moot point to most, as this is primarily a navigation unit. Fortunately, the good impression continues once you start putting it to work for its intended purpose. It boots up quickly, the navigation system is ready in ten seconds and the unit responds quickly to light touches on its screen.
The menus for inputting your chosen destination, or for finding points of interest, are relatively straightforward as well. The only slight oddity is that you have to enter postcodes into the 'Town' setting of the destination – and you must include the space in the postcode for it be accepted.
Once you've acclimatised to that, however, you'll be served up with clear, straightforward directions to your destination. The navigation is smooth and the screen updates quickly, while redirections are handled promptly and in a sane fashion.
More complicated motorway junctions are also presented in a pictorial form, aiding guidance. Useful features like speed camera warnings and speed limit reminders further serve to curb the stress of a journey.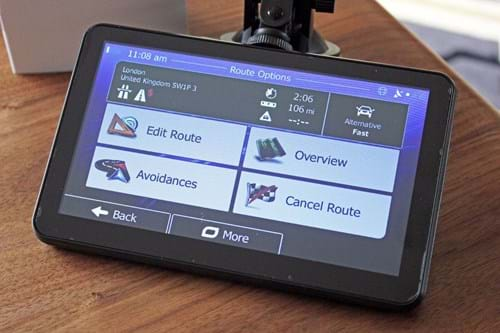 There are, however, some issues. Firstly, its speaker is quiet even at maximum volume. This can make instructions hard to hear, particularly at higher speeds.
Similarly, while the screen offers a clear view of the route, it's not the brightest around. Consequently, some may find it harder to see on sunnier days than a modern, vivid phone screen. Our unit intermittently clipped the last word from its voice instructions, too, forcing you to look at the display.
Buyers also need to be aware that the Shenen has a small internal battery, which lasts less than an hour at best, and that it doesn't have live traffic updates – although it is listed as an option. Lifetime map updates are reputedly included, however, but you have to contact Shenen directly for download links.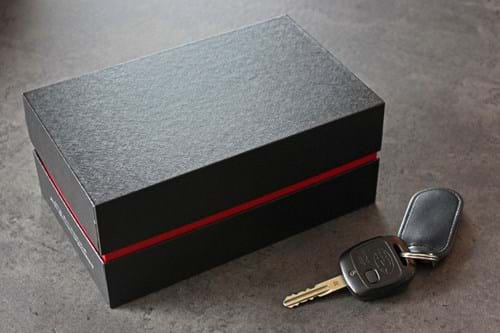 Should I buy one?
If you're in the market for a sat nav and simply want something inexpensive and functional, then this is a sensible, straightforward option. It may have the odd glitch but it will get you from door to door without grief – and at a fraction of the cost of comparable sat navs.
Additionally, given that many rely on their phones for navigation these days, there's something to be said for having a redundant navigation backup. Given the low price of this Shenen unit, it's ideal for simply slinging in a glovebox and forgetting about until you need it.
Details
Price: £57.99 on Amazon (including UK and EU maps with free lifetime updates)
Screen: 7.0-inches
Features: Postcode and point of interest searches, 12 months warranty, audible excessive speed warnings, FM tuner
Alternatives
Garmin DriveSmart 70LMT-D £279.99
Hieha 7.0-inch sat nav £99.99