What is it?
If you're looking for a high-quality speaker, the usual names such as Bose, Bang & Olufsen and Sonos will be no stranger to you. You may not, however, have heard of Studio19 London. The company says it promises "the richest experience and audio the way it was meant to be heard". And it's certainly made quite the introduction to the market with its Solo E500X speaker.
This freestanding speaker is described by its makers as a 'precision-engineered entertainment system' and, with its sleek and minimalist design, it's very easy on the eye. Less obtrusive than many speakers, the beauty of its design is that it's rechargeable. Thanks to an 8800mAh battery, the Solo E500X lasts up to eight hours, making it ideal if you want a speaker somewhere where there's no power source. It charges via a USB-C cable (provided), for faster charging.
Available in either Space Grey or the Gold pictured here on our test unit, the speaker is about 50cm high and weighs 3.5kg - so it's hefty enough not to get knocked over easily. There's an LED light built into the base, which gives the illusion that the speaker is almost floating, while the top houses the control buttons and graphic equaliser sliders. If you're not a fan of this retro look, there's the E500T Touch Control, which has a touchpad in its place and is priced the same.
What's it like?
The majority of people using this speaker will connect to it via Bluetooth - just as we did for most of our test. It's simple and straightforward from your phone and works like any other Bluetooth speaker in that respect. It's also reliable when it comes to reconnecting after you've powered it down or switched off the Bluetooth on your phone. It means there's zero faffing trying to get it to pair.
If you're old school, there's also an aux-in port on the back, useful if you have an older amplifier or want to play vinyl. But it's the HDMI port that makes it ideal for use at home. This means you can connect it to your TV and use it as a soundbar. There are pre-sets for different modes too. Aside from basic music mode, movie mode will keep the dialogue and soundtrack levels at optimum range, while the gaming mode offers the immersive experience that you get with gaming headphones.
The four EQ graphic equaliser buttons on the top are a little disappointing though. They're plastic rather than the metal you'd expect on a speaker costing £325 and feel flimsy with a wobble from side to side. They certainly don't feel as premium as the rest of the speaker, but that said they are nice and smooth to use with a good weight to each slider.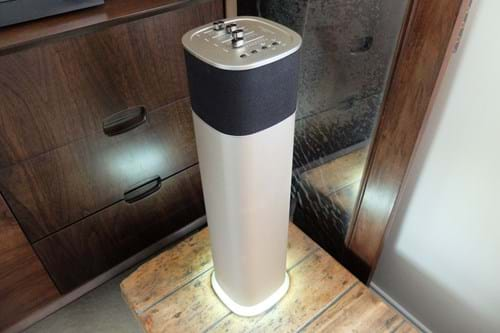 What sets this speaker apart from the competition is that doesn't need to be mains powered. Not only does that aid its clean design but it means you're not restricted as to where it's located. Plus it means one less plug to deal with - when you've already got a TV, Blu-Ray player, PlayStation 4, router, landline phone and Sky Box all in one corner - that's very useful.
It also means you can use it anywhere indoors or outside, handy if you're having a barbecue with friends (although it isn't waterproof). It sits around knee height and - while it's not light - it is easy enough to move around. What's not so good is that there's no remote. So, although you can change the volume of your phone's output, there's no way of adjusting the output of the speaker itself aside from using the sliders on the top.
The battery lasts around eight hours, although that's less if you have the LED light at the base switched on. Charging it is fast thanks to the fact it has a USB-C cable. We charged it from both a wall socket and a power bank, both taking only a few hours. Usefully, you can still listen to music while it's being charged.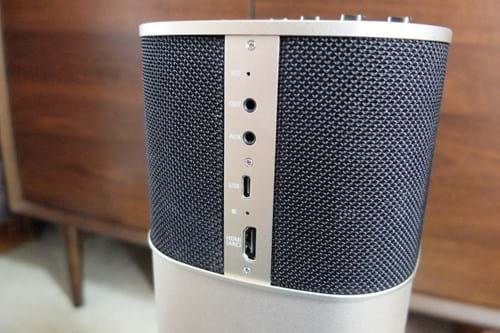 You can't help but notice the wraparound metal speaker cover at the top of the unit. This houses a front and rear speaker to create the 360 sound effect. Studio 19 says the E500X has one world's first 'enhanced degree' 3D-effect portable Hi-Fi speakers, which means sound flows not only left to right but top to bottom as well. It's essentially designed to create the sound of a multi-speaker set-up from a single unit, and it's definitely loud enough to fill a large room.
The patented DPAC (Dual Pressure Air Compression) tech also means you get fantastic bass without bulky subwoofers, which is great for those that are looking for a home sound system. While most speakers force you to choose between sound quality and portability, the E500X offers great low-end frequencies and clarity in a compact package.
The EQ Graphic Equaliser - which allows you to select exactly how much bass, mid-range and treble you want - is another feature that really sets this home speaker apart from the competition. However, higher frequencies lack a bit of detail and you still get the digital hiss that plagues a lot of wireless speakers when there's nothing playing.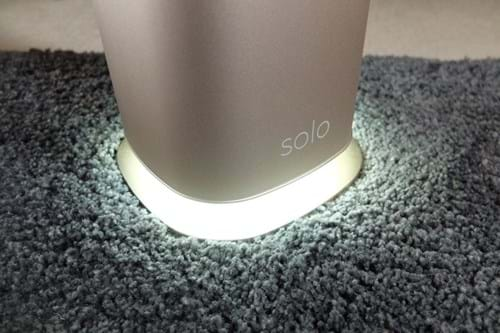 Should I buy one?
If you want a more expansive TV or gaming experience, then this is worth looking into. But, saying that, if you want a 'real' home cinema surround sound set-up, you could get two Sonos One speakers - which add up to the same price. They need to be plugged in, but they also offer Amazon Alexa so you can change your music with your voice.
Yet, the E500X-EQ is a classy speaker that definitely grabs attention. And it doesn't look like any other speaker on the market. So, if having a speaker that offers wonderful sound quality - that you can take also take outside - matters to you, this is probably up there with the best of them. Even though it offers some odd impracticalities, like being rechargeable for taking out and about - but also being too bulky for a backpack and not waterproof enough for Britain's unpredictable summer showers.