What is it?
There's no shortage of portable Bluetooth speakers around. You only have to have a quick look on Amazon to see plenty from the well-known brands, as well as lots more from makes you've probably never heard of. If you're looking to spend around £30 to £40 there's plenty of choice. 
Slap bang in the middle of these is the Tribit XSound Go. It has an RRP of £80 but has never been more than £36 on Amazon. It's very much designed for on the go and outdoor use and is certified at IPX7 waterproof, which means it can actually be submerged at up to one metre for half an hour and will survive. 
It has a 66ft Bluetooth range and there's also a built-in microphone should you want to take hands-free calls on it. A single charge gives it a play time of 24 hours and it takes around four hours to fully charge via a micro USB cable, which is supplied. There's also a 3.5mm aux-in at the back if you want to connect something that doesn't have Bluetooth.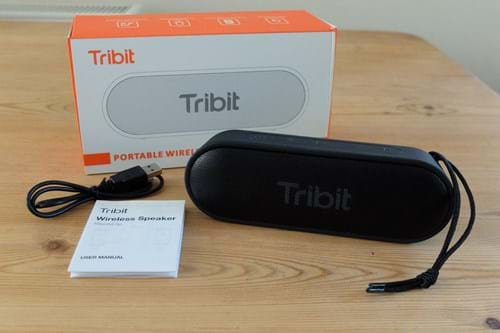 What's it like?
The XSound Go is a surprisingly weighty bit of kit - and we mean that in a good way. It feels like a quality product when you get it out of the box with a nice matt finish.
There are no cheap or flimsy plastics here. We're testing the black model - which is a bit dull - and the only other version is a dark blue. We'd like to see some more colours available, but it's nicely compact at less than 20cm long.
Switch the Tribit on (it comes partly pre-charged) and it's dead easy to pair to your phone via Bluetooth with a bing to confirm it's connected. A full charge of the lithium-ion battery lasts around 24 hours according to Tribit, although that depends on how you're using it. Sit it out in direct sun and turn it up loud and you can expect that to drop.
We've been testing it for several weeks around the house and (mainly) garden and have only needed to charge it once. Fully charging it takes around four hours.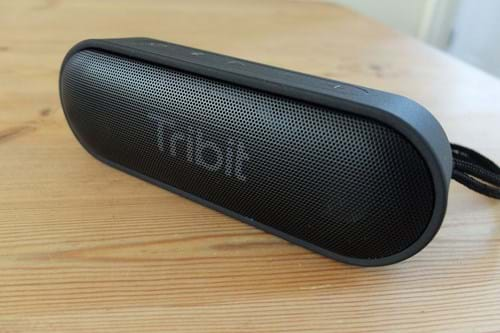 So what about the sound quality? Well it's pretty good for a speaker at this price range. There's plenty of bass and although the mid range could be a bit clearer, it performs admirably considering its small size. It's not that loud if you take it outside, but at least there's no distortion when you turn it up to its maximum level.
The fact it's waterproof means it's ideal for using outdoors in the summer. You don't have to worry about it getting splashed by the paddling pool or drinks being spilled on it. We've been using ours to keep a three-year old entertained at bath time. It is in fact certified waterproof at IPX7 - which means it can survive being submerged in water. Handy if you accidentally knock it into the bath... 
Should I buy one?
Among the many portable Bluetooth speakers available, the Tribit makes a good case for itself. Yes it could be louder and some of the mid tones get a little lost - there's not too much depth to the sound - but we're being very critical here of what is a very good value speaker.
It feels a good quality product for the money and produces impressive all round sound for a £35 unit. The design is no great shakes, but it feels solid and durable. And the fact it's waterproof is a big plus.