What is it?
If you can't afford a Volkswagen T2 camper van, this could be the next best thing — a build-your-own T2 detailed cardboard model complete with a pop-up roof, sliding side door and even a proper interior. It's a 1:18 scale so measures about 25cm in length when finished and comes in a neat hardback book, which includes all the cardboard sheets plus a companion guide with an interesting history and lots of good pictures of the T2.
Made up of 38 pieces, its makers say it takes 'just about an hour' to build and doesn't require any glue. The companion guide also includes fully illustrated instructions (all 147 steps) and is in both German and English. It retails for £25.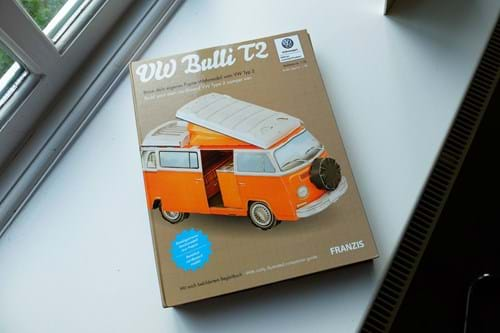 What's it like?
The build-your-own T2 Bulli is the kind of thing you'd be very happy to receive as a present (unless you really dislike German camper vans or cardboard). It comes in a nice hardback 'book' so to speak, which opens up to reveal the companion guide and all the cardboard sheets. The companion guide also has the instructions, which are thankfully fully illustrated.
Each part is numbered, so it's easy to get started with only the sheets you need. And as soon as you start pushing out the cardboard parts, you realise this is a high-quality kit. The sections come out easily and there are no issues with bits that haven't been cut properly. We had a craft knife on standby but didn't have to use it once.
Constructing the T2 is easy at first. You simply fold where the dotted lines are and start putting the sections together. There are different coloured tabs which you match up, so there are no issues with getting it wrong. That's fine if everything slots in first time, but invariably bits don't quite fit together properly and it can be frustrating to not only get parts together, but also get them to stay put.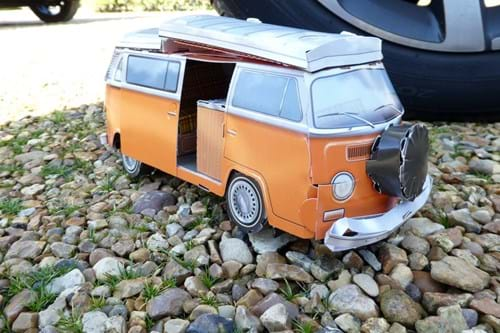 If you do have to redo parts of the kit, invariably the cardboard gets bent and tabs get weak, which means it doesn't fit together as well as it should. That isn't too much of an issue with the main body, but the wheels are fiddly (and tend to come apart easily), while the bumpers are simply infuriating. Looking at the picture on the cover of the box, we can only assume some sort of origami master constructed it
There are some nice details, the interior is great with a cooker, checked seats and even cushions — plus there's a sliding door (although not one you'll want to keep opening and closing). There's also a pop-up roof but this is something we couldn't get to sit properly, despite our best efforts. As you can see, we also had a few issues with the rear of our model, so it kind of looks like a T2 that's been in a collision.
In total, we spent about two hours making our camper van (the wheels and bumpers seemed to take up the most time) and while it was a fairly enjoyable way to while away some time, it's not the kind of thing we're that keen to repeat any time soon. Our final model is a bit shoddy and very fragile — every time we move it, different bits seem to come apart or fall off.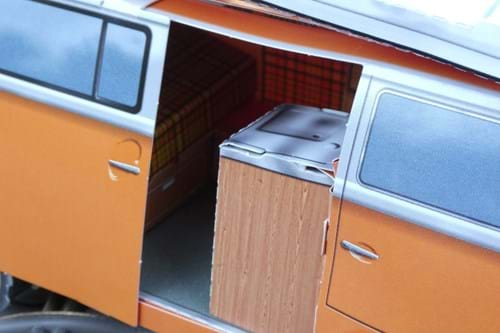 Should I buy one?
While we love the idea of a cardboard build-your-own T2, the reality isn't as enjoyable. It requires a lot of patience and a very steady hand. Yet even then some of the construction of the model is very frustrating. And if you don't get it right first time, trying to re-fold and correct bits only makes it worse - and then there's no way back. Despite our best efforts, our finished version of the T2 leaves a lot to be desired. 
The main structure is enjoyable to make, but the wheels and bumpers are very fiddly. The roof is another part that we just couldn't get to sit right. It's a real shame as we wanted to like this kit so much, but the final model is disappointing and fragile too. It's the kind of thing you'll have on your desk for a few months before it starts to fall apart and you throw it in the bin.
You're better off spending your money on a couple of LEGO Speed Champion kits. For more gift ideas under £20, take a look at our Christmas Gift Guides.