What are they?
Launched at the beginning of the year, the Sennheiser GSP 600 gaming headset is the successor to the Game Zero headset. Priced at £220 these are at the top of the Sennheiser range and aimed at serious gamers. They work on multiple platforms, such as PS4, Xbox One as well as PC and Mac.
The GSP 600 features ergonomically designed ear pads, a metal hinge system and an adjustable headband, all designed to improve comfort over the Game Zero. The ear pads themselves feature a cooling suede-like material that is designed to prevent the ear pad from sticking to your skin.
Alongside all that, there's a noise-cancelling broadcast quality microphone that minimizes background noise. Included are two leads, a standard 3.5mm aux, suitable for most gamers, plus a PC cable. Both are braided rather than plastic, to prevent them from splitting. And if you don't want closed earcups, you can opt for the slightly cheaper GSP 500 headset which is open backed.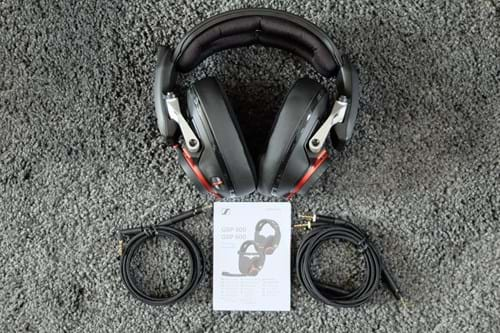 What are they like?
As soon as you get it out of the very plush box, it's clear the GSP 600 headset is a premium bit of kit. It's significantly heavier than your everyday gaming headset and everything just oozes quality. There's plenty of adjustment, designed to make it comfortable for long stints of gaming, including an 'advanced solid metal hinge' which lets the ear pads pivot both vertically and horizontally.
As well as the usual height adjustment, there's also a clever adjustable headband, which allows you to alter the tightness against the side of your head and ears with in-built sliders. Even on the minimum setting, we found it pretty tight already, especially when coupled with the weight of the headset itself, but it's useful if you find your headphones getting loose and moving about.
Comfort is always a big issue with gaming headsets, especially if you're a serious gamer who is going to spend several hours gaming. We've seen some mixed views on the GSP 600 but in our time testing them - which has been around 50 hours including some long stints - they've proved extremely comfortable, with not too much pressure. You soon get used to the fact that they're heavier than your usual headsets.
If you find that your headset sticks to your ears after a while, the GSP 600 ear pads have with a cooling suede-like material designed to stop exactly that. Even if that's not a problem, you'll appreciate how soft and comfortable they are. The top of the headband is also padded to stop it hurting if it's resting on your head. We had no issues with this, but as with music headphones, comfort is a very personal thing when it comes to a gaming headset - what's ideal for one person might be awful and uncomfortable for another. We'd recommend trying out a pair before buying.
Considering the GSP 600 is not an active noise cancelling headset, it does an excellent job of cutting out noise, helped by the closed back design. In fact it's a little too good and it's easy to miss someone calling you from the next room. If you don't want to be totally cut off to outside noise (we missed several offers of cups of tea...), Sennheiser also has the GSP 500 - essentially the open backed version. The closed back can also mean your ears get pretty warm, especially in the summer, although this is usually a good indication that it's time to take a screen break.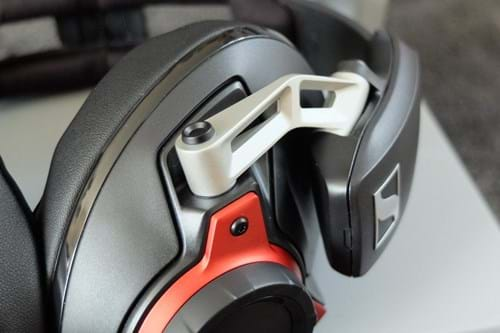 Given these are made by Sennheiser, they're as good as you'd expect - and better. It's the depth and range of the sound that's so impressive. It means you can hear much of the detail that's lost on cheaper headphones, especially in the mid range. Play something like GTA V and amid all the explosions, you can still hear the whine of your turbo as you accelerate away with bullets zipping past you. Get into something more cinematic, like Fallout 4, Horizon: Zero Dawn or The Legend of Zelda: Breath of the Wild on the Nintendo Switch and those games become a whole new experience with the GSP 600.
The GSP 600 uses aluminum voice coil speakers, designed by Sennheiser and manufactured in-house, giving the headset its clarity. And this comes into its own on FPS games. You can hear every enemy step clearer on Battlefield 1 which means you're quicker to react, it's the same with sniper bullets whizzing past your head. We found the GPS 600 actually improved our game on BF1, making it a more immersive and focussed experience. You can alter the volume with the neat dial controller on the right headphone - and even when fully cranked up, the sound is superbly precise with no distortion or blur.
Along with the excellent sound quality, there's also a noise-cancelling broadcast quality microphone, designed to minimise background noise. Simple flip the mic arm down to switch it on, and twist it back up to turn it off again. You may not appreciate any difference but the people you're online with or in party chat will. Everyone we regularly play with commented on how clear the sound is. Plus if you're broadcasting your gaming footage on Youtube or Twitch, this will make all the difference to the quality of your videos.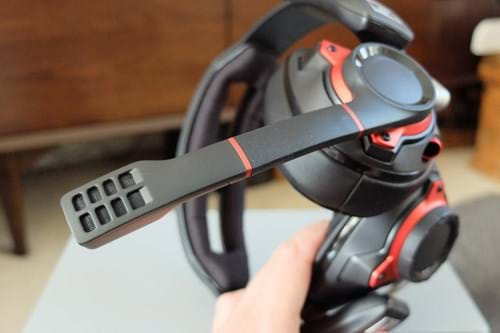 Should I buy them?
The quality of the sound with the GSP 600 is simply superb, nothing we've tried comes anywhere close to matching it. The clarity and depth means you hear everything and it will change the way you enjoy games. Compared to everyday headsets, these are in a whole different league. If you want to fully enjoy games the way they were intended to be, the GSP 600 won't disappoint.
There can be few issues with comfort, so if you're thinking of buying, it's worth trying some out if you can. They're fairly heavy and can sit quite tight on your head. We didn't have any problems and found them extremely comfortable, but that's not the case for everyone.
They are of course not cheap either. Casual gamers are unlikely to pay more than £200 for a headset like the GSP 600, which cost almost as much as a new Sony PS4. But if you're a serious gamer, this top of the range headset is a worthwhile investment. Sennheiser has an excellent reputation among audiophiles and the GSP 600 is everything you'd expect from the German brand. Once you've tried them, you'll never want to go back to any other headset.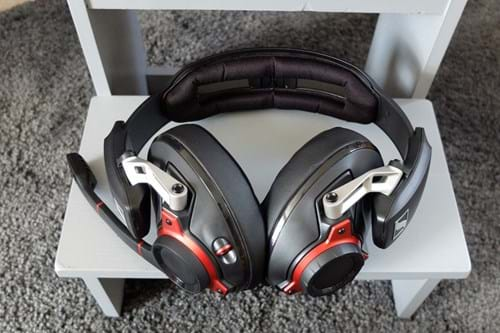 Games played while testing:
Battlefield 1 Multiplayer on PS4
Fallout 4 on PS4
Horizon Zero Dawn on PS4
A Way Out on PS4
GTA V Online on PS4
Detroit Become Human on PS4
L.A Noire on PS4
Far Cry 5 on PS4
PES 2018 on PS4
Spintires Mudrunner on PS4
Legend of Zelda: Breath Of The Wild on Nintendo Switch
Super Mario Odyssey on Nintendo Switch