What is it?
The Wahoo TICKR Fit is a compact heart rate monitor that fits to your arm via a lightweight strap. It's designed for runners, bike riders and general fitness work (in particular for those who don't want a traditional chest strapped monitor). It uses optical sensors to measure your heart rate and calorie burn. You can also connect it to a GPS to overlay the data to your route.
The TICKR Fit has Bluetooth and ANT+ connectivity (a wireless protocol for monitoring sensor data) for a wireless connection to both smartphones and GPS bike computers and watches. It's sold with a USB charging dock that provides up to 30 hours of battery life.
Wahoo claims that the TICKR Fit is compatable with 50+ of the most-popular fitness apps, including Apple Workout Strava, TrainerRoad, Nike+ Running, Runkeeper, and MapMyFitness.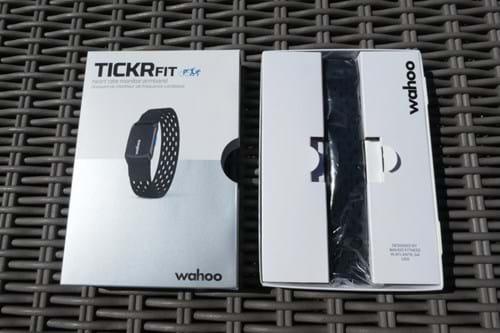 What's it like?
Easy to set up. There are two stretchable straps supplied and both have Velcro fasteners (large and small), which means almost everyone will find a comfortable fit to their forearm. Once attached, you switch it on, paired it to a wireless device and away you go.
The TICKR Fit fits on your forearm and uses sensors to detect the electrical signals from your heart to measure beats per minute (BPM). It's also water resistant and sweat proof, which means a bit of water will not interrupt it.
However, while easy to slip on and off, the strap will leave a tan line in the summer months. We also found it to snag on clothing, which means it is easy to it to be knocked off when you put on a fresh t-shirt or take off a rain jacket.
We had a few concerns over the longevity of the strap; it feels a little flimsy. It also soaks up a lot of sweat, which means you'll be washing it regularly. However, after just one wash, the strap felt like had lost some of its Velcro stickiness. 
We paired out TICKR Fit with the free Wahoo Fitness: Workout Tracker, but you can link it to a wide range of simple or complex apps. Pairing the heart rate monitor to our phone took a few seconds and it provided us with useful data on average BPM, average calorie burn and running pace.
The overlaying map makes it easy to pinpoint areas where your BPM increases or drops off during your exercise routine, while the pace chart provides accurate information when it comes to evaluating your workout performance.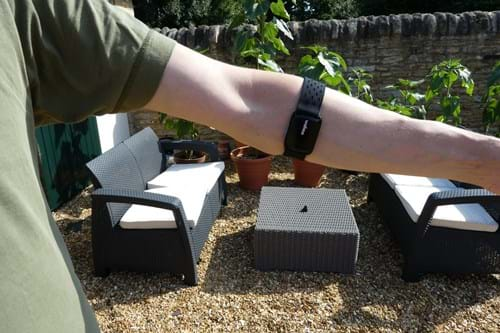 The TICKR Fit is advertised with a 30 hour operation from a single charge and we have no reason to doubt this claim, given its performance during our test.
However, when it comes to recharging, we found it to be quite fiddly. Unlike some other heart rate monitors, you can't simply attach a USB lead. Instead the TICKR Fit has to be magnetically attached to a dock and this can be quite fiddly as the dock is small. The lead is also quite short, which means you have to put it on the floor next to the plug or USB port it's connected to.  
Should I buy one? 
At £65, the Wahoo TICKR Fit is not cheap to buy, but it is comfortable and lightweight. Indeed, it's the perfect fit and forget heart rate monitor. Even after a two hour run, we found it to provide a snug fit that didn't move from the sweaty arm it was attached to. 
While the quality of the strap is up for debate, the device itself is extremely impressive. Sometimes heart rate monitors can lose connection as you build up sweat or run in the rain, but the TICKR Fit didn't miss a beat during any of our test runs. As a result, if find you can't work with a chest or wrist mounted heart rate system, we'd have no problem in recommending the Wahoo TICKR Fit.