Top 10: Best used scooters
There's a huge choice of used scooters out there to pick from, so finding one that fits your needs as well as your budget should be simple. Remember to carry out the usual checks when buying a used two-wheeler such as a history check and look for signs of crash damage, as well as a record of careful maintenance. Stick with our Top 10 best used scooters and you'll be on to a winner.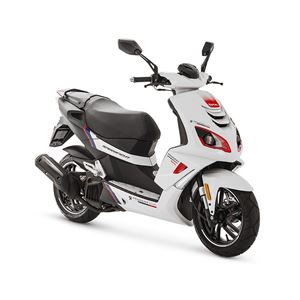 1
Peugeot Speedfight
The Speedfight seems to have been around forever thanks to this long-lived Peugeot scooter's enduring popularity. That's good news for used buyers as there are plenty around, so you can afford to be choosy.
Lots will have been through the hands of eager learners, so keep an eagle eye out for damage from it being dropped at low speed. The rest of the machine is rugged and simple to maintain, so there are no excuses for a patchy service folder.
Our favourite is the Speedfight 3 that has better forks, bigger wheels and a longer wheelbase than its predecessor for more comfort. The 50cc engine is willing and able.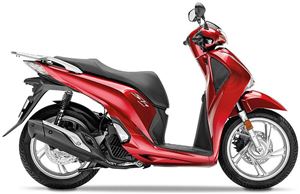 2
Honda SH125
No-one is going to do a doubletake when you ride past on a Honda SH125 as this is riding in its most sensible trousers. However, the SH has other traits that will endear it to you, such as 85mpg economy no matter how you treat it and build quality that's a notch or two above almost every other rival at this money.
It's also typically Honda reliable, comfortable and cost-effective to maintain. We'd search out a post-2009 SH125 to make sure you get the rear disc brake, but otherwise this scooter is incredibly easy to handle and the 16-inch wheels make light work of potholes and offer superb stability.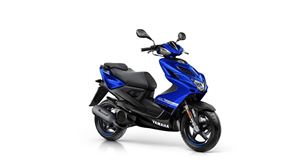 3
Yamaha Aerox
The Aerox is another longstanding machine to make our Top 10 and with good cause. Yamaha's learner-legal 50cc scooter looks as sharp as the day it was launched two decades back thanks to its race replica style.
A front disc brake gives good stopping power, while upside down front forks aid the agile handling. As for performance, the two-stroke 50cc in earlier models has all the zing-a-ding you could hope for. It gets the Aerox up to 30mph easily and derestriction kits are easily fitted for when you don't need L-plates anymore.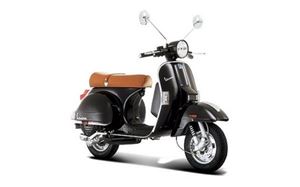 4
Vespa PX125
How could we not include the classic Vespa PX125? After all, this is what many people see when they think of a scooter, and rightly so. It's not the quickest, best-built or even the deftest handler, but the PX125 has style in droves and that's why you want one.
The lightweight construction makes it easy to ride and the 125cc motor buzzes along happily so long as you keep the revs up. Some might find the twist-and-shift gearchange takes some getting used to, but it's easily mastered.
Best of all, this Vespa holds on to its value tenaciously, so use, enjoy and sell on for little or no loss.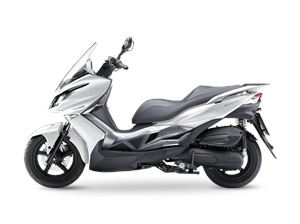 5
Kawasaki J125
When is a maxi scooter not a maxi scooter? When it's a Kawasaki J125. This machine has all the outward appearance, size and presence of a maxi, yet its 125cc engine says it's much more of a city-bound commuter.
That might sound like a recipe for a heavy, underpowered scooter, but the reality is the Kawasaki carries its weight low so it has pin-sharp handling and is easy to slot through gaps.
Its size is a big plus for comfort and practicality as there's an ample pillion seat and loads of underseat storage. For anyone looking for no-fuss city riding, the J125 should not be overlooked.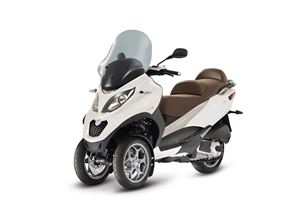 6
Piaggio MP3 250
Three-wheel scooters are now a common sight, but back in 2007 the Piaggio MP3 was a trailblazer. By sticking two wheels up front, stability, grip and braking were all transformed. It makes the MP3 a brilliant commuter scooter and with the 250cc motor you can venture further afield too.
The suspension can be a little abrupt over bumps and the engine is dependable rather than exciting. Check the steering turns smoothly as the bearings can wear and it's a pricey job to have them replaced. Also, make sure the tilt lock mechanism works every time as the MP3 is sensitive to any drop in battery power output. Otherwise, it's a very sound choice.
7
Piaggio Vespa GTS
There are several Piaggio Vespa models we could point you towards, but the GTS is the one we love the most. Its 278cc engine gives it a more rounded performance so it's possible to commute from further out of town on this scooter as it can cruise at 70mph.
In general use, 70 miles to the gallon is perfectly achievable, though we wish the GTS had a larger fuel tank to stretch out stops to fill up. However, it can carry a pillion without affecting pace or consumption, has a big luggage compartment underneath the seat and the suspension is plush.
Hot starting can be an issue with the GTS, so make sure you check this on any test ride.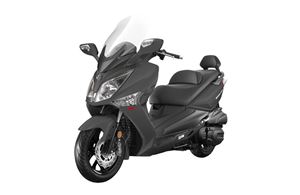 8
SYM Joymax 300i
Ignore the slightly tacky 'Joymax' name and what we have here is a very good maxi scooter. It will take you and a pillion around town and out into the sticks in fine style thanks to having more power than most of the competition. There are also linked brakes for added stopping confidence.
Build quality is good throughout the SYM and there's plenty of space to pack in shopping or leave you r lid below the flip-up seat. You also get a classy dash and good riding position, while the mirrors afford good rearward vision even if they do look like they came from an HGV.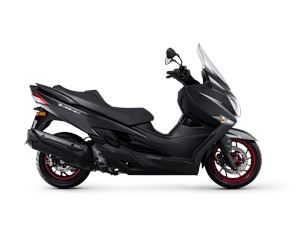 9
Suzuki Burgman 400
Suzuki's Burgman 400 has been around since 1998 and there's a simple reason it's lasted as long: it's damned good. Whether you want to city hop, tour or just commute in luxury, the Burgman does it all.
The front fair gives excellent protection from the weather, the seat is low enough for shorter riders to get a foot down confidently and there's loads of space beneath the seat for luggage.
The engine hauls good 'n' strong from just off idle, though you may find a slight hesitation at this point – it's common to the Burgman and can be cured with an uprated variator that costs around £100.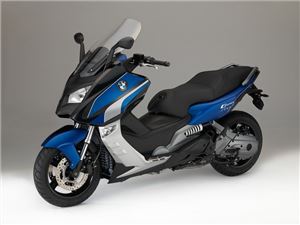 10
BMW C600 Sport
There isn't much the BMW C600 Sport can't do very well. It's a blast to ride on country lanes, it takes on motorways with pleasure and it's agile in town. You even get decent fuel economy of 58mph to offer a range of more than 200 miles.
You'll be happy to cover those miles thanks to top-drawer comfort for rider and pillion, while a massive storage compartment under the seat can craftily be extended to pack in even more luggage. The ride and handling are every bit as accomplished as you'd expect from a BMW, while the 647cc parallel twin engine is very smooth.
Look for C600s with extras that were expensive when new, such as heated grips and seat, and LED daytime running lights but don't pay over the odds for these.
Related Articles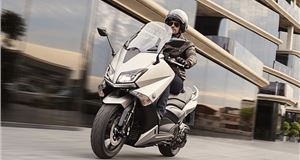 Scooters
All you need to know to ride away on the ideal new scooter. Read our complete guide to help you decide...