Camping Equipment product of the Year shortlist
As summer approaches, there's no better time to get out to enjoy the countryside (or your own back garden, we won't judge). From portable BBQs for camper van owners to tents and accessories, here are our top five picks for camping equipment over the last 12 months.
See all our Kit Awards Shortlists for 2019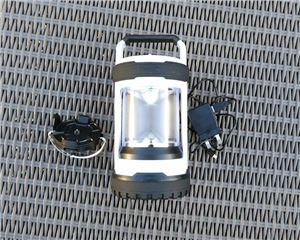 1
Coleman Twist+ 300 lantern
The Coleman Twist 300+ is a chunky twist activated LED camping lantern. The weather-resistant, multipurpose light has three light outputs - 300/120/50 lumens - and provides up to 75 hours of light on its lowest setting or nine hours when set to maximum brightness. The light can also double up as a USB charging unit, which makes it useful for a phone, tablet or GPS.
Designed for outdoor use, the LED lantern features a bulky plastic case and can survive light knocks and drops. It is also rated IPX4 for water resistance, which means it can be used in wet weather, while the built-in hook makes it easy to hang the light outside a camper van or inside a tent. It's one of the best camping lights you can get, but it's also twice as expensive as some of its rivals.  If USB charging is a necessity for you, however, then this lantern will quickly become camping essential.
Buy it now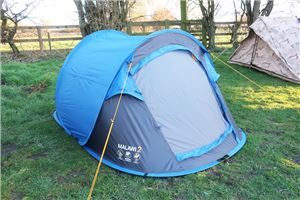 2
Regatta Malawi 2 tent
If you're a casual weekend camper or festival goer, the Malawi 2 is a great tent for you. It has its drawbacks - its relatively bulky dimensions when it's packed away means it can't be squeezed into a rucksack and the lack of a second layer or a porch is a compromise - but they're the sacrifices you make for a budget pop-up tent.
Pitching it is easy, as is folding it back away - not always a given for tents like this. There's also a surprising amount of space inside for a two-person tent and the variety of colours available adds to its appeal. Overall, it's well-priced for a tent from a well-known brand like Regatta.
Buy it now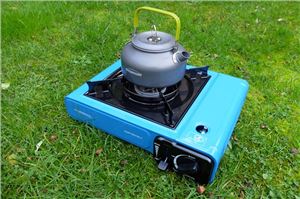 3
Campingaz Camp Bistro 2
The Campingaz Camp Bistro 2 is a simple one burner stove. It comes with its own plastic carry case and includes piezo ignition (no matches needed here) and a gas cartridge safety locking system to ensure the gas canister is fitted correctly every time. Aimed more at occasional campers rather than backpackers, it's not the smallest single burner around but it does have an enamelled pan support designed to be easy to clean and provide stable support for pans and kettles.
If you want a simple to use stove for camping, the Bistro 2 is ideal - it takes a few seconds to set-up, lights first time and heats quickly, plus it's very stable which is ideal if you're using larger saucepans. There are plenty of very similar one burner stoves around - and at a cheaper price than the Campingaz version - but these aren't built to the same quality. We think it's worth spending a few extra quid to get a brand you recognise, especially when you're dealing with something that runs on gas.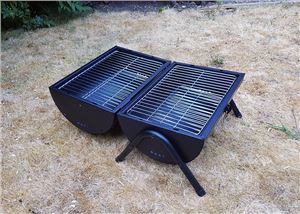 4
Sealey portable BBQ
Sealey's Portable Charcoal BBQ is a compact cooker that won't leave you too out of pocket. The barrel-shaped steel BBQ is lightweight and has a built-in handle that makes it easy to store and carry. It's also easy to use, opening up to provide a completely flat cooking surface with one or two grills. When you've finished cooking (and the BBQ has cooled down) you can lift the supplied cooking trays out and tip out the ash and spent coals.
If you own a camper van or want a compact BBQ that will fit in the boot of your car then the Sealey Portable Charcoal unit will make a lot of sense. It's light enough to carry around a campsite or beach and its double grill provides a great cooking surface. During our test, we provided food for four adults with ease.  Due to its compact size, the Sealey BBQ is easy to empty and clean too. Our only real criticism is its ability to burn anything that sits beneath it, which means it's not suitable for use on tables, grass or decking.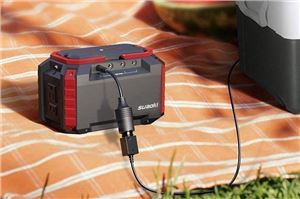 5
SUAOKI 150Wh Portable Power Generator
The Suaoki Portable power station features one AC outlet (max 100W, peak power 150W), four DC ports (15A / max 180W), one Quick-Charging 3.0 USB-A port (max 18W) and three USB-A ports with a max 10.5W power output. In short, this means you can charge a laptop in 2-3 hours, a mobile phone up to 10 times and things like coolers, cameras and small appliances while on a camping trip.
The reasonably lightweight unit is 1.3kg and there are two handles to make carrying it around easier, too. It can be recharged by connecting it to a solar panel, plugging it into mains power or plugging it into your car's 12V socket (car charger included). There's also a helpful torch on the side of the unit, which can be put in flashing mode, too.