What is it?
The Amazon Echo Dot is a tiny Wi-Fi-connected speaker, a smaller version of the Amazon Echo, designed to be used in conjunction with the Alexa app. Alexa is Amazon's AI personal assistant (like Apple's Siri, or Google's 'OK, Google'); using this, the Echo Dot registers voice commands and can be made to play music, give weather predictions, read recipes, tell jokes, find shops and restaurants, make hands-free phone calls etc. The Alexa software is constantly being updated, so there's theoretically no end to the Echo Dot's functions. 
The more fiddly bits of the Echo's set-up and adjustment need to be done via a screen, which means either using a web app on a computer or – much more likely – your smartphone. You'll also need an Amazon account (obviously). 
What's it like?
The set-up is as simple as plugging in the Echo Dot, downloading the Alexa app (or logging on to the Alexa webpage), and following the instructions. At least, it almost is.
While the app holds your hand through a step-by-step run-through of the basics, giving you the option of setting Alexa as your default assistant, the process is smoother in some places than in others. Certainly, it doesn't have the totally no-effort feel of, say, an Apple product. 
The first hurdle involved connecting it the Wi-Fi, and as you can't use the Dot until it's online, this is an unfortunate stalling block. Eventually, we ended up connecting by accident, and there were several other basic features that had me running to the app's 'help' page. Fortunately, most of the answers were there and we rarely had to go running to Google.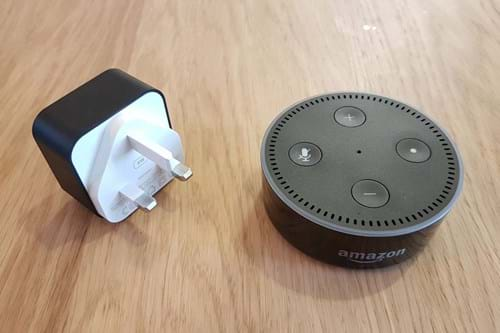 Once it's operational, the Dot immediately demonstrates the most appealing quality of all consumer tech: it's fun. We recommend having someone else around to help you suss out its capacities, not because doing so is puzzling but because it's a hoot. Asking questions about anything that comes into your head refreshes the novelty of that now-quotidian thing, the Internet search, even though the only change has been in transferring questions from fingertips to the tip of the tongue.
This enjoyment carries across to playing music. It turns out that requesting songs by name is a far more intuitive action than typing a name into a search bar. It encourages a whimsicality and spontaneity well suited to the sensation of having a particular tune stuck in your head and shouting out 'Alexa, play Pure Shores by All Saints' has an enjoyable karaoke feel.
The Dot's speaker is better than the one built into your phone or laptop, but that's about it. For a sound of any real quality, you'll need to connect the Dot to another speaker via cable or Bluetooth (thankfully one of the easier things to achieve – and once you've successfully paired the two, you only need to say 'Alexa, connect my speaker' to link them up again). 
For one heart-sinking moment, it seemed as though I'd need an Amazon Music Unlimited account to play anything outside a limited selection, and it was a relief to realise this isn't the case (after an Internet search, at least – Amazon is keen for you to subscribe you to as many of its services as possible). The Dot can be synced to a Spotify Premium, Apple Music, or Deezer account.
At least in the early stages of use, misrecognition is rife. Music-wise, Alexa is good at playing individual songs or playlists, but for some reason struggles to play specific albums. More generally, a misheard command will trigger odd and curiously determined longueurs, and you'll find yourself repeatedly barking 'Alexa, stop!' as the app rambles on like a drunk aunt at a wedding. After a while, though, you'll establish a roster of phrases and commands that have the best chance of being successfully registered.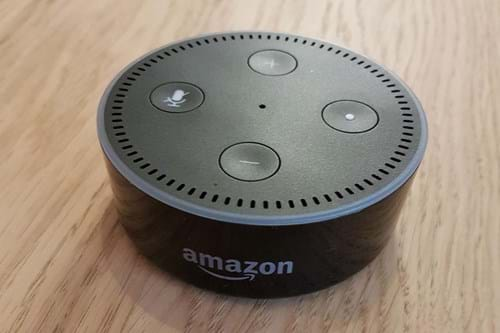 Should I buy one?
The biggest competition for the Amazon Echo Dot is itself: its third generation manifestation is available for purchase and considering that the 2nd-gen version isn't a perfect product, those wanting the very best of Amazon's Alexa should think about getting the newest version – or even forking out more for the bigger Echo. 
However, the 2nd-gen Dot can still be picked up for a song, and you could do far worse if you're looking to experiment with the possibilities of a virtual assistant. The chances are good that, even if you don't end up using every one of its functions (or even if you don't use it every day), there'll be at least a couple of features that work their way into your daily habits and become near-indispensable. 
What you predominantly use the Dot for will depend on your lifestyle and requirements. One of its more heavily promoted functions is as a fancy light switch, although if you've already invested in the 'smart lighting' required for this to work, it's unlikely that you'll settle for Amazon's cheapest version of its voice assistant product. After a period of enthusiasm and frustration, we eventually reduced our use of the Dot down to requesting music, reading aloud meal recipes, reminding us of time-specific appointments, asking about the weather and the occasional bit of trivia.
Some people have voiced fears about their privacy, concerned that the Dot's microphone is always listening in. Less conspiratorially, it is true that Alexa automatically records all your voice commands. You can delete this entire record on the app, or delete the whole day's worth via voice command (once you've enabled that option in the privacy settings).