What is it?
The Aukey CC-S7 charger plugs snugly into a car's 12V accessory socket and promises fast charging for power-hungry smartphones and tablets. It's cheap and yet it has advanced in-built circuitry to prevent expensive technology overcharging, overheating or receiving excess current.
Does it work?
It doesn't just work, it's great. It comes in a really smart-looking package and is extremely well constructed, with a solid, durable feel, thanks to its alloy construction - which is very impressive considering the £7.99 price. With an almost flush-fit, the charger look like an integrated part of the car when in place.
There are two USB ports, which can simultaneously output a maximum of 2.4 amps. If you don't speak electric, that means this little gadget can charge two devices very quickly at the same time – but one important thing to note is that no charging cables are provided, so you'll need to get the right one for your gadget if you don't have a spare at home.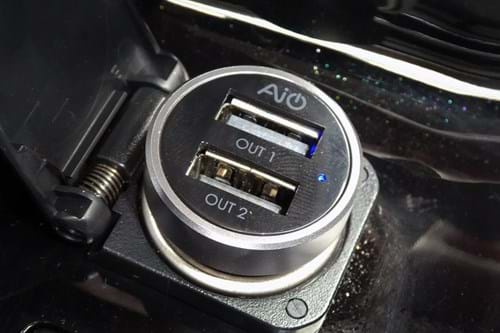 Maximum output is 2.4 amps for both ports
As an example, if you have an iPhone 7 then the Aukey dual port charger will charge it at a maximum of 2.1 amps, meaning it'll get to 100% from entirely empty in a little over an hour. It's a similar story for smart phones from other manufacturers, with some capable of drawing the full 2.4 amps and charging even faster. 
If you have an older device that doesn't support fast charging, the Aukey CC-S7 won't damage it by overcharging, since built-in circuitry detects and adapts to whatever is connected and will reduce the current output accordingly. Essentially, this charger will charge devices as fast as it safely can, regardless of what they are, from sat navs to phones and tablets. 
If you want a trustworthy, reliable, well-made and speedy in-car charger then you'll struggle to do much better than this. For less than the cost of a ropey, unbranded and poorly made charger from a motorway services, this little gadget is absolutely great.
Price: £7.99
Key features: Outputs up to 2.4 amps. Smart circuitry to safely charge expensive tech.
Alternatives: Anker PowerDrive 2